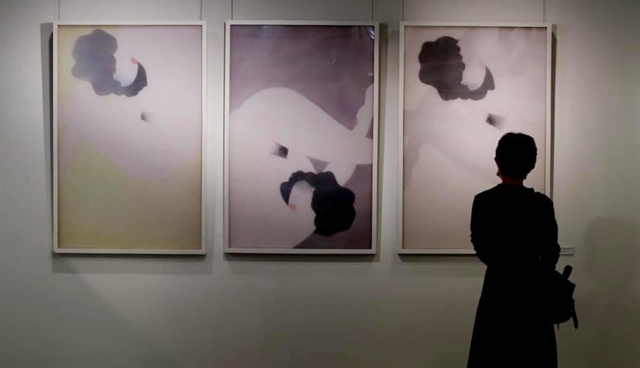 A visitor looks at the paintings. — Photos from facebook of the artist 
HÀ NỘI — Artist Bui Tiến Tuấn has debuted his nude paintings on silk which experts say are rare in Vietnamese fine arts.
The exhibition in HCM City entitled Nguyet Sang Gương Trong (The Mirror of The Moon) displays 58 silk paintings which Tuấn painted in the last five years.
The artist drew nude women to explore all aspects and all possibilities of feminine charm.
"I don't paint a specific female figure," said Tuấn. "I portray beauty. Silk material is soft and supple helping me to express my ideas."
He features beauty in different postures and in different spaces such as in a bar, in the bedroom, floating on a water surface or drifting into the infinite vacuum of the universe.
The women in Tuấn's paintings are different from most previous depictions of women in silk paintings, according to fine art researcher Ha Vũ Trọng.
"Artist generations from Indochina Fine Arts College, Gia Định Fine Arts College or Huế Fine Arts School in the past drew Vietnamese women with elegant beauty," said Trọng.
"Tuấn's women step out of his studio and go to the modern world which is a noisy and glittery urban area full of glamour and temptation.
"The exhibition goers can easily see the difference from Tuấn's paintings at the exhibition," said critic Đặng Than.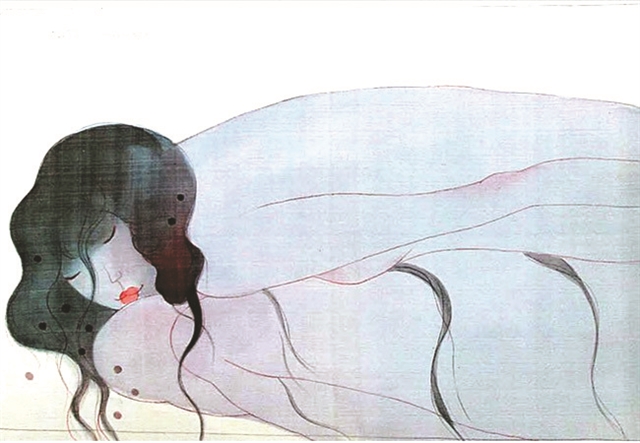 One of the latest silk paintings by Bui Tiến Tuấn.
"The nude paintings are light breath," Than said. "They are not dreamy like Vietnamese traditional silk paintings and they are not fierce like Japanese shunga silk painting or like Egon Schiele's paintings.
"Tuấn has spent time to practice making his drawing style light as a leaf and silently drifting like a swan."
Tuấn, 50, was born in Hoi An, the central province of Quảng Nam and teaches at the HCM City University of Fine Arts.
He has had many solo and group exhibitions in the UK, France, and South Korea. He won a silver medal at the National Fine Arts Exhibition in 2010 and his paintings are in collections at Viet Nam Fine Arts Museum, HCM City Fine Arts Museum and private collections.
He also released a painting book called The Mirror of The Moo at this exhibition. It is the first Vietnamese book with silk nude paintings. The bilingual book is written in English and Vietnamese with words by artist Trần Hậu Tuấn and other critics.
His first book was Hơi Thở Nhẹ (Light Breath) in 2010. The two books were distributed by Fine Arts Publishing House.  
The exhibition runs until June 6 at Eight Gallery, No 8 Phung Khắc Khoan Street, District 1, HCM City. — VNS
You might be interested in