The picturesque scenery with green grass and rotten trees makes Thuan An volcanic lake a great stop for travel enthusiasts. However, you can not always admire the stunning beauty of this place. 
Thuan An Volcanic Lake (Nam Gleh R'luh Volcanic Lake)  is one of the great destinations that is making the moving community sobbing because of the rare beauty in Dak Nong. This is actually a lake formed from a volcano, over time has created a rare poetic scene. The volcanic lake in Dak Mil became famous not only because of its strange beauty but also because the wonderful scenery of this place only appears once in a while and you can't just come and see it at any time.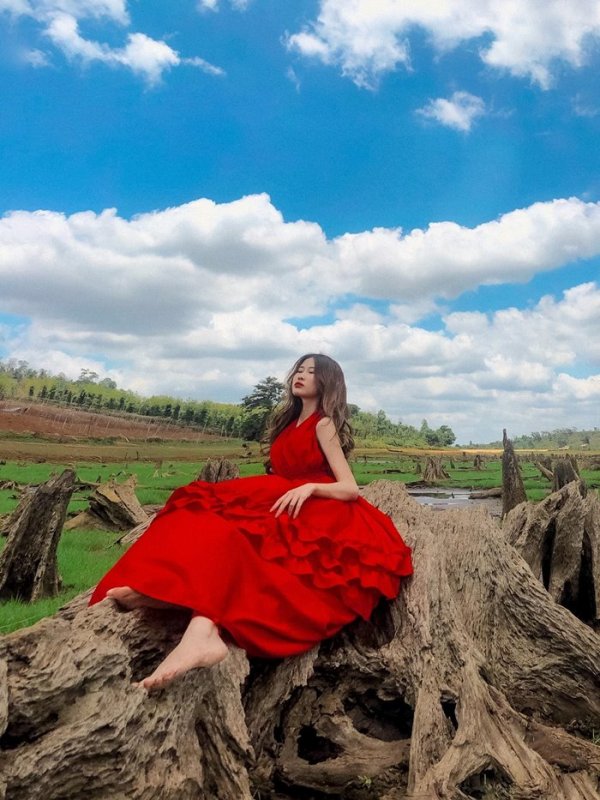 Destination "10 years have 1" in Dak Nong. Photo: FB/ Nguyen Thi Kim Oanh
Discover the beauty of Thuan An volcanic lake – check-in point '10 years has 1′ in Dak Mil
The volcanic lake is located in the territory of Thuan An commune, Dak Mil district, Dak Nong, inside Dak Nong geopark. This is a natural lake formed about 781,000 – 126,000 years ago and is located at the foot of Thuan An volcano, also known as Nam Gleh volcano. According to scientists, the formation of Thuan An volcanic lake may have been directly affected by volcanic activity thousands of years ago.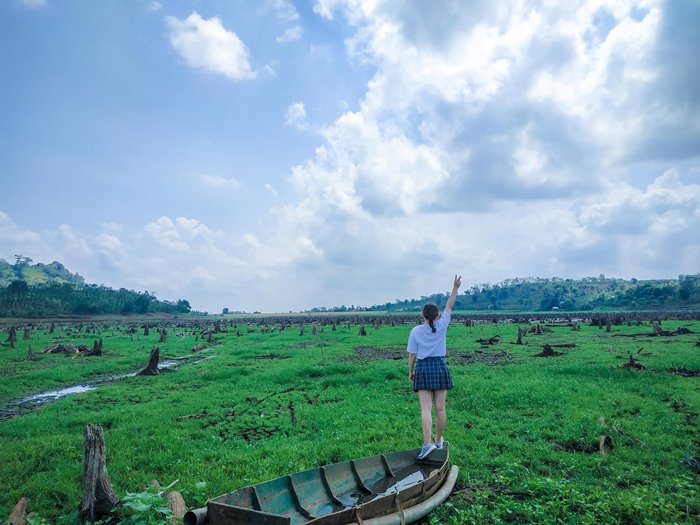 The lake is located inside Dak Nong Geopark. Photo: Dak Nong
> See more:  What is the best season to go to Ta Dung? Good experience to save now to keep up with the upcoming trip
Thuan An volcanic lake was originally a water reservoir serving the living and irrigation needs of people around the area. Normally, the lake has a peaceful beauty with a wide water surface, surrounded by hills and hills planted with perennial trees of the people. Because it is the main source of water to serve the coffee irrigation needs of people around the area, the water in Thuan An volcanic lake is always full, especially in the rainy season. Perhaps that is why few people know that this place is really a wonderful landscape when the lake dries up with a beauty that anyone who has had the opportunity to admire must feel surprised.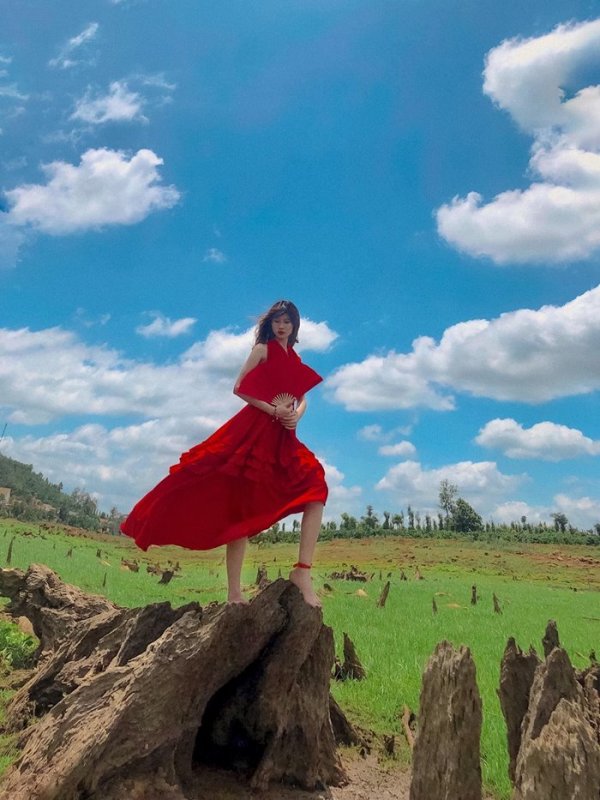 The appearance of the volcanic lake when the water dries up makes many people surprised. Photo: FB/ Nguyen Thi Kieu Oanh.

The reason we call volcanic lake Thuan An is the point of check-in 10 years there is by water lake here very rarely run dry, so even the locals rarely admire the sheer beauty excellence of this lake. Usually in the years with little rain, the lake will gradually dry up and may dry out around April to June every year. At this time, there is no water in the lake bed, but instead there is a green grass like a young carpet spread across the lake, creating a very cool scene.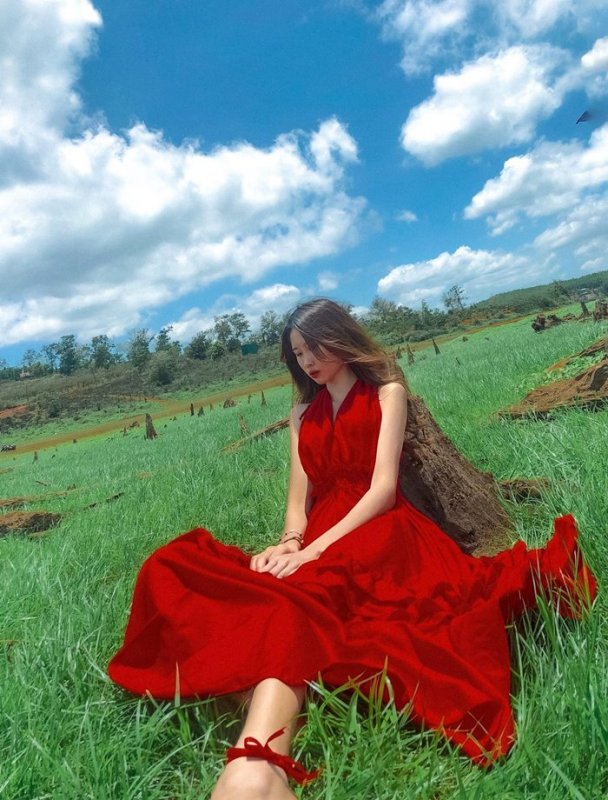 The lake bed is covered with green grass. Photo: FB / Nguyen Thi Kieu Oanh.
>See more:  Detailed Dak Nong travel experience for you passionate about backpacking
In particular, next to the green grass, the tree stumps of all shapes that lie still under the eyes of the water appear to create a magical scene. Nam Gleh R'luh volcanic lake in the dry season looks like a work of art with countless beautiful check-in corners for you to comfortably relax.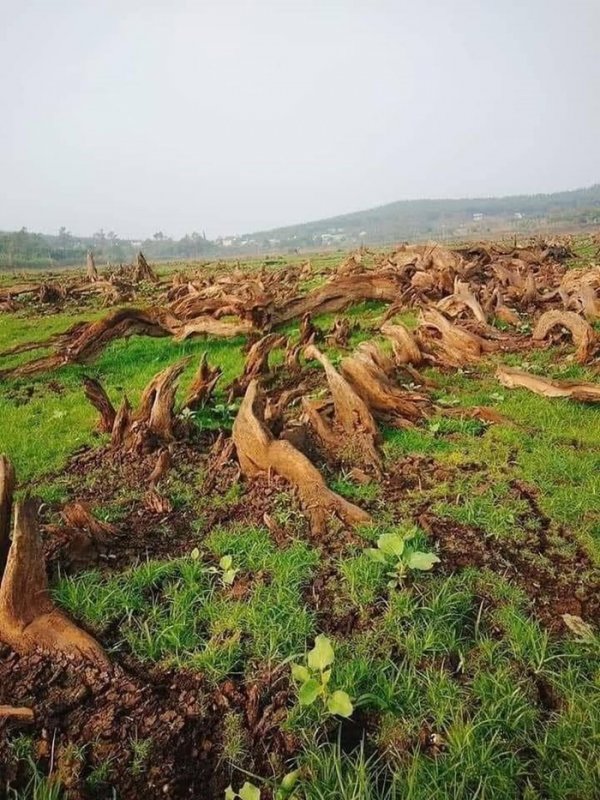 The tree stump is exposed in the middle of the bottom of the lake. Photo: Dak Nong Oi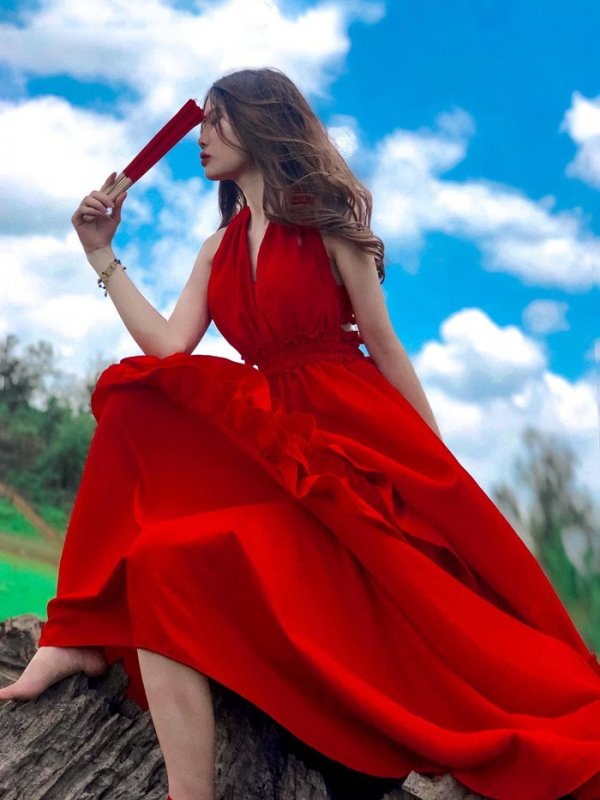 You can comfortably relax to capture beautiful pictures. Photo: FB/ Nguyen Thi Kieu Oanh

The scenery of the lake bed is very beautiful and impressive when shown, you will hardly get such beautiful photos anywhere else. However, a very sad thing is that people here do not expect Thuan An volcanic lake to dry up because if the lake dries up, irrigation and crop care around the lake will face many difficulties.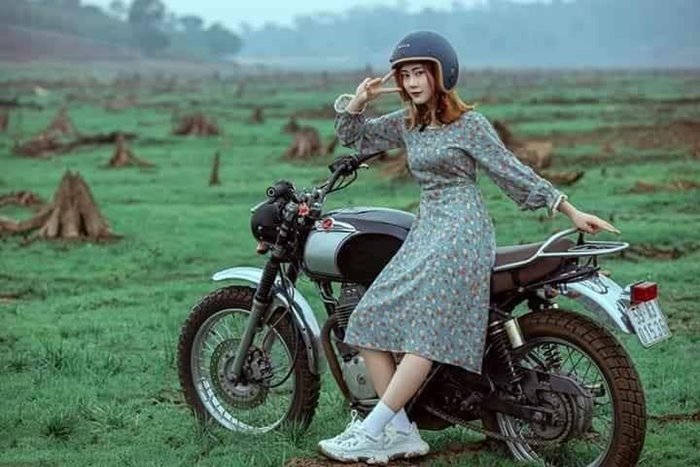 It is rare for the lake bed to appear such a beautiful sight. Photo: Dak Nong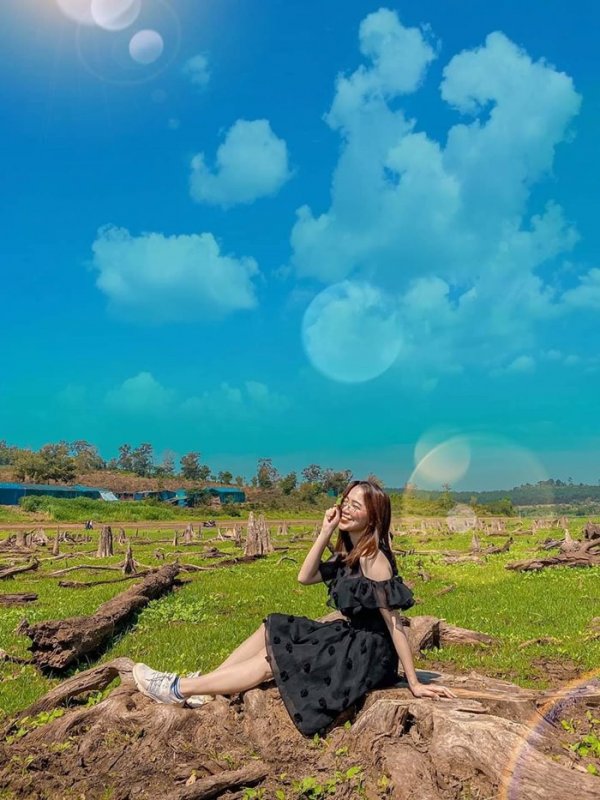 The beautiful scenery attracts young people to come. Photo: Dak Nong

In addition to Thuan An volcanic lake , Dak Nong Geopark still has many other attractive destinations waiting for you to explore. Accordingly, the geopark with a system of nearly 50 copper caves up to 10 thousand meters long, the waterfalls, craters and majestic natural scenery here will also make you fall in love. Come to Dak Nong to enjoy a wonderful journey of discovery with new destinations. 
Photo: Internet 
You might be interested in