Recipe for bun bo Hue (Hue style beef noodle soup) will be no longer so complex and time-consuming with tomato sauce and coconut milk!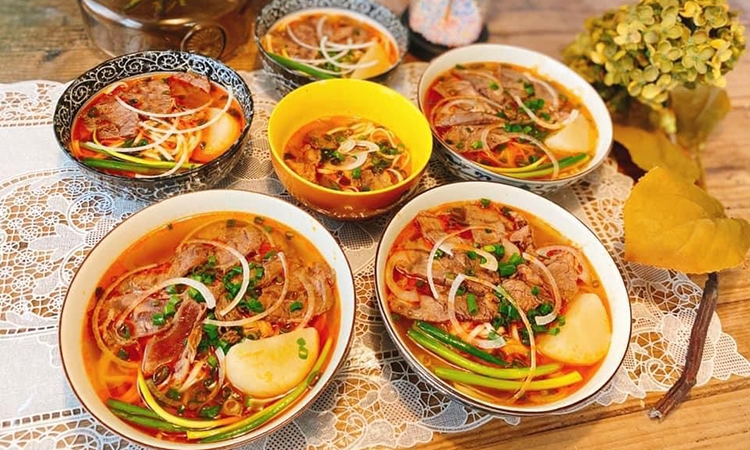 Photo: Kieu KaDo
The Hue is famous for the fussy beauty of each dish. A bowl of bun bo Hue seems meager with rice vermicelli, beef, and pork, however, its balance of spicy, sour, salty, and sweet flavors would make diners remember Hue's cuisine.
However, the recipe for this speciality by Hue locals is not easy to cook. Check out our recipe for bun bo Hue with tomato sauce and coconut milk instead of red annatto oil below!
- Total time: 50 minutes
- Level: Easy
- Servings: 6 people
- Calories content: 2,700 kcal
Ingredients:
- Beef shank: 600 g (1.5 lb)
- Onions: 1.5 bulbs
- Lemongrass: 3-4 stalks
- Shallot: 1 bulb
- Ginger: 50 g
- White radish: 1/3 of the bulb
- Coconut milk: 400 ~ 500ml
- Hue fermented shrimp paste: 1 tbsp
- Water: 200ml
- Rock sugar, seasoning powder, chopped spring onions
*For the colored oil:
- Cooking oil: 50ml
- Tomato sauce: 50ml
Instructions
For the broth:
- Crush shallot and ginger, then fry in an oil-free fryer until golden-brown and fragrant.
- Rinse beef shank, chop white radish into chunks. Put beef and radish into a simmer pot, add 3-4 lemongrass stalks and bring to a boil.
- Dilute 1 tbsp of Hue fermented shrimp paste with water, boil, and filter out the clear broth
- After boiling vegetable beef soup for 40 minutes, take out lemongrass and radish; then add diluted Hue fermented shrimp paste and 400 ml of coconut milk into the pot.
- Add 2 tbsp rock sugar + 2 tsp salt + 2 tsp seasoning powder into the pot of broth. Reduce the heat to medium-low, cover, and continue to simmer until boiling again in order that all the spices and aromatics infuse in the broth.
*For the colored oil:
- Put cooking oil and tomato sauce into a pot (choose a deep pot to avoid oil splattering). Heat over low heat, stir gently until the oil turns red.
- Add the colored oil into the broth pot.
*Serving:
- To serve, place a handful of the rice vermicelli in a serving bowl. Top with the thin-sliced beef shank.
- Ladle the broth over the noodles and garnish with chopped spring onion.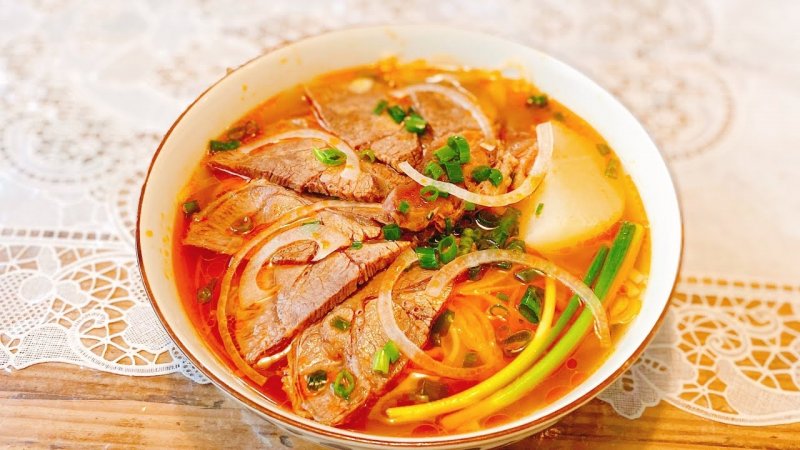 Photo: Kieu KaDo
Neala
You might be interested in