Once a policy to apply forest environmental and CO2 indicators is officially approved, Vietnam may participate more actively in the sale and purchase of carbon credits for both enterprises and localities.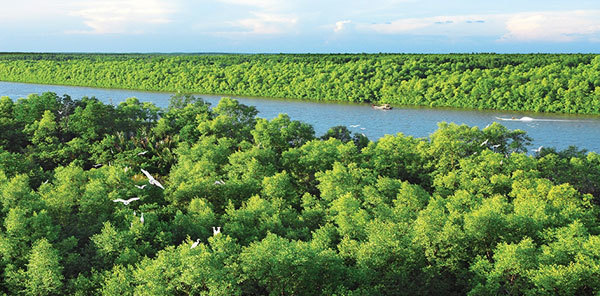 Vietnam leaps on carbon credit craze.
The south-central province of Quang Nam has been waiting for the government to approve a pilot project on reducing emissions from deforestation and forest degradation and on selling carbon credits to the international market.
"Quang Nam has 628,000 hectares of natural forest, which has the capacity to absorb one million tonnes of CO2 per year. The province is expected to sell CO2 credits for $30 million by 2025," said Le Minh Hung, director of Quang Nam Department of Agriculture and Rural Development.
Hung is also director of the Management Board of the Truong Son Xanh forest-planting project.
"Although five groups from the United Kingdom, Italy, and the United States wish to purchase carbon credits from the Truong Son Xanh project, we have to wait for government approval. I think the prime minister's instruction to build a policy is convenient. However, it will still take a long time from building the policy to implementing the project. So, we still expect to receive the government's special mechanism," Hung said.
This year is the first that Vietnam will receive payment under the Emission Reductions Payment Agreement (ERPA) signed by the Ministry of Agriculture and Rural Development (MARD) and the World Bank's Forest Carbon Partnership Facility (FCPF) in late October last year.
According to the agreement, Vietnam is expected to reduce 10.3 million tonnes of carbon dioxide emissions from the six central provinces of Thanh Hoa, Nghe An, Ha Tinh, Quang Binh, Quang Tri, and Thua Thien-Hue to receive $51.5 million from the FCPF.
The fund to serve for emission reduction payment worldwide is estimated at $1.3 billion. Vietnam is the first country in Asia-Pacific and fifth globally to reach such a milestone agreement with the FCPF.
Nguyen Dinh Dai, chief of the Medical Committee Netherlands-Vietnam in Central Vietnam, told VIR that it has facilitated smallholder forest owners of log-wood acacia plantations and community natural forest owners in preparing the dossier to access ERPA payments. This is being carried out through the PROSPER sustainable forest management initiative in Quang Tri, funded by the Medical Committee Netherlands-Vietnam and the European Union.
"If the payment mechanism is successful, I hope it will be extended nationwide, leading to encouraging sustainable forest management and development," Dai said. "The programme marks the beginning of a new chapter for the country to continue to apply new and significant policies for forest protection and improved management." 

The Mekong Delta province of Ben Tre kicked off a campaign to plant 10 million new trees by 2025 at a ceremony held earlier this month, marking the first province in the country to launch the campaign in response to the prime minister's call for planting one billion trees in the next five years and Resolution No.120/NQ-CP on climate-resilient and sustainable development of the Mekong Delta region.
Through the programme, the province will plant 10 million trees before 2025 with the desire to build Ben Tre as a green, clean, and beautiful industrial province.
The execution is estimated to cost at VND50 billion ($2.17 million), which will be mobilised from the social sphere, including the business community.
At the launch ceremony, the province received VND100 million ($4,350) donated by Deputy Prime Minister Truong Hoa Binh and an additional VND23.8 billion ($1.03 million) in cash donations from individuals, enterprises, and organisations to support Ben Tre in implementing the campaign. Among which, Dong Khoi Development and Investment JSC sponsored VND1 billion ($43,500) to the campaign.
Tran Ngoc Tam, Chairman of Ben Tre People's Committee, called on the business community and others inside and outside the province to support the campaign in both human power and finance so that the goals can be attained.
Along with Ben Tre, the central province of Thua Thien-Hue, through the Department of Agriculture and Rural Development and the support of BaoViet Life, kicked off the "Vietnam Green Journey" campaign to plant 2,500 indigenous trees on five hectares of land at Phong Dien Nature Reserve in Phong Dien district.
According to Vice Chairman of Thua Thien-Hue People's Committee Nguyen Thanh Binh, the campaign is significant for afforestation and biodiversity conservation.
Prime Minister Nguyen Xuan Phuc issued an instruction on the tree planting campaign for the Lunar New Year and forest development and protection for the year.
Similar tree-planting campaigns were first launched by President Ho Chi Minh in 1959, and it has since become an annual festival at the beginning of each Lunar New Year.
Along with the significance, the call occurs in the context of natural disasters and climate change which have greatly affected residents, showing the importance of tree planting and forest protection. The country currently has 14.6 million hectares of forest, of which 4.3 million are grown forest and the rest natural.
The nation's forest coverage makes up more than 41 per cent of its total area, which is lower compared to 58 per cent in Cambodia and 68 per cent in Laos. Around 700,000ha of land in Vietnam is still available for afforestation purposes. 
Exploring carbon credit trade
According to the calculations of the Vietnam Administration of Forestry (VAF) under the MARD, the country could reduce total carbon dioxide emissions by 24.6 million tonnes by 2025. After reducing 10.3 million tonnes committed with the FCPF, Vietnam can acquire additional tens of millions in US dollars from selling carbon credits of the remainder to partners for the global average of $5 per tonne of CO2.
The purchase should become easier after Prime Minister Nguyen Xuan Phuc in December assigned the MARD, in collaboration with the Ministry of Natural Resources and Environment (MoNRE) and relevant agencies, to build a policy to apply the forest environment and CO2 indexes in accordance with regulations.
A survey by the Department of Energy Efficiency and Sustainable Development under the Ministry of Industry and Trade showed that in order to manufacture 10 million tonnes of steel, factories will emit 21 million tonnes of CO2.
The CO2 emissions in the industry are forecast to reach 122.5 million tonnes by 2025 and increase to 133 million tonnes by 2030, accounting for 17 per cent of the whole country's total. The major reason is the use of fossil fuels for production.
A report from the MoNRE also showed that total solid waste discharged to the environment is on average 12 million tonnes per year, 90 per cent of which is treated. Meanwhile, total greenhouse gas (GHG) emissions generated from the landfill of solid waste increased from 6.5 million tonnes of CO2 in 2014 to 8.1 million tonnes in 2017. It was estimated to hit around 10 million tonnes in 2020.
According to Pham Van Dien, deputy director general of the VAF, the potential in carbon credits is within reach, but it is necessary to have an official specific guide from the government to determine emissions reduction quotas.
In addition, policy is also required so that localities with low emissions can receive financial support from localities with large volumes. 
Potential land
Under the Kyoto Protocol's definitions, the clean development mechanism (CDM) allows a country with a GHG-reduction or emission-limitation commitment to implement an emission-reduction project in developing countries like Vietnam. Such projects can earn saleable certified emission reduction (CER) credits, each equivalent to one tonne of CO2, which can be counted towards meeting Kyoto targets.
According to the MARD, Vietnam's forests can help lessen GHG emissions and cope with climate change via their big CO2-absorbing capacity.
A number of local and foreign enterprises have already sniffed out CER opportunities in Vietnam, through forest plantation in particular. Many other CDM projects can be seen in Vietnam in various sectors such as renewable energy, waste management, chemicals, construction, transport, and agriculture.
For instance, Hanoi has a project to recover and use discharged gas at the Nam Son waste treatment complex, which was Vietnam's CDM-related environment project, was constructed in 2009 by PIJ-LFGC Vietnam, a Malaysian-Canadian joint venture company. This $7.5 million project, producing electricity from discharged gas, particularly methane, was implemented within 2009-2016, with a collected volume of about 2.3 million tonnes of CO2. Hanoi received 10 per cent of total revenues gained from the project's CERs and electricity sales.
As Vietnam has yet to be obliged to reduce GHG emissions under the Kyoto Protocol, the CDM opens new opportunities for local companies and agencies to sell credits earned from actively cutting down emissions to potential buyers coming from developed economies.
According to the MoNRE's Agency for Meteorology Hydrology and Climate Change (AMHCC), Vietnam's CDM project types include dumping ground gas recovery (7 per cent), methane recovery (27 per cent), afforestation and reforestation (4 per cent), wind power (4 per cent), hydroelectricity (54 per cent), and others (4 per cent).
Vietnam ranks 11th and eighth in the world in terms of registered CDM projects and CERs, respectively. However, foreign investors also face with some difficulties when seeking local partners with sturdy capital contributions.
"Most local companies are small- and medium-sized ones, with limited understanding about CDM projects. Meanwhile, foreign companies want to cooperate with major local ones so that they can reap big profits and many credits," said an AMHCC expert.  
Oanh Nguyen (VIR)
You might be interested in