The UK is forecasted to cope with heavy snow up to 20 inches with wintry conditions across the country. Meanwhile, wet and windy conditions are expected in central and western areas, showers in the east.
UK's weather forecast
Heavy snow is forecast across the UK this weekend, with the wintry conditions expected to blanket even the south of England. Weather charts show the west of the UK will see that start of the snowfall, before it moves further east and ends up covering much of Britain, reported Express.
Snow is forecast along the west of the UK from Saturday morning, which coincides with a significant drop in temperatures, according to charts by Netweather.
At 9am the mercury is set to plunge to -9C across northern Scotland, while the north of England can expect a chilly -4C and the south will see temperatures dip just below freezing.
By 6pm snow is forecast along the west of the UK, with pockets of snow also expected in the south east and Midlands. This is indicated by the red and white colourings on the map, which shows there is between an 80-100 percent snow risk.
At 6am on Sunday the whole of Wales is covered by a 100 percent snow risk, with much of the West Country also forecast for snow. The wintry conditions continue to move further east on Sunday, with much of England covered by a high snow risk at 12pm. By 6pm the south east turns red, indicating over an 80 percent risk of snow.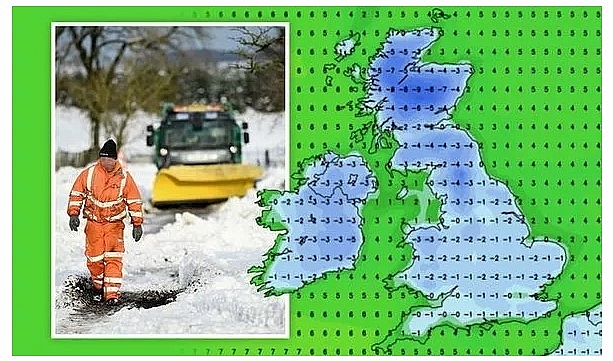 Snow forecast: Snow is set to blanket Britain this weekend in a 48-hour snow blitz (Image: Getty/netweather)
Parts of West Scotland, Wales and the West of England are also covered by a moderate to high snow risk, according to the charts.
As 9pm hits the chance of wintry conditions has moved away from the south east, leaving just parts of Scotland and the west of England and Wales covered by a high snow risk.
Maps by WXCharts show Scotland can expect up to 20 inches (51cm) across the weekend. Parts of Wales are forecast about 3.5inches (9cm), while other parts of England can expect a light dusting.
By Monday morning, the 48-hour snow blitz has moved away from the UK. Discussing the change in weather conditions this weekend, Jim Dale of the British Weather Services said the snowfall forecast is still not 100 percent certain.
But he said there are indications to show parts of the south east will see snow flurries.
He told Express.co.uk: "The insight is tempered by the fact this event is likely to be hit and miss and transient. Certainly cold air will be in situ and there are suggestions of a shallow low pressure area forming over the SE on Sunday; but for now it's scattered sleet or snow showers at best."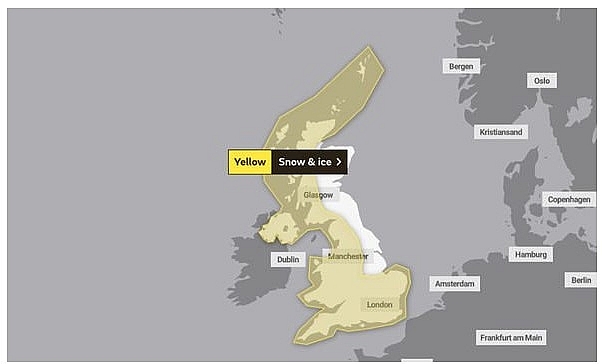 Met Office warnings: On Friday and Saturday much of the UK is under Met Office snow warnings (Image: MET OFFICE)
The Met Office's weekend forecast said: "Sunny spells and showers, some wintry in Northern and Central areas Saturday and Sunday. "Cloudier, some rain or snow in South. Sunny spells and isolated wintry showers Monday. Cold throughout."
BBC forecasters said: "Saturday will be mostly dry with some light wintry showers in north-western coastal areas. Southern England will see thick cloud clearing eastwards. Sunday will have widespread cloud, with areas of rain and snow possible in central and southern areas."
"The north-east will see brighter spells. Monday will see periods of sunshine for many, but with some wintry showers to the east."
On January 23
According to Weather Online, another cold day for Saturday. Low-pressure north of Scotland will again be bringing some snow showers to the coasts of northern and western Scotland with a risk of one or two heavy ones affecting hills in western Scotland too. Scattered snow showers across Northwest England and parts of Wales. Many areas should be dry with some sunny spells, although an area of more persistent sleet and snow may drift into western and southern Ireland. Temperatures at 3 to 5C.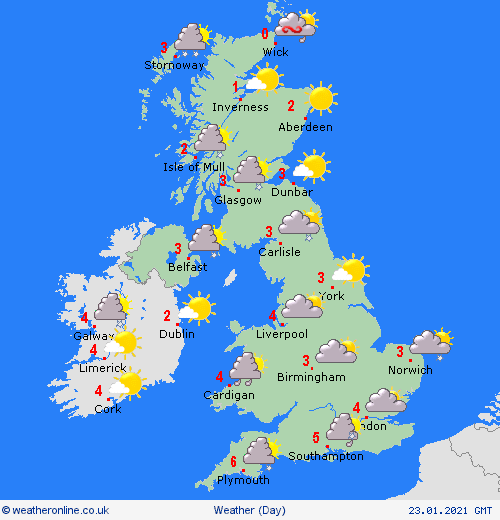 Photo: Weather Online
Low cloud and fog in the south perhaps slow to clear but then some sunshine for most. Continuing risk of wintry showers, mainly in the west and north, Met Office reported.
Outlook for Sunday to Tuesday
Cold start. Sunny spells and wintry showers, and some longer spells of rain or snow in the south on Sunday. Rain arriving across most areas on Tuesday, but turning milder.
Europe's weather forecast
Heavy periods of rain afecting northwest Spain and Portugal. A few showers in the east and south of Spain too. Rain in Corsica and Sardinia. Heavy periods of rain and strong winds for Italy. Greece and Turkey should be fair with sunny spells.
France should see some bright or sunny spells, although rain and showers in the west later. Fair across the Low Countries. Much of northern Germany and Poland should be fair. Rain affects central and southern Germany. Eastern Hungary will be dry but western Hungary. Austria and Switzerland could see some heavy rain and a risk of snow.
Denmark will be bright and dry with sunny spells. Fair in southern Sweden and through the Baltic States but breezy here. Cloud and snow in Finland and northern Sweden with a risk of gales here. Further snow showers across Norway.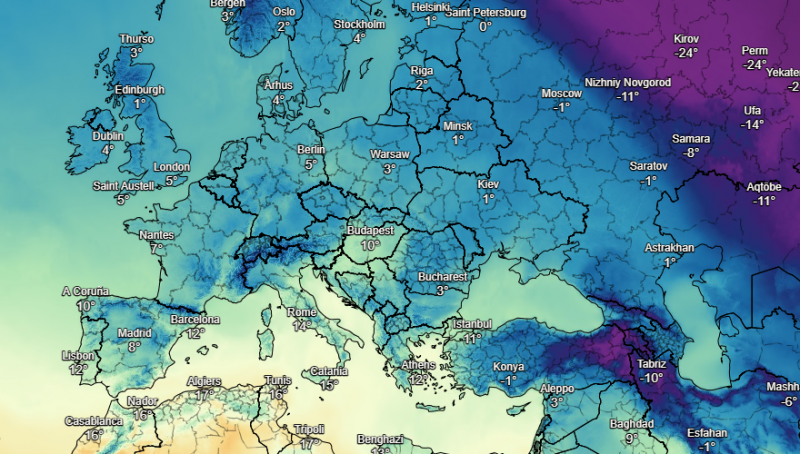 Photo: Stirimeteo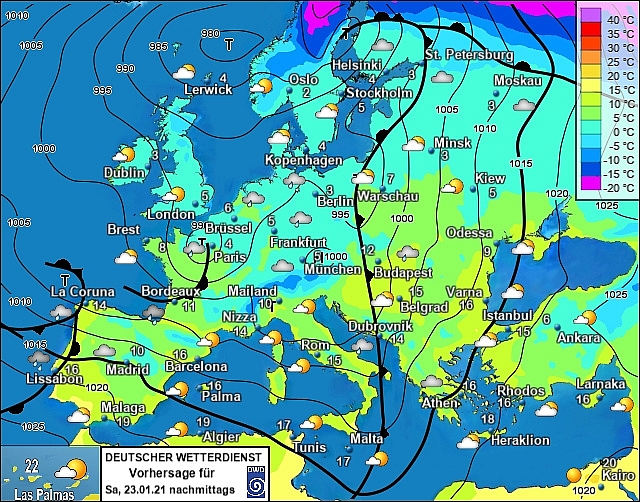 Photo: Stirimeteo
On January 23
Heavy rain across Portugal and northern parts of Spain through today. Dry with sunny spells to the south and east. It will be windy with periods of rain and showers across Italy and feeling cold here as well. Heavy rain in the west of Greece but eastern areas should be drier and brighter. Turkey will be dry with plenty of sunshine and only occasional showers in the west.
Heavy periods of rain will be affecting southern parts of France but most of the country will be dry with broken cloud. Showers in the Low Countries and western parts of Germany, where is central and eastern part of Germany should be dry. Further showers will be affecting Poland and these could be heavy. Hungary will have scattered showers whilst Austria and Switzerland will have rain or snow.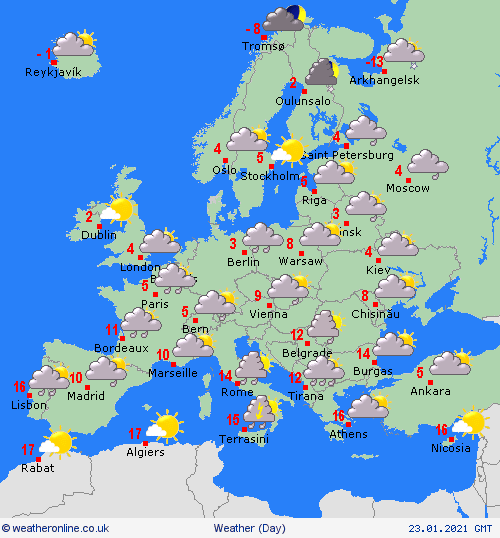 Photo: Weather Online
Denmark will be bright with sunny spells. Outbreaks of rain affecting southern parts of Sweden and these will affect the Baltic states. Dry and breezy in Finland. Northern parts of Sweden should be dry. Norway will have snow showers affecting many western coast in the south, but it should be cold and dry in the north.
Ruby Lee
You might be interested in