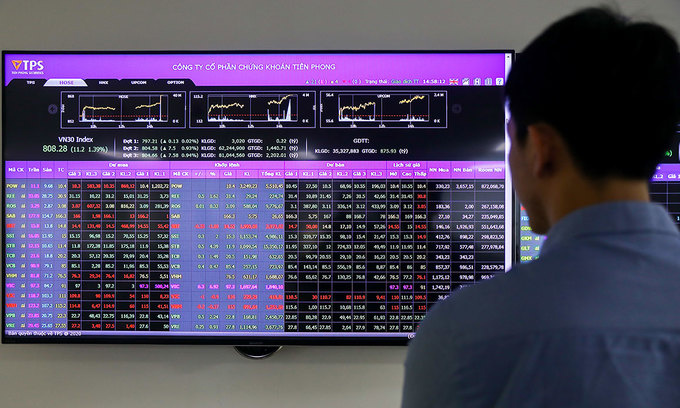 The main bourse Ho Chi Minh City Stock Exchange (HoSE), on which the VN-Index is based, saw 311 tickers gain and 137 lose. Total trading volume rose 5 percent to VND17.86 trillion ($771.9 million).
This means the VN-Index has risen by over 4 percent since Monday, continuing its rising trend so far this year after surpassing the 1,100-point mark in the end of last year.
The VN30-Index for the market's 30 largest caps rose 1.53 percent this session, with 23 stocks gaining and six losing.
The top gainer in the group this session was TCH of Hoang Huy Investment Financial Services Jsc, hitting its upper daily limit with 6.9 percent.
Five banks were among the top 10 performers, led by STB of Sacombank with 5.1 percent, followed by TCB of Techcombank, 3.2 percent, MBB of Military Bank, 2.7 percent, VPB of VPBank, 1.9 percent and EIB of Eximbank, 1.5 percent.
Several real estate firms were among the best performers with Novaland's NVL rising 6.2 percent, VRE of Vincom Retail, 4.7 percent and Vinhomes' VHM, 1.7 percent.
Other gainers included conglomerate Vingroup's VIC at 1.5 percent, budget airline Vietjet's VJC at 1.5 percent and dairy giant Vinamilk's VNM at 1.4 percent.
Three state-owned banks, however, were among the biggest losers this session with VCB of Vietcombank dropping 2.1 percent, BID of BIDV, 0.8 percent and CTG of VietinBank, 0.4 percent.
SSI of SSI Securities Corporation, one of the biggest gainers on the HoSE since the end of November, fell 0.7 percent.
Meanwhile, the HNX-Index for the Hanoi Stock Exchange, home to mid-and small-caps, rose 0.54 percent, while the UPCoM-Index for the Unlisted Companies Market gained 0.92 percent.
Foreign investors were net sellers to the tune of nearly VND379 billion on all three bourses this session, with selling pressure mostly on HPG of steelmaker Hoa Phat Group, which fell 0.1 percent.
You might be interested in