Regulations on changing land use purposes to projects are attracting special attention from real estate businesses and experts because this regulation is not only closely related to people's housing but also causes difficulties for businesses, thereby negatively impacting the real estate market.
Problems with capital and legal sources have made the real estate market difficult for the past year. This is why the Government continuously has drastic instructions to remove obstacles and restore the real estate market. Regarding capital, at the end of October, the Prime Minister requested a special "credit promotion" policy for feasible real estate projects. Regarding legality, the Government continuously issues documents urging localities to review and urgently remove project obstacles.
Also read: VND120 trillion credit package for social housing to be rolled out » Vietnam News - Latest Updates and World Insights | Vietreader.com
While the market is excited about the Government's series of close instructions and looking forward to the 2023 Land Law that will remove bottlenecks and promote sustainable real estate development, some regulations in the Draft Land Law amendments are making the real estate community worried, with some businesses even worried that they will have to abandon projects they have been pursuing for many years if the new regulations are approved. Experts are also concerned that regulations far from the market will continue to push real estate into difficulties.

Abandonment of agricultural land hinders businesses from building housing projects.
Article 128 of the revised Draft Land Law stipulates that if they want to change the land use purpose to implement a commercial housing project, the enterprise or land user must have the right to use residential land or residential land and non-residential land. Agricultural land is not residential land, land use fees have been paid, or land rent has been paid in one lump sum for the entire lease period.
Thus, compared to current regulations, the Draft Land Law (amended) has removed agricultural land from being transferred to change the land use purpose for housing projects. Along with that, the Draft also stipulates that non-agricultural land must pay a one-time land use fee.
Changes in regulations on changing land use purposes to projects in Article 128 raise concerns among real estate businesses, causing already-congested projects to become even more congested with new regulations. The business community also believes that if the new regulations are followed, it will be impossible to form large-scale urban areas in Hanoi and Ho Chi Minh City, thereby reducing the speed of urbanization.
Also read: Minister presents national land use planning for 2021-2030 » Vietnam News - Latest Updates and World Insights | Vietreader.com
Commenting on the new regulations in the Draft Land Law 2023, Lawyer Truong Thanh Duc, Director of ANVI Law Firm, said that the provisions of Article 128 cause great difficulties for real estate projects, especially large projects with a scale of tens to hundreds of hectares. Because most large-scale projects today involve agricultural land.
Many opinions also believe that this regulation causes many difficulties because most new real estate development projects are currently deployed on land funds that were originally agricultural land, non-agricultural land, and production land. According to this regulation, there is only residential land and non-agricultural land, which is the same as making things difficult for investors. The new draft greatly narrows the legal conditions compared to the current regulations. This regulation goes against the spirit of legally resolving the project.
Businesses are worried about abandoning the project if the regulations are approved.
Most representatives of real estate businesses, when asked, expressed concern that the new regulations, if passed, will tighten the conditions for implementing commercial housing projects. Since then, many projects have been pushed into a state of "suspended" planning because most current projects are implemented on land funds that were originally agricultural land, non-agricultural land, and production land.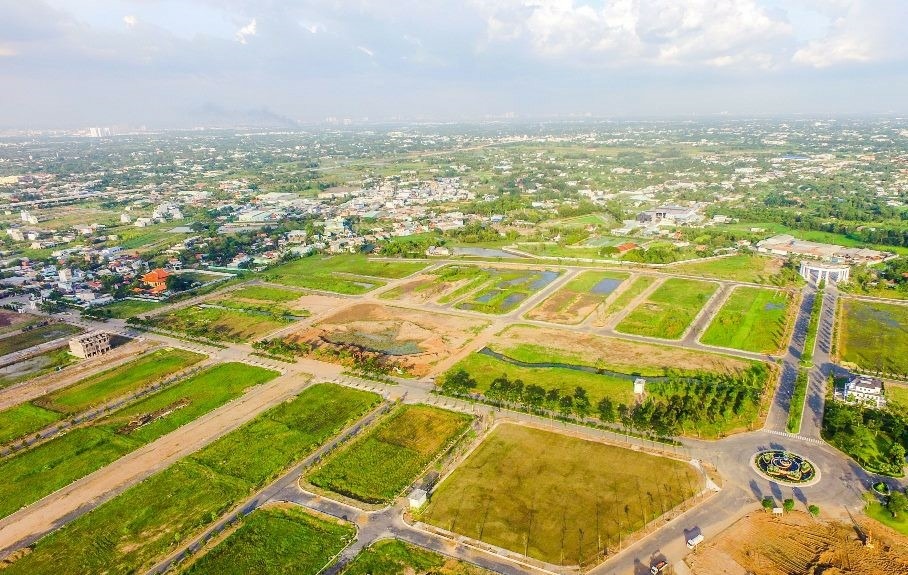 According to Mr. Nguyen The Diep, Chairman of Reenco Song Hong, Vice Chairman of Hanoi Real Estate Club, the regulations in Article 128 have limited the ability to launch new projects, causing congestion for existing projects in the implementation process and is an obstacle to the urbanization process of our country.
The investor of a project in Thu Duc City that is on the list of 41 projects in Ho Chi Minh City waiting to be resolved also said that in recent times, the business has "knocked on the door" of each agency, but most of them gave their approval knowing that all related legal documents had to be stopped due to problems with legal policies and had to wait for the agricultural land to be removed.
"We've been waiting for many years, but now, if the regulations in this Draft Land Law are approved, businesses will lose their opportunity and have to abandon the project because agricultural land is not allowed to be transferred for housing projects," this person said.
Not stopping there, the Chairman of a large real estate group in Hanoi also said that when investing, most real estate businesses must mobilize bank capital, and if required, they must pay taxes regularly. Replacing annual tax payments will increase the capital of the business. This makes businesses even more "afraid" to do projects, the already meagre new supply becomes even less, home buyers have difficulty accessing new products, and prices increase.
According to statistics, the country currently has hundreds of projects facing legal problems, of which the most prominent are problems with land regulations for projects. While recent efforts to resolve problems have not yielded positive results, Article 128's erection of "technical barriers" like the above is no different than blocking the exit routes of hundreds of these projects.
If this new regulation is passed, the inevitable consequence will be that the real estate market will remain paralyzed due to the lack of new projects, and businesses will continue to "wait" for a long time. For people, the meagre supply will push up real estate product prices further, making the dream of settling down increasingly out of reach.
To resolve this congestion, Mr. Le Hoang Chau, Chairman of the Ho Chi Minh City Real Estate Association, sent a written proposal to add back the regulations allowing businesses to receive agricultural land transfers by the planning. Use land to carry out investment projects in housing projects, with the condition that the Provincial People's Committee approves in writing.
"After purchasing agricultural land, businesses are responsible for carrying out procedures for changing the land use purpose and fulfilling financial obligations to the state according to the provisions of land law. Only then can they increase their resources." supply, reducing real estate prices', Mr. Chau said.
You might be interested in