Hana Micron's second factory, also the first semiconductor factory in Northern Vietnam, has officially come into operation.
According to experts, Vietnam is currently in the group of top countries that global semiconductor corporations are considering investing in.
Inauguration of Hana Micron Vina's second factory in Bac Giang
Recently, Hana Micron Vina Co., Ltd. inaugurated the Hana Micron Vina 2 Manufacturing Factory in Van Trung Industrial Park, Bac Giang province.
It is known that Hana Micron is a Korean enterprise specializing in manufacturing and processing integrated circuit boards used for mobile phones and other smart electronic products.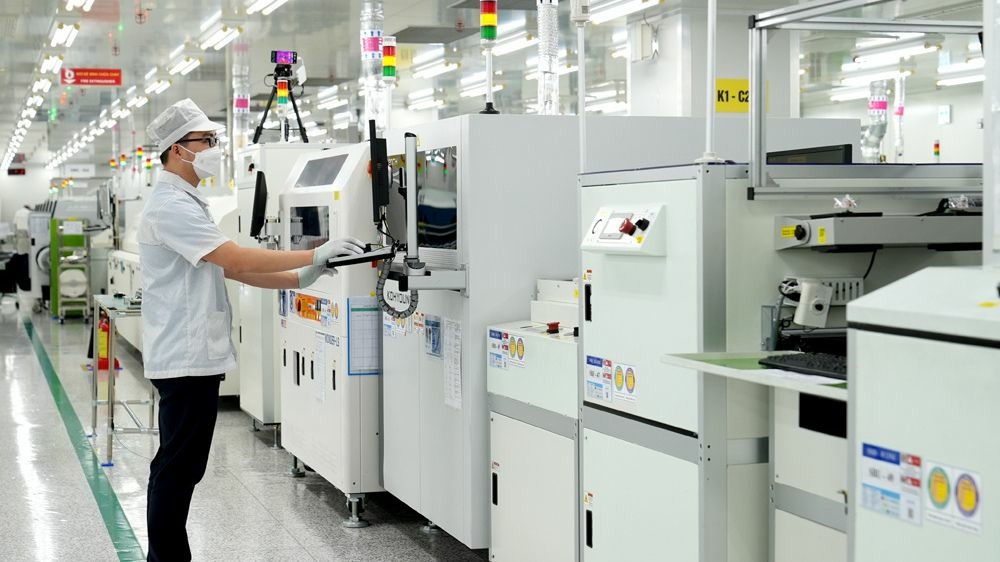 Also read: Semiconductor Manufacturing in Vietnam vs Taiwan » Vietnam News - Latest Updates and World Insights | Vietreader.com
This is Hana Micron Vina's second factory in Bac Giang. Previously, the company's first factory was completed and put into operation in 2022. Hana Micron decided to increase investment capital and build a second factory to meet market demand.
With a total investment capital of nearly 600 million USD, the Hana Micron factory is currently one of the projects with the largest investment capital per hectare in Bac Giang, with about 90 million USD per hectare, 8 times higher than the average investment rate of other foreign investment projects in this province.
Speaking at the event, Chairman of Hana Micron Group Choi Chang Ho said that the company plans to increase its investment capital to more than 1 billion USD by 2025. At that time, the factory's revenue was estimated to reach 800 million USD, creating jobs for more than 4,000 workers.
Hana Micron Vina in Vietnam will be the number one production facility in the global business of Hana Micron Group. In particular, human resources recruited in Vietnam will account for 70% of the total human resources.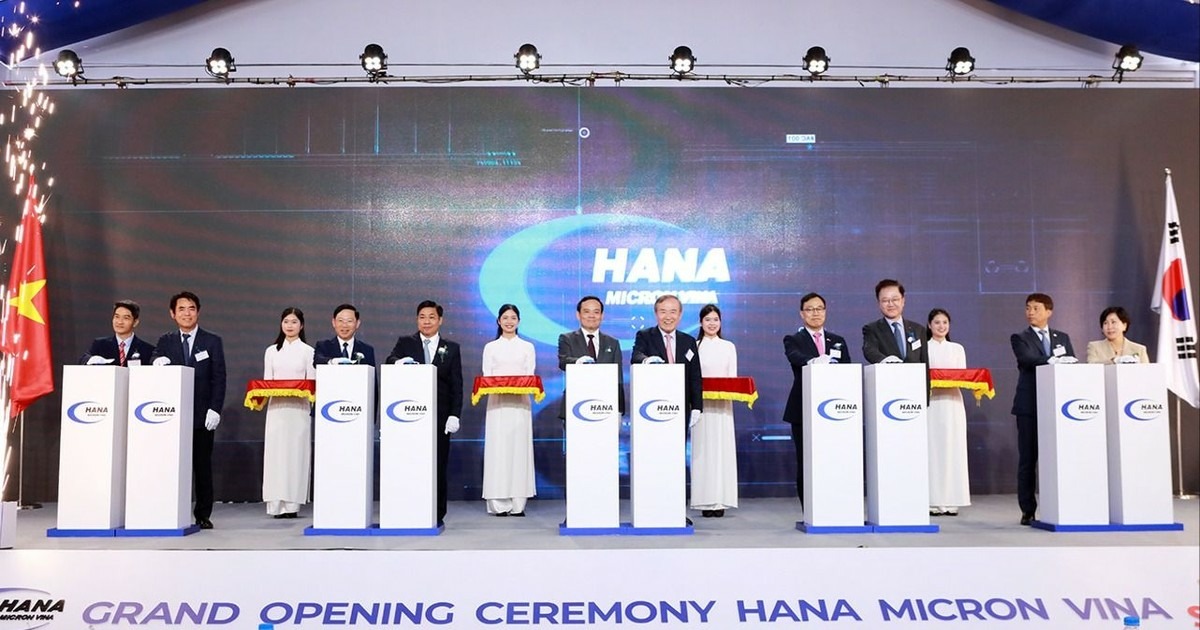 According to the plan, Hana Micron's revenue in Bac Giang will reach about 300 million USD this year, 2023.
According to Mr Choi Chang Ho, Hana Micron Vina always wants to develop a new semiconductor industry ecosystem in Vietnam, contributing to the diversity of innovative technologies and techniques that Vietnam follows.
At the inauguration ceremony, Chairman of Bac Giang Provincial People's Committee Le Anh Duong highly appreciated Hana Micron's project, saying Hana Micron Vina factory is the first semiconductor manufacturing factory in the North.
According to Mr. Duong, the effective implementation of the project will be the foundation for the development orientation of the semiconductor manufacturing ecosystem in Bac Giang province in particular and Northern Vietnam in general.
This is also an opportunity for Bac Giang province to attract more high-tech projects through the Government's policies and investment attraction strategies and the province's development orientation in the coming time.
Vietnam with the prospect of attracting investment in the semiconductor industry
According to Mr. Wade Cruse, Southeast Asia Managing Partner of Bain & Company (USA), Vietnam and India are promising destinations for attracting semiconductor investment.
Currently, the country has 40 enterprises operating in semiconductor chips. Among them, there are 38 FDI enterprises and 2 large domestic enterprises.
Also read: Vietnam emerges as semiconductor industry "Winner" as China falls behind in innovation » Vietnam News - Latest Updates and World Insights | Vietreader.com
In addition to Intel, with a 1.5 billion USD project in Ho Chi Minh City, Amkor Group has also built a 1.6 billion USD project in Bac Ninh, of which the investment amount for phase 1 is 500 million USD. It is expected that this factory will officially come into operation in early October.
In addition, China's Victory Gain Technology Group also wants to invest in a $400 million semiconductor components project in Bac Ninh. Or Runergy New Energy Science and Technology Group has invested 440 million USD in Nghe An to produce semiconductor components, including silicon bars and semiconductor plates.
You might be interested in