Intending to have 8.4 million users, Kasikornbank (KBank) - the two largest banks in Thailand - wants to pour more than 1 billion USD into Vietnam from now until 2027.
KBank President Pipit Aneaknithi has just announced the information. With 735 million USD, most of the money will fund banking activities. The remaining amount is for KBank's two subsidiaries in Vietnam, KVision investment fund ($336 million) and KBTG technology company ($7 million).
KBank has a representative office in Hanoi, and the KBank Ho Chi Minh City branch is licensed to operate from 2021 with an initial charter capital of 80 million USD. It raised its charter capital to 285 million USD in May this year, making it the foreign bank branch in Vietnam with the second-highest charter capital.
For this bank, Vietnam is a crucial Southeast Asian development hub. It has a notable advantage in its young population; many engineering graduates can help the country participate deeply in the global supply chain, and the government has good economic driving policies, according to Mr. Pipit Aneaknithi.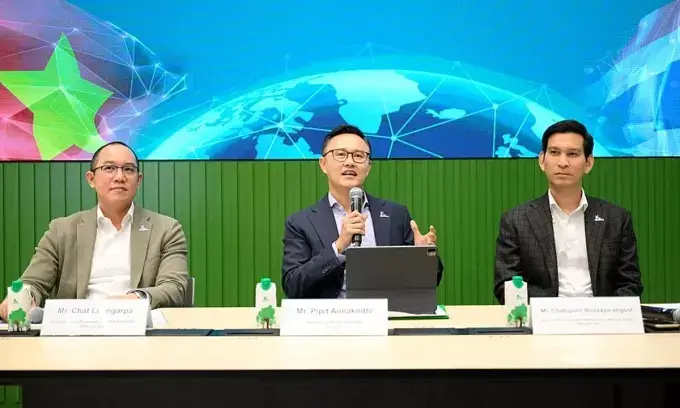 KBank President Pipit Aneaknithi (seated in the middle) and KBank Vice President Chat Luangarpa (left) share their investment ambitions in Vietnam. Photo: KB
He compares making a dish with all three elements to following the recipe created for Vietnam. Personnel is the initial component, with more than 20 million engineering graduates annually. The second ingredient is technology. The third raw material is finance, where the banking industry will play an important role in supporting industrial production activities.
With the investment capital increase in Vietnam, the Thai banking giant targets small and medium-sized enterprises (SMEs) and individuals. Mr. Pipit Aneaknithi sees an opportunity when more than 97% of enterprises in Vietnam are SMEs but only account for 20% market share in the credit capital market structure.
By the end of this year, the branch in Ho Chi Minh City of this bank aims to disburse US$40 million for SMEs and business households entirely online. Massive seamless online service is being targeted.
KPlus has been launching for a year with 760,000 users for individual customers. They established goals of 8.4 million users by 2027 and 1.3 million users by the end of this year. Recently, this application launched a savings deposit program with an interest rate of 8.5 %/year for 6 months. The bank's representative said that this interest rate was chosen to be introduced at the right time when the savings interest rate in Vietnam was decreasing.
In addition to the banking segment, the Vietnam Treasury will continue to hunt for IT talent to increase its size from 100 employees today to 650 people by 2027. Meanwhile, KVision is looking for promising projects to invest in. 
Chat Luangarpa, Vice President of KBank, said the bank's ecosystem develops based on the symbiotic relationship between entrepreneurship, technology power and digital array. In it, the spirit of entrepreneurship arouses innovative ideas. As these projects evolve, technology provides the necessary tools and solutions. The digital array is the bridge, providing platforms and channels for innovations to reach a broad audience.
But the Vietnamese market - where there are many banks - is a challenging piece of cake.
The economic situation when they arrived in Vietnam could have been smoother. KBank received a license to open a branch in 2021 when the pandemic broke out. Until COVID-19 has passed, the market is more or less unfavorable, affecting banks in Vietnam.
In Vietnam, KBank only has a license for 1 branch, so the bank's leaders admit that it can only expand the customer network digitally, thanks to eKYC (electronic identification).
It includes the possibility that KBank will find a suitable unit to acquire. Recently, Reuters reported that this bank is looking for an opportunity to buy Home Credit Vietnam for up to 1 billion USD. However, Mr. Chat Luangarpa declined to comment.
While Vietnam's urban areas are expected to continue to expand quickly, many rural areas still need more access to crucial financial services. KBank thinks that this discrepancy gives them room to grow. And they have to wager on that future over the internet.
KBank came to Vietnam with a triangular banking, technology, and investment strategy. They prepared this dish at home. By total assets, this bank ranks second in Thailand, with $122.9 billion as of the end of 2022.
They are also quite responsive to new technologies such as issuing blockchain letters of assurance, opening an NFC exchange or cryptocurrency fundraising (ICO), and artificial intelligence (AI) applications. Twenty-two thousand people are working on the IT infrastructure.
KBank was formerly a bank for farmers; this bank was established in 1945 by Mr. Choti Lamsam. The founder's grandson, Banthoon Lamsam, took over at the helm for 28 years before retiring as chairman in 2020. Mr. Banthoon Lamsam and his family are ranked the 32nd richest in Thailand by Forbes, with a fortune of 1.1 billion USD.
Also read: Thai KBank becomes the second largest chartered foreign bank in Vietnam
Thai's KBank expands services to Vietnam
You might be interested in