During the 7-day Lunar New Year holiday in 2023, traffic police across the country fined more than 7,700 cases of drunk driving, an increase of nearly 600% compared to Lunar New Year 2022.
The Traffic Police Department, the Ministry of Public Security, said that nearly 22,000 violations were handled, with fines exceeding 50 billion VND, temporary seizure of nearly 640 cars, nearly 10,000 motorcycles, and revocation of nearly 5,000 driver's licenses of various types.
Among the violations, drunk driving accounted for more than 35% with over 7,700 cases, an increase of nearly 600% compared to the 9-day Lunar New Year holiday in 2022. Hai Phong led with over 600 cases, Hanoi nearly 560, Ho Chi Minh City and Quang Nam with 480, Thai Nguyen 460, Nam Dinh 240...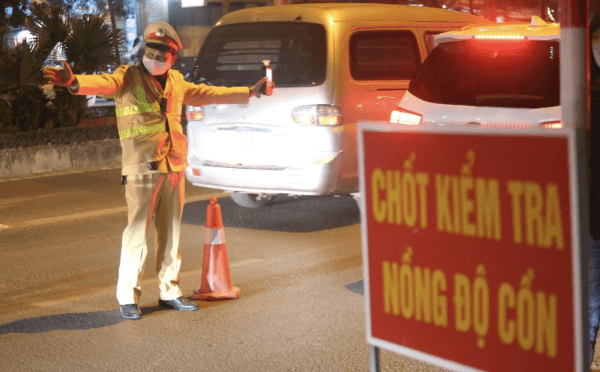 The Traffic Police Department has increased monitoring of high alcohol levels due to increased efforts by law enforcement to check using methods such as setting up checkpoints on major roads, near bars, and conducting spot checks. In Hanoi on the night of 30th New Year's Eve, many 141 checkpoints were deployed and thousands of drivers were checked.
The increased monitoring, particularly of alcohol levels, has to some extent reduced the number of traffic accidents. During the 7 days of the New Year holiday, the country had 152 incidents, resulting in 89 deaths and 11 injuries. Compared to the New Year holiday in 2022, there were 12 fewer incidents and 3 fewer deaths. Compared to the 7-day holiday in 2019 (before the Covid-19 pandemic), there were 71 fewer incidents, 51 fewer deaths, and 101 fewer injuries.
The Traffic Police Department has launched a high-point campaign to ensure traffic safety and social order during the New Year holiday from November 15, 2022 to February 5, 2023 on all roads, railways and waterways. In nearly two months (until January 12, 2023), the police nationwide have handled more than 521,000 cases of driver violations, fined nearly 1 trillion VND; of which more than 80,600 cases of alcohol levels, fined nearly 400 billion VND.
You might be interested in