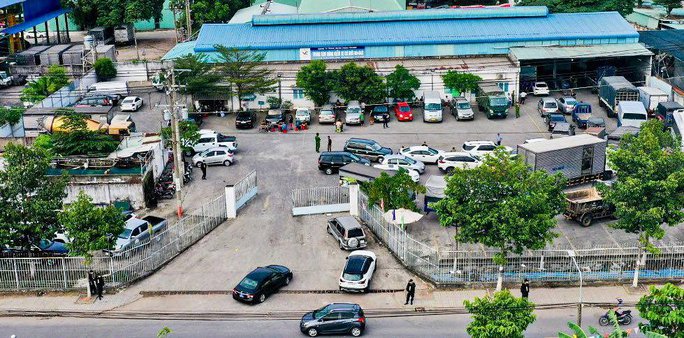 HCMC – Luong Minh Tu, 43, director of the 60-04D in the southern province of Dong Nai, and 10 others have been charged with taking tens of billions of dong in bribes.
The Dong Nai police today, January 20, detained Tu and two deputy heads of the center – Le Son Tuyen and Tran Duc Duy, along with six inspectors for allegedly accepting bribes, the local media reported.
The police also pressed charges against Vo Chi Giang, an employee of the Saigon 3T auto driving center, and Le Tien Trung, director of the Vy Khang Transport Trading Services Company, for allegedly giving bribes.
The arrests came after the police searched this auto testing center in the province's Bien Hoa City for several days.
According to the investigation results, Tu colluded with eight inspectors and staff members to advise car owners to use the inspection and testing service at the center. Besides an auto inspection fee and a road use charge in line with the prevailing regulations, owners of cars which did not meet technical and environmental standards to run on the road had to give bribes to the center to get their vehicles certified as eligible for use.
The investigators discovered that these suspects had given and taken tens of billions of dong in bribes during last year, with Tu admitting to pocketing more than VND3 billion.
Over the past month, police in many provinces and cities nationwide have probed violations of auto inspection and registration regulations, resulting in many auto testing centers closed.
The HCMC police searched 13 auto testing centers and pressed bribery charges against 89 individuals.
In the capital city of Hanoi, the police filed charges against 18 people from 10 auto testing facilities and detained 57 people for their alleged involvement in bribery cases.
Yesterday, the investigators in the northern province of Thai Binh filed charges against multiple officials of two auto testing facilities for allegedly taking bribes.
At the 17-01D auto testing center in Thai Binh City, the investigators arrested its director Luu Quang Hai, deputy director Bui Ngoc Diep, and inspector To Hong Duong.
Five officers of the 17-02D auto testing center in Dong Hung District, comprising Nguyen Ngoc Vien, Nguyen Van Kinh, Bui Van Tuong, Nguyen Tien Uy, and Ta Van Huynh, faced the same charges.
Similar to other auto testing centers under the investigations, these two facilities in Thai Binh were found to have infringed violations while offering auto inspection and registration services to car owners.
You might be interested in