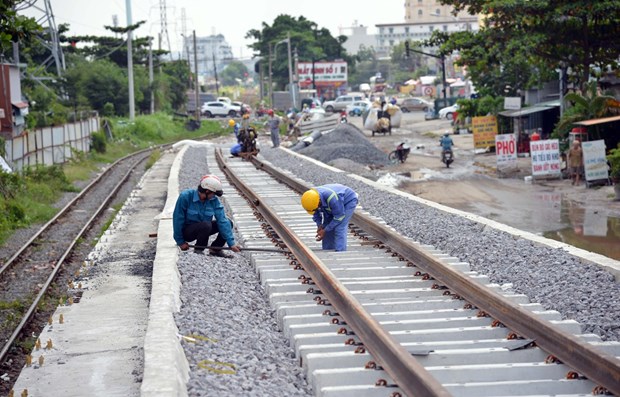 HCMC – The northern province of Bac Ninh is seeking the prime minister's approval for developing the Lim-Pha Lai railway on a viaduct instead of on the ground as planned to optimize the use of urban land.
The Bac Ninh government said that building the Lim-Pha Lai rail route on the ground could split industrial parks and urban towns in the province, thereby hindering the development of urban spaces and the local economy.
Therefore, the northern province proposed the Transport Ministry seek the prime minister's nod to build the Lim-Pha Lai railway as an elevated one.
The province began work on a 131-kilometer railway project linking Yen Vien Station with Cai Lan Port in 2005. It includes four subprojects: Yen Vien-Lim, Lim-Pha Lai, Pha Lai-Ha Long and Ha Long-Cai Lan.
Only the Ha Long-Cai Lan subproject has been completed and put into service. The construction of the three remaining ones has been suspended since 2011 till now due to financial obstacles.
In June this year, the National Assembly approved a project to develop Beltway No.4, connecting the capital city of Hanoi with Bac Ninh and Hung Yen provinces, with the section running through Bac Ninh stretching 35.3 kilometers.
A 9.7-kilometer route of the beltway section in Bac Ninh was planned to be built on a viaduct, passing through some urban areas and industrial parks and running parallel with the Lim-Pha Lai subproject.
The Ministry of Transport recently assigned the Railway Project Management Unit to conduct a pre-feasibility study for the aforesaid railway project to resume work.
You might be interested in