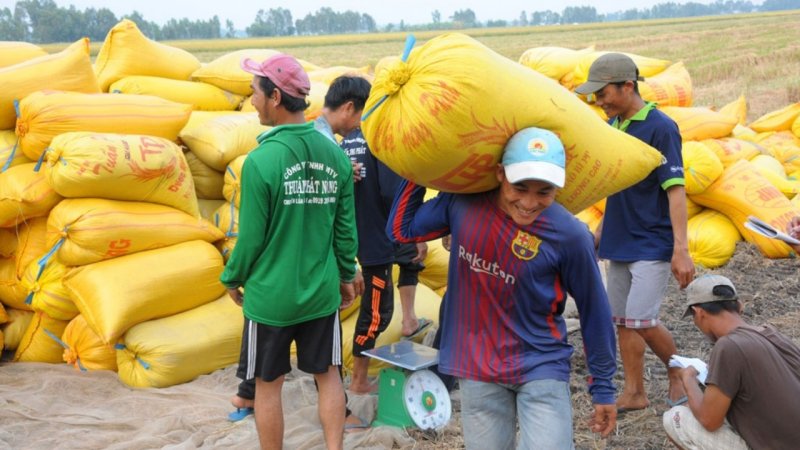 HCMC – Vietnamese rice export prices have stayed high in November, while shipments to European countries, China, and the Philippines have soared, all contributing to this year's rice export that is expected to soar to a record high of over seven million tons.
Statistics from the Ministry of Agricultural and Rural Development showed that the nation shipped some 600,000 tons of rice valued at US$296 million in November, bringing the total volume and value of rice export in the year through November to nearly 6.7 million tons and US$3.24 billion, up 6.9% year-on-year.
This year, the Philippines has increased the import of Vietnamese rice by some 17% to 3.4 million tons, while the country has also received more orders from the EU and China, especially for quality and fragrant rice.
In the first half of 2022, Vietnam shipped over 50,000 tons of rice to the European market, bringing in US$37 million, skyrocketing 84% in volume and 96% in value compared to the same period last year.
Market watchers attributed the rise in rice exports to European nations to the Russia-Ukraine military conflict, which has affected wheat supply and forced them to replace it with rice.
Meanwhile, Vietnam's 5% broken rice price stays as high as US$438 per ton in the global market, higher than that of Thailand from US$13-28 and India US$60-65 per ton.
India, the world's largest rice exporter, banned exports of broken rice and slapped a 20% export tax on several rice varieties, reducing rice supplies in the global market and thus driving up Vietnamese rice prices, said Le Thanh Hoa, deputy director of the Department of Agricultural Product Processing and Market Development, during a recent seminar on connecting rice supply and demand in the Mekong Delta.
"Many countries have increased rice imports to replace wheat due to supply chain disruptions caused by the Russia-Ukraine conflict, making rice exports a bright spot at the end of the year. In my opinion, Vietnam's rice export will hit the record of 2012, shipping over 7 million tons," Hoa said.
You might be interested in