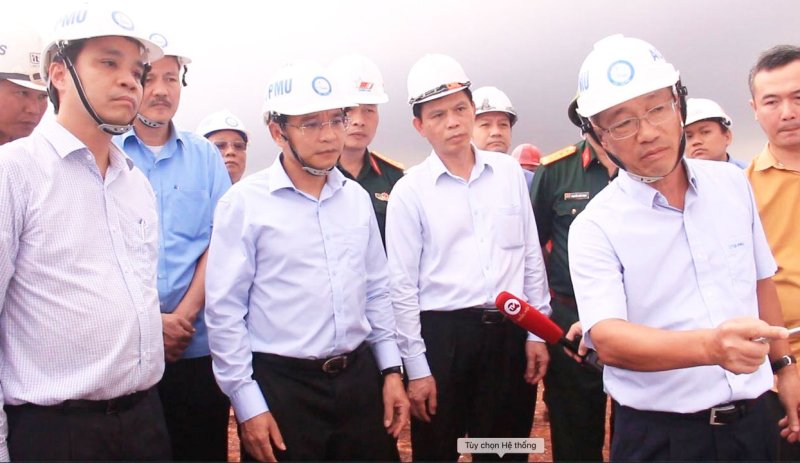 HCMC – Minister of Transport Nguyen Van Thang has requested the Airports Corporation of Vietnam (ACV) to step up land clearance for the Long Thanh International Airport project as the job is slower than expected.
In a field trip to the Long Thanh airport construction site in the southern province of Dong Nai yesterday, November 22, the minister, who took office a month ago, said the slower-than-planned site clearance had affected airport construction work.
The authority of Long Thanh District, where the airport is located, promised to complete the handover of cleared land to the project developer in late November or early December.
Do Tat Binh, deputy general director of ACV, told the minister that his company had received 1,770 hectares of cleared land out of 1,810 hectares needed for airport construction and 644 hectares of backup land out of the total 722 hectares, reported the transport news website at baogiaothong.vn.
Around 100 households have not relocated from the project site due to their disagreement with compensation rates and some others are waiting for resettlement.
Vu The Phiet, general director of ACV, said his company would begin work on major components of the airport project in the first quarter of next year, including terminal, runway, taxiway and apron.
ACV will need two roads leading to the passenger terminal construction site, he said, adding that if these two roads are not built, there would be no way to reach the site.
Minister Thang was quoted by the news site as saying that this project is of great national importance as it would help drive economic growth and ensure national security and defense.
Despite the country's tight budget, the National Assembly and the Government have prioritized allocating huge funds for the project, he stressed.
The first phase of the Long Thanh airport project, from 2020 to 2025, would cost an estimated VND109 trillion (US$4.35 billion at the current exchange rate) and consist of a runway, a passenger terminal and other supporting facilities. This phase is designed to handle 25 million passengers and 1.2 million tons of cargo.
You might be interested in