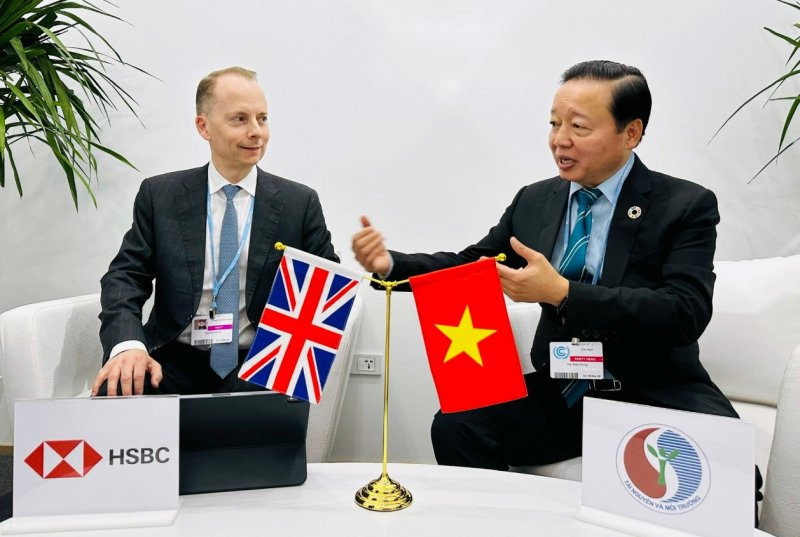 HCMC – HSBC Vietnam and the Ministry of Natural Resources and Environment have signed a memorandum of understanding (MOU) to collaborate on the Environment, Social and Governance (ESG) agenda.
Under the MOU signed on the sidelines of the ongoing 27th United Nations Climate Change Conference of the Parties in Egypt (COP27), HSBC Vietnam will assist the ministry to build a practical approach in realizing its strategies in the alignment with Vietnam's target of net zero emissions by 2050 and a framework that unlocks international financing sources.
In particular, the bank will focus on some key objectives, including contributing to the implementation of the national strategy on climate change to 2050, supporting Vietnam to build human resources and capabilities needed in sustainability and building the taxonomy – defining sustainable assets and financial products.
The bank will also help the ministry develop toolkits and guidance for businesses across sectors to assess their emission levels, transition risks, and develop pathways to a lower greenhouse gas emission economy.
The MOU marked another step of HSBC in the execution of its commitment to accompany Vietnam on the journey towards its long-term sustainability goals. Last November, Vietnam made a commitment at the COP26 Summit to reach net zero emissions by 2050. It is essential for the country to call for the participation of both public and private sectors to realize its ambition.
Addressing the signing ceremony on November 8, Minister of Natural Resources and Environment Tran Hong Ha said, "We highly appreciate the commitment of HSBC to the sustainability of Vietnam and its contribution to support the country realize its climate commitment. Our fight against the impacts of climate change is a major challenge which needs the participation of the whole society.
"Particularly, the collaboration between the Vietnamese ministry and HSBC can open up big opportunities for the Government of Vietnam to leverage resources from financial institutions, industry associations and technical experts, and encourage more businesses to join the journey."
"We are very pleased to work with the Ministry of Natural Resources and Environment on the journey of bringing Vietnam closer to its goal of achieving net zero emissions by 2050," said Tim Evans, CEO of HSBC Vietnam.
In response to Vietnam's commitment at the COP26 Summit, HSBC Vietnam made a commitment to arranging up to US$12 billion to green the country by 2030. The bank will mobilize funds from local and international financial markets to provide a wide range of sustainable solutions in green finance, debt finance, supply chain, trade, green deposits and investment products.
You might be interested in