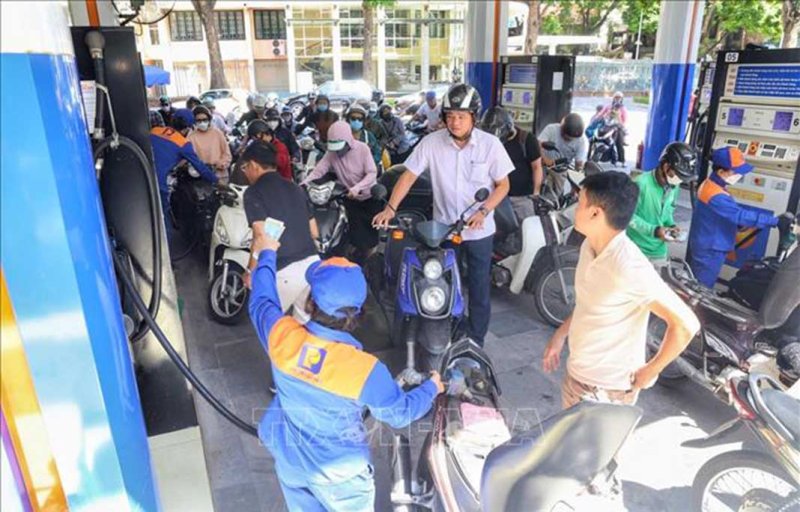 HCMC – Domestic fuel retail prices were revised up VND120-410 per liter or kilogram today, November 1, according to an announcement jointly issued by the ministries of Industry-Trade and Finance.
This is the third upward fuel price adjustment since mid-October.
RON 95-III gasoline now sells for VND22,750 per liter, up VND410, while E5 RON 92 bio-gasoline costs VND21,870 per liter, up VND380.
Diesel oil, kerosene and heavy fuel oil are capped at VND25,070, VND23,780 and VND14,080 per liter or kilogram, inching up VND290, VND120 and VND190, respectively.
In this fuel price adjustment round, the two ministries decided to extract VND200 for each liter of E5 RON92 sold, VND300 for each liter of RON95 and VND500 for each kilogram of heavy fuel oil to replenish the national fuel price stabilization fund.
Meanwhile, local fuel traders are not allowed to tap the fund.
Since the beginning of the year, local fuel prices have been adjusted 29 times, with 15 increases and 14 cuts.
In another development, the local cooking gas price soared by up to VND21,000 per 12-kilogram cylinder month-on-month, starting today, after multiple cuts over the past few months.
Saigon Petro quoted its retail cooking gas price at VND425,000 per 12-kilogram cylinder, up VND20,000 against October.
Meanwhile, at the southern branch of PetroVietnam LPG JSC, the price rose by VND1,750 a kilogram, or up VND21,000 per 12-kilogram cylinder and VND78,750 per 45-kilogram cylinder month-on-month, to VND429,000 and VND1.6 million, respectively.
You might be interested in