In today's ever-evolving landscape, product analytics has become an essential element in every business. As the volume of data is increasing exponentially, data analytics platforms are progressively adopted to help companies derive deep customer insights and make informed decisions from mountains of data. Growing at a breakneck pace, the industry is forecasted to be valued at US$16.69 billion by 2028 at a 15.9 percent CAGR.
Noticing the surge in demand for this field, KMS Solutions has cooperated with Mixpanel to better support organizations in improving their product experiences.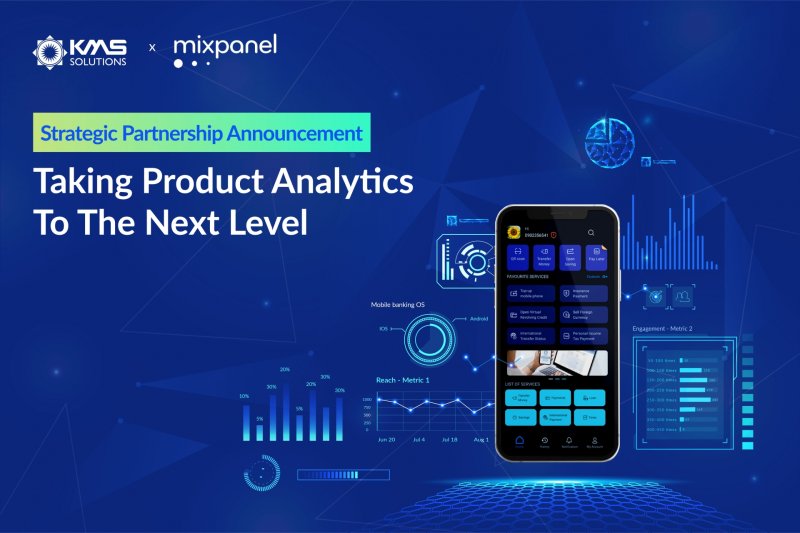 Le Huu Tan Tai, Vice President of Vietnam Business at KMS Solutions, said: "Data can reach its full potential when unlocked with analysis and not all analytics tools are created equal. Mixpanel's pioneering event-based tracking solution gives product teams the ability to gain insights into how people are actually using the websites and applications product teams are building. Through this partnership, we're looking forward to empowering enterprises to embrace product-led growth and fully level up their product strategies."
Equipped with various innovative features like group analytics, customizable team dashboard, and limitless segmentation, Mixpanel's self-serve platform shows companies what is and isn't working with their products, and helps them prioritize their product roadmap, accelerate innovation, and build better products.
Edward Kong, Head of Channel Alliances, APAC at Mixpanel, said: "Existing product-analytics solutions provide limited insights into what is and isn't working with products, stalling innovation. We aim to change that alongside our strategic partner, KMS Solutions, which is one of the top product development agencies in Vietnam, by offering end-to-end data analysis across the user lifecycle."
Mixpanel has acquired 7k+ paying customers, including industry leaders such as Uber, BuzzFeed, DocuSign, etc., and generated 70M+ product-related answers monthly. Meanwhile, KMS, having 13 years of experience in consulting and providing digital solutions, has helped over 200 software companies across the globe. Together, with the strong analytics capabilities of KMS Solutions and Mixpanel's powerful product analytics tool, both companies expect to discover new opportunities to streamline businesses' product analytics process and deliver greater analytics value.
PV
You might be interested in