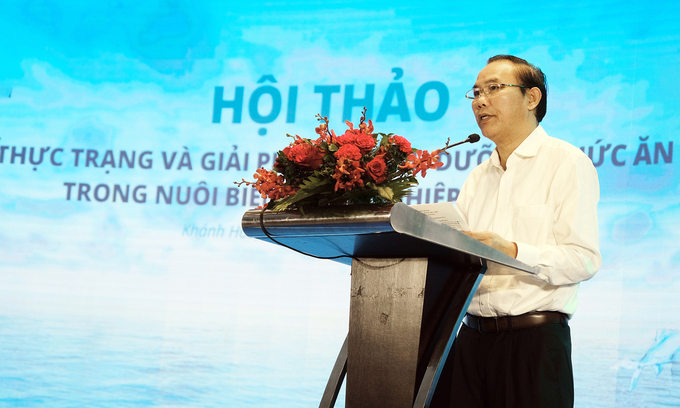 The Prime Minister issued Decision No. 1664/QD-TTg dated October 4, 2021 approving the Project on development of marine farming until 2030, with a vision towards 2045.
In an effort to implement the Project, the Ministry of Agriculture and Rural Development issued an Action Plan to thoroughly address shortcomings such as spontaneity in marine farming, limitations in infrastructure, production techniques, and environmental pollution risks from the coastal area, the marine cage system is sensitive to weather.
At the Workshop on the current situation and solutions on nutrition and feed in Vietnam's industrial marine farming on September 15, Deputy Minister of Agriculture and Rural Development Phung Duc Tien expressed his opinion on unifying actions across 3 axes (the Government, businesses and people), to establish marine farming as an industry with high value and sustainable development.
Namely, Deputy Minister Phung Duc Tien assigned the Directorate of Fisheries to issue priority plans to develop industrial marine aquaculture, encourage investment in value chains, and apply high, advanced international technologies.
"Vietnam's marine farming has great potentials and areas for development. This is the time to synchronously and effectively implement key programs and projects to solve core problems and create a foundation for the development of an effective, sustainable, and environmentally friendly marine farming industry", emphasized the Deputy Minister.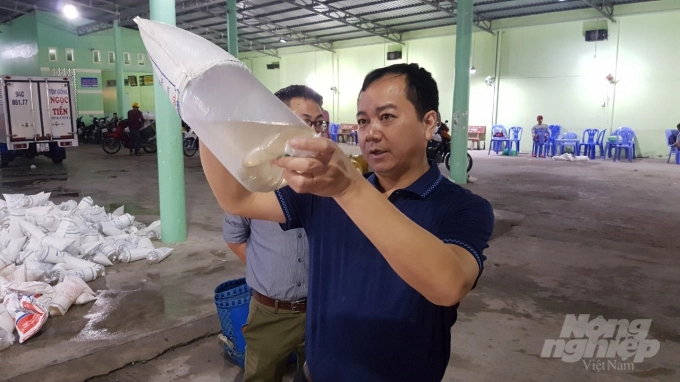 General Director of the Directorate of Fisheries Tran Dinh Luan stated that it is necessary to reorganize the marine farming  industry in the direction of increasing technology content, planning in detail, specific farming areas, ensuring control of environmental issues and sustainable development.
One of the solutions that Mr. Luan suggested to be implemented in the near future is to use new materials that are safe and effective, especially in offshore and open sea farming. "Farmers need to be aware of why it is necessary to convert from traditional marine farming with traditional materials such as wood and plastic to new ones such as HDPE cages", explained Mr. Luan.
The benefits of HDPE cages, according to Mr. Luan, are their durability and resistance to climate changes such as storms, waves and wind, which are markedly better compared to wooden cages. In addition,  HDPE cages also helps to protect the environment and the forests more effectively. 
Several provinces have widely applied HDPE cage farming technology including Khanh Hoa, Quang Ninh, Ninh Thuan, etc., in combination with a system of cages, rafts, floats and other specialized equipment to serve industrial marine farming.
"We need to continue to develop policies, encourage more businesses to participate in the production of new materials to serve farmers effectively", Mr. Luan said.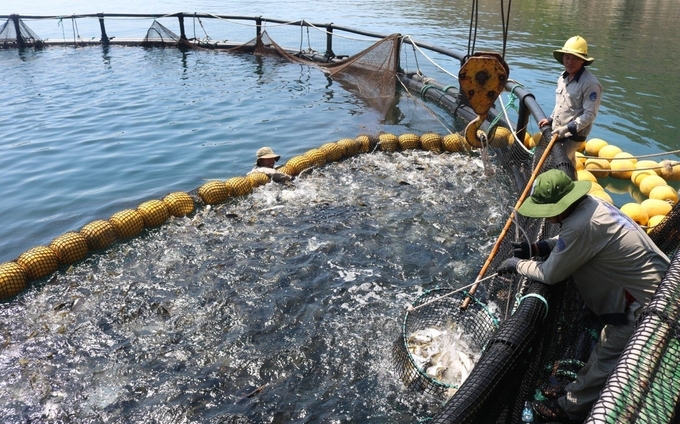 In addition to technology, sustainable marine farming also poses a problem of human resources, especially those of high-quality.
Deputy Minister Phung Duc Tien assigns institutes and universities to research and propose projects to train human resources, strengthen scientific potentials for marine farming, with special focus on industrial marine farming.
With the local Departments of Agriculture and Rural Development across 28 coastal provinces and cities, the Deputy Minister suggested coordinating with the Department of Science and Technology, as well as specialized departments and branches to promptly transfer advanced technologies at the provincial level for the development of marine farming.
"The Department of Agriculture and Rural Development is responsible for advising the Provincial People's Committee to develop and implement the local marine farming development planning effectively and thoroughly. On the other hand, the Department must also present solutions to effectively prevent the development of spontaneous and unplanned marine farming, polluting the environment and destabilizing the market", remarked the Deputy Minister.
Moreover, the Department of Agriculture and Rural Development needs to guide farmers to quickly implement regulations on the registration of marine cages and the licensing of marine farming under its authority as prescribed in Decree No. 26/2019/ND-CP.
Mr. Vu Anh Tuan, Asian Aquaculture Technical Director from Olmix Group, said that seaweed is an effective factor in reducing climate change because it absorbs carbo; as well as help restore marine ecosystems and develop coastal bio-economy. More importantly, seaweed contains nutrients including proteins and many biologically active substances that are beneficial to both humans and other animals. According to Mr. Tuan, products processed from seaweed powder can help to improve growth rate, feed ratio, survival rate and reduce dependency on fishmeal.
Many challenges remain in the marine farming industry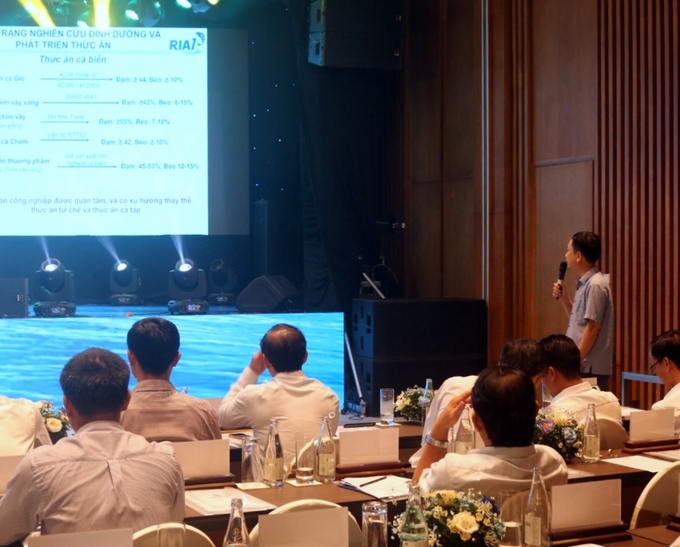 Presenting the potentials and challenges within the development of industrial feed for marine farming at the Workshop on current situation and solutions on nutrition and feed in industrial marine farming in Vietnam organized by the Ministry of Agriculture and Rural Development in Cam Ranh City, Khanh Hoa on the morning of September 15, Mr. Le Van Khoi from Research Institute for Aquaculture I, said that industrial feed for common farming targets such as seabass, cobia, and grouper has been actively researched since 2010.
The research focused on nutritional needs, development of industrial feeds for each stage and the target's ability to use feed.
The Research Institute for Aquaculture I conducted the research on the development of feed formulation and feed production equipment for yellowfin pompano. As a result, the research has successfully developed feed for the commercial stages of marine fish farming as well as feed production equipment lines with a capacity of 0.5 to 1 tons/batch/hour. In addition, the Institute's feed formula has also been commercialized.
However, according to Mr. Le Van Khoi, the challenge for the current marine feed production industry is to diversify the source of raw materials, reduce dependency on a few commonly used ingredients, and always have an alternative to raw materials when the environment is unstable.
Finding new sources of feed ingredients often takes time to identify and assess the effects on marine species. For example, insects are a new material that has been evaluated as a potential substitute for animal protein for marine feed; a source of seaweed material is also being researched to be used in aquaculture and so on.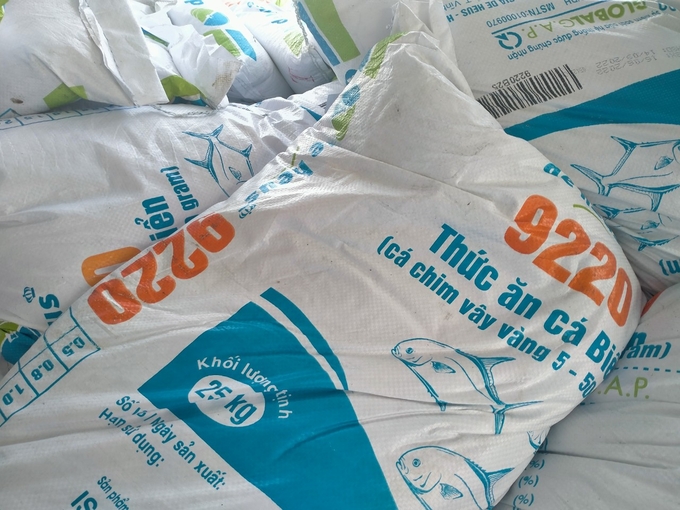 Another challenge facing the marine feed industry is the improvement the available materials, as well as the effective and thorough utilization of readily available materials. Therefore, instead of finding new sources of raw materials that will take a long time, scientists prefer the research and improvement of available materials. Moreover, the improvement of available materials also plays a role in reducing the impact of climate change; and when the climate changes, productivity is affected. The effective utilization of available materials is also a way to reduce pressure from production on the environment.
For example, the fermentation of raw materials helps to remove anti-nutritional factors while increasing the content of useful nutrients in raw materials for production. The use of nutritional supplements to increase the digestibility of mixed feed is also currently being researched by various companies and scientists. Supplements often contain essential amino acids, enzymes that aid digestion, promote appetite, and enhance the secretion of endogenous enzymes that aid in the metabolism and utilization of nutrients in feed.
In addition, the environmental and disease impacts on marine farms also stand as challenges to the development of feed that are both viable for growth and disease prevention.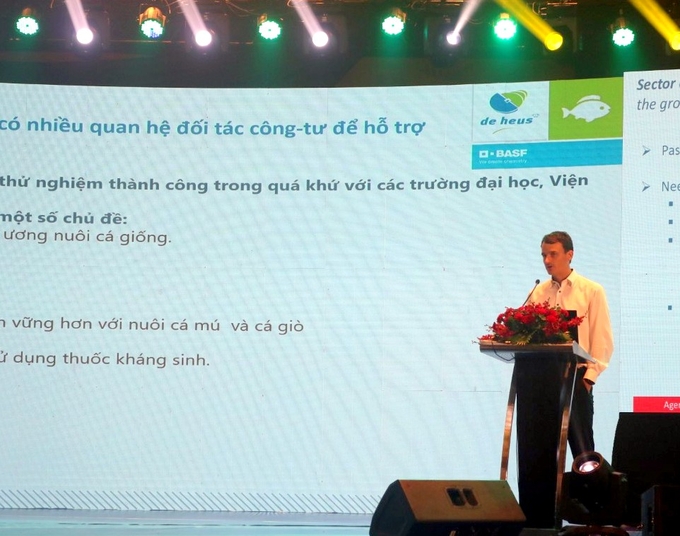 According to the representative from De Heus, the company currently has products for each species of marine fish farming with the fingerling's sizes ranging from 0.5mm to 20mm, including floating and sinking feed. The company also produces feed for marine fish such as seabass, pompano, grouper, and cold water fish such as salmon and sturgeon. In the immediate future, De Heus wishes to cooperate on new potential species for Vietnam's marine farming such as lobsters and snails. The company hopes to develop the best feed species to support the industrialization of the aquaculture industry in Vietnam.
Several companies including CP Group, Uni-President, Proconco, Cargill, De heus, Skretting Vietnam among many others are currently participating in the production of complete mixed feed for marine farming. The annual feed output is estimated at 40,000 - 50,000 tons. The volume of marine feed that must be imported every year is relatively high, at approximately 140,000 to 150,000 tons of feed from Thailand, Hong Kong and Taiwan.
Authors: Kim So - Bao Thang
Translated by Nguyen Hai Long
You might be interested in