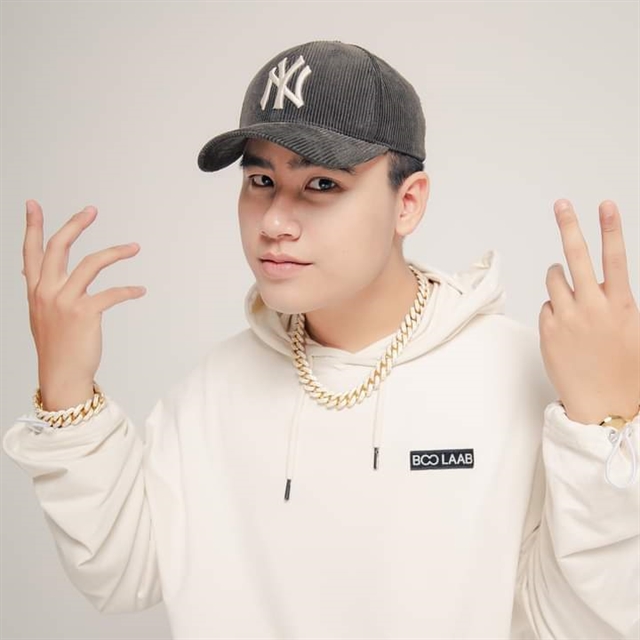 Rapper GDucky (Đặng Mai Viet Hoang) finished second in the first season of Rap Viet gameshow and has recently beelisted on Forbes Vietnam Under 30.
Dan Viet online newspaper reporter Nam Phương chats with the rapper about making the list. 
How did you feel when you heard you were on the Forbes Vietnam list?
I was both surprised and happy because I never thought before that the field I am in could be nominated for such a honour. I was even more surprised that there were outstanding young businessmen, young starters and social activists.
They are really talented people and I admire them. I want to have a chance to exchange experiences and learn something from them to make me better in the future.
In your opinion, how did you get on Forbes?
I have worked in the music industry for nearly five years. I have experienced difficulties and challenges. I decided to become a rapper without support from my family.
I never thought that I would give up my passion, although I have had failures. However, my success in music contests and my music products help my family to understand me and know that my choice is right.
I'm in my youthful years and I want to show my dedication to work. I always believe that my effort and my work progress will be recognised by audiences. 
Being honoured by Forbes is my pride. It will encourage me in work. 
I make in Rap Viet with other veteran artists. They are popular and received by the audience. They are not the best in the rap community but I'm proud of them. They have their own story. 
I wish the music lovers find sympathy and themselves in my music. 
Some people say that after success in Rap Viet, you have not been outstanding compared to some other rappers. What do you think?
I always respect all opinions from the audience, accepting the different opinions to help me to get improvement. After Rap Viet, I become more professional in music. I do it by myself and I have not experienced it.  
I don't mind being compared to other rappers. There are always new talented rappers and listening to their music helps me a lot. 
I have to remind myself that I have to work harder to make better products to respond to the audience's support. I have a principle that my music must tell stories in life. My experiences in life are material and inspiration for me to write more meaningful works. 
What's your most successful song? 
It is Đoi Mắt (The Eyes). Its melody is deep and tuneful. I performed it at Rap Viet and it made me popular. The audience always asks me to sing this song. I believe that the audience has sympathy for what I write in the song. 
Do you have a Vietnamese rapper idol?
I like many Vietnamese rappers because each of them is characteristic of making different feelings. My idol is Đen Vau. 
His music makes me emotional. His work is familiar to Vietnamese audiences. I have learned to write music from him, such as lyrics, cultural background and rhythm. That is all I want to improve. 
What is your next plan?
I will cooperate with others and rappers in Rap Viet's first season. Plus, I will release my first extended play. This work is my own story. I hope that my stories will draw a nice picture for the audience. 
I will have works that are quite different from my previous songs. They will be more strong rhythm.   
Additionally, I'm studying to get more essential knowledge for my profession, such as sound, studio technique and composition. 
I'm an artist and I manage my time to have good habits including exercise, watching movies and reading.
What is your biggest dream?
I think before that my biggest dream is to become a rapper - a real artist. Now I'm on my path to turning my dream into reality. 
Presently, I wish I could travel to experiment with different cultures in the world. I think that it will help to write music. 
After two years of the pandemic, I recognise things that are really valuable in life. Money may be one important thing in life but people should put health first. — VNS 
You might be interested in