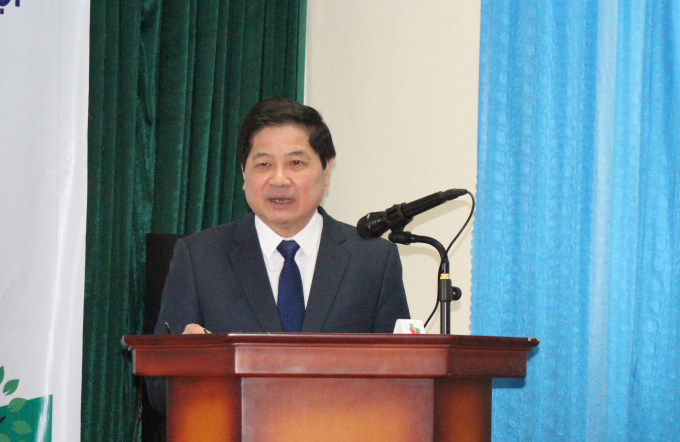 At the ceremony, Deputy Minister of Agriculture and Rural Development Le Quoc Doanh emphasized: Currently, Vietnam is moving towards building circular agriculture, organic agriculture, and green agriculture. Therefore, it is essential to ensure productivity and product quality while reducing costs and protecting the environment and human health.
Previously, in June 2021, the Ministry of Agriculture and Rural Development (MARD), represented by the Plant Protection Department (PPD), and the Food and Agriculture Organization of the United Nations (FAO) co-organized the inception workshop of the project "Support for Development of National Strategy and Action Plan for Integrated Plant Health Management" (TCP/VIE/3802). The project will last for two years (2021-2023) with a total budget of US$ 400,000, funded by the FAO Technical Cooperation Programme.
The Project has been designed to support the development and roll-out of the National Plant Health Strategy (NPHS) and its National Plan for Integrated Plant Health Management (NP-IPHM) during the 2021-2025 period.
Through the project, FAO will provide technical assistance to review the NP-IPM in the previous phase (2015-2020), analysis and stock-taking of relevant global frameworks, approaches, models, and good practices on plant health management.
It is expected that the NPHS and renewed NP-IPHM would help comprehensively and systematically address transboundary pest and disease risks in the context of climate change and globalization; combine plant health, plant nutrition, food safety, quality and nutrition; integrate social protection and inclusive growth approaches to assist the disadvantaged groups better; contribute to environment protection, ecosystem and biodiversity conservation; and, increase the competitiveness of Vietnam's agri-food products in domestic and global markets.
Deputy Minister Le Quoc Doanh also suggested that it is necessary to update new issues and problems arising in practice promptly and integrate them into the lesson content so that the knowledge is transmitted close to production practice, creating a basis for firmly for the "future trainers" to deploy in the localities with the highest efficiency.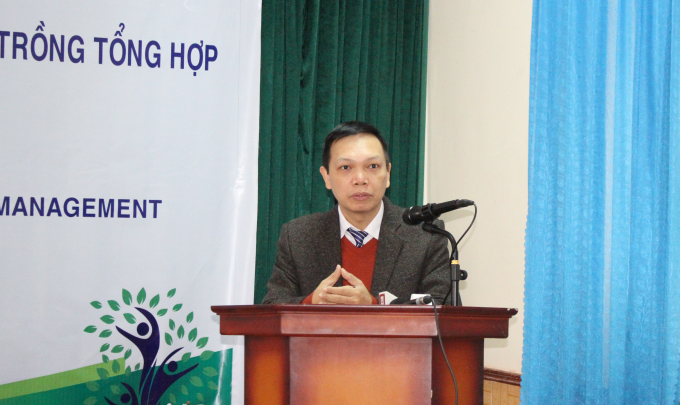 Mr. Nguyen Quy Duong, Deputy Director of the Department of Plant Protection, said: This training course for trainers is within the framework of Project "Technical support to develop strategies and action plans Integrated Plant Health Management ('IPHM')" funded by the Food and Agriculture Organization of the United Nations ('FAO'), approved by the Ministry of Agriculture and Rural Development and assigned to the Plant Protection Department as the project owner.
In the past time, the Department of Plant Protection and FAO has implemented many activities within the framework of the project, such as: Developing training programs and materials for IPHM trainers; developing a national strategy and action plan on IPHM (draft and research report of the project); organize training classes for TOT-IPHM source trainers; Workshop on developing program framework and documents for TOT-IPHM classes.
These future trainers will be well trained, consolidate their knowledge of IPM, and update new knowledge in IPHM based on a set of documents that have been consolidated and approved for nationwide application. Thereby improving farmer training skills through training sessions and practical field experiments throughout rice's entire growth and development phase in the 2022 winter-spring crop.
The training course will supply trainee contents related to building agro-ecosystems with many important issues such as soil health, water, greenhouse gas emissions, efficient use of materials in agricultural production, protection of human health. After the course ends, the trainers will directly train local trainers to train farmers.
Mr. Nguyen Song Ha, Assistant Chief Representative of FAO Viet Nam shared: Currently, Vietnam's agricultural sector not only faces common challenges but also has to thoroughly solve problems such as hunger and poverty, malnutrition, and sustainable development... through the transformation of ways of producing, distributing, and consuming healthy food...
In the 2022-2025 period, FAO is expected to prioritize implementing three sustainable development goals: reducing poverty, eradicating hunger, and ensuring equity in food distribution.
Plant health is an element that constitutes the concept of "One Health" (OH), besides human health, soil health, and animal health. FAO has developed a strategic framework for OH since 2008, based on an analysis of risks to crop protection that can arise from three aspects related to the intersection of these three health categories. No matter which factor is affected, among plant health, animal health, or human health, OH is also involved, thereby transmitting to the other two elements.
FAO has implemented projects related to plant health in many countries. From practice, FAO believes that plant health can improve OH, leading to overall effects on the environment and ecosystems.
Project "Support for Development of National Strategy and Action Plan for Integrated Plant Health Management" was born, which will help improve institutional capacity for the plant protection system—upgrading IPM into a new tool in improving crop yield and quality, controlling risks, and pests with new technologies. From there, contribute to the transformation of the Vietnamese food system.
After the training course, it is necessary to have a specific evaluation and summary table to draw experience, complete training documents, content, etc. The Ministry of Agriculture and Rural Development will always accompany and prioritize all the best resources to support the program's operation most systematically and effectively.
Author: Trung Quan
Translated by Ha Phuc
You might be interested in