The year-on-year rise in Ethereum's price has made mining on its network more attractive as the network's hashrate reached an all-time high.
On Friday, Ethereum's hashrate hit a new ATH of 1.1 PH/s, just two weeks after hitting a previous record of 1.08 PH/s, according to data from Glassnode.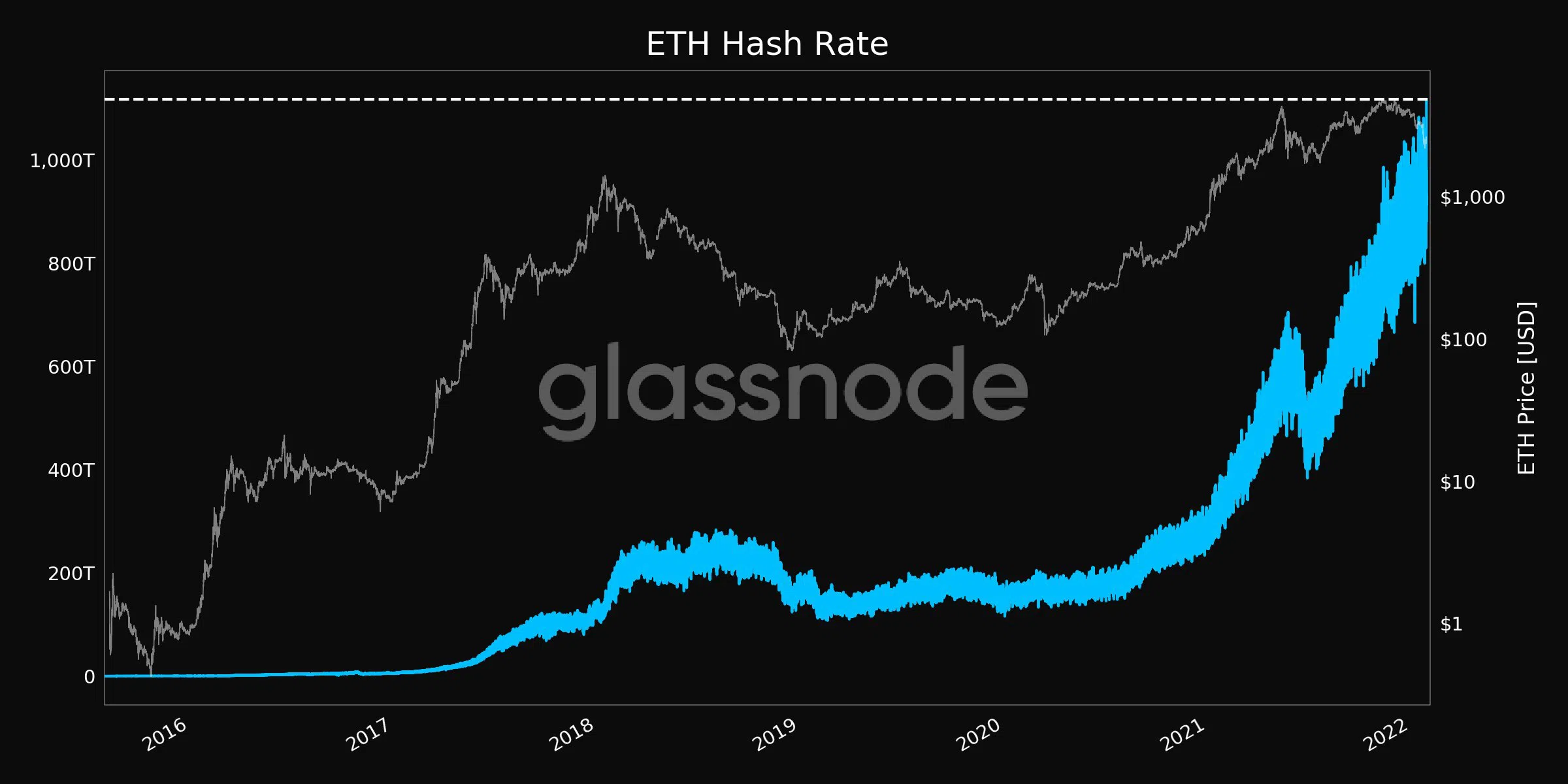 Source: Glassnode
Hashrate is a measure of the computing power required to verify transactions and add new blocks to the Proof-of-Work (PoW) blockchain. Like Bitcoin, Ethereum uses a PoW consensus mechanism, which has been more closely monitored due to the amount of energy required to operate.
Typically, an increased hash rate usually means additional computing power has joined the network to increase its decentralization and security. A drop in this metric indicates fewer nodes are online, which often reflects the speed and security of the network.
The inevitable transition from Ethereum to PoS
The way things are going, the days of mining on Ethereum are far from over. While Ethereum has been planning to move to a Proof of Stake (PoS) consensus mechanism for some time, it doesn't look like that will happen any time soon.
Last December, the network performed the Arrow Glacier upgrade, extending the network's expected transition to PoS. As a result, the hash rate will likely hit a new ATH as more nodes join the network.
However, the move to PoS is inevitable for Ethereum no matter how many other delays it encounters, eliminating the mining requirement and instead validating transactions by staking on dedicated nodes. Eventually it will scale the whole process and act as a safety net with cheaper gas rates.
For years, this upgrade has been seen as the solution to countless ongoing problems out there. And as Ethereum gradually loses market share in DeFi and NFT to faster and cheaper alternatives, it becomes necessary to address its scalability issues.
However, moving from Proof of Work (PoW) to Proof of Stake (PoS) also means that mining will cease. The PoS network only requires validators to use tokens to confirm transactions. While this has some advantages, some argue that it's not decentralized enough.
Join Bitcoin Magazine Telegram to follow news and comment on this article: https://t.me/coincunews
annie
According to beincrypto
You might be interested in