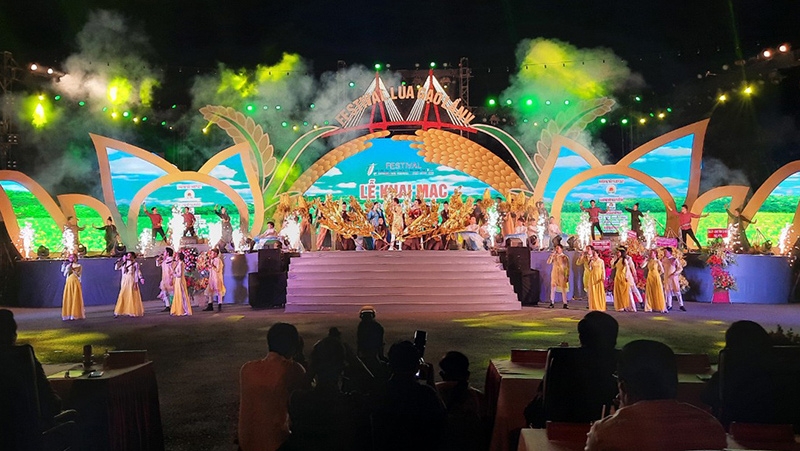 The opening ceremony of the 5th Vietnam Rice Festival takes place on the evening of January 7 in Vinh Long.   
NDO – The fifth Vietnam Rice Festival was launched in Vinh Long on January 8, which is expected to promote Vietnamese rice to the world, through trade and investment promotion activities.
The annual event was jointly held by the Central Committee of the Vietnam Farmers' Association, the Ministry of Agriculture and Rural Development and the People's Committee of Vinh Long province.
Speaking at the opening ceremony, Chairman of the Central Committee of the Vietnam Farmers' Association Luong Quoc Doan said that after more than 35 years of implementing the Doi moi (renewal) policy, the agricultural sector and rural economy have very proudly reached new achievements. Vietnam has become one of the world's leading exporters of agricultural products.
The annual festival has contributed to boosting the role and value of Vietnamese rice and promoting it to the world, through various trade promotion activities, Doan noted.
Taking place from January 7-10, the 5th Vietnam Rice Festival includes a series of continuous activities, particularly the showcase of nearly 400 booths with the participation of 665 organisations, enterprises and cooperatives.
In addition, an important seminar on OCOP products, development of the rice industry and contests entitled "Delicious rice of Vietnamese brands" and "Delicious dishes made from Vietnamese sticky rice" will be held during the festival.
You might be interested in