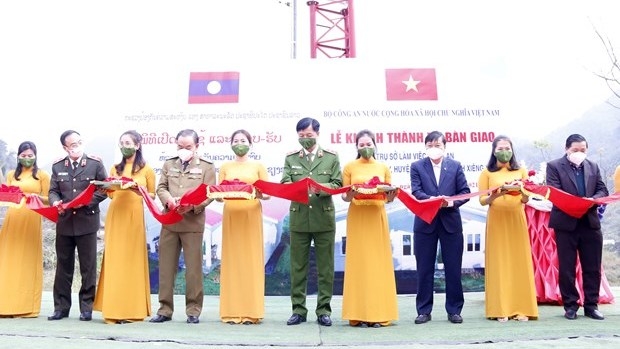 Officials of Vietnam and Laos cut the ribbon to inaugurate the police station in in Nonghet village of Nonghet district, Xiengkhouang province, on December 25. (Photo: VNA)   
NDO/VNA – The first village police station built with support from the Vietnamese Ministry of Public Security (MPS) in Laos was inaugurated in Nonghet village of Nonghet district, Xiengkhouang province, on December 25.
It is one of the 287 facilities the MPS is building in the 10 Lao provinces bordering Vietnam.
Vietnamese Deputy Minister Lt. Gen. Nguyen Duy Ngoc applauded efforts by the public security forces and administrations of the countries' border provinces to promote the construction and unveil the first station only more than one month since the project began on November 12.
The building of the village police stations comes as part of a document signed in Vientiane on August 9 supplementing the two ministries' cooperation plan.
He asked police of the 10 Vietnamese provinces bordering Laos to work closely with their Lao counterparts to accelerate the construction with the highest quality and put the remainders into use in early 2022 as scheduled.
Lao Deputy Minister of Public Security Lt. Gen. Thonglek Mangnomek described the Vietnamese ministry's assistance in building the village police stations as a demonstration of the close-knit and special ties between the public security forces of the two countries.
He affirmed that the stations will greatly help to guarantee security and order in Laos, including in the countries' shared border areas, thereby contributing to peace in each nation, as well as the great friendship, special solidarity, and comprehensive cooperation between Laos and Vietnam.
You might be interested in