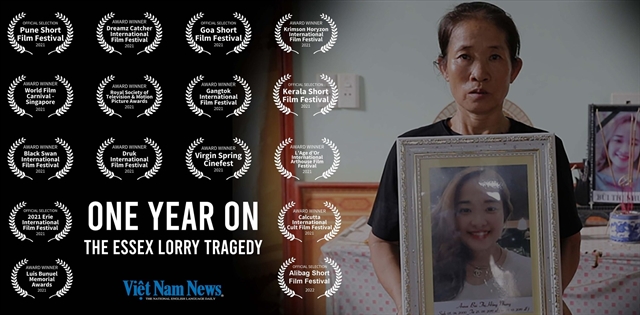 HÀ NỘI - A documentary written and produced by Viet Nam News has won top prize at an international film festival in the US.
One Year On: The Essex Lorry Tragedy was made for the first anniversary of the deaths of 39 Vietnamese migrants who were found in the back of a lorry container in Essex, UK.
Viet Nam News journalists Paul Kennedy and Hồ Hoang travelled to Yen Thanh District in the Central Viet Nam province of Nghe An to a small community hit hard by the tragedy.
On Saturday, judges at the Erie International Film Festival announced the documentary produced by the multimedia department of Viet Nam News had won first prize in the Documentary Short category.
Frank Leczner, Jr., Festival Director, said: "I am honored to congratulate Viet Nam News on creating a film so very well done, and it was my true pleasure to have had the opportunity to present it to the world."
The 2021 Erie International Film Festival took place over nine days from December 10 in Pennsylvania. It featured around 60 independent movies, documentaries, animation productions and music videos.
This is now the 12th award the documentary, which was screened on VNews TV to mark the anniversary of the tragedy, has won at international festivals in a number of countries including India, Singapore and Bhutan.
Executive producer Paul Kennedy said: "It was an amazing achievement to be selected just to be screened at the 2021 Erie International Film Festival.
"To then learn our efforts were rewarded by winning the award for best of its genre, is great news. I just hope our production can go some way to highlighting the plight of the poor people who lost their lives in the back of that lorry two years ago." - VNS
One Year on: The Essex Lorry Tragedy is available to watch exclusively in Viet Nam via Galaxy Play https://galaxyplay.vn/title/one-year-on-the-essex-lorry-tragedy.
You might be interested in