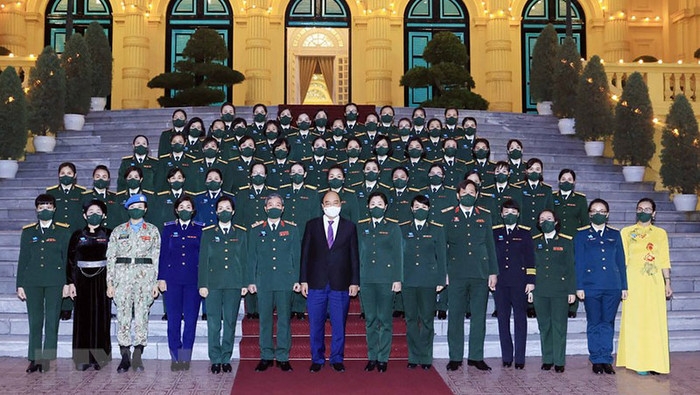 President Nguyen Xuan Phuc and outstanding military women pose for a group photo. (Photo: VNA)   
NDO/VNA – President Nguyen Xuan Phuc on December 13 highlighted contributions of military women to glorious feats of arms reaped by the army.
The State leader made the applause at a meeting with 60 female officers, soldiers and representatives at the seventh congress of military women that has recently been held in Hanoi.
The President suggested the Central Military Commission and the Ministry of National Defence continue to create favourable conditions for women to study and make further progress.
He expressed his belief that military women will carry forward the achievements and make more contributions to the military building, and national construction ad defence.
During the 2016-2021 period, 41 female officers have joined UN peacekeeping operations. More than 9,000 military women have also participated in the COVID-19 pandemic fight, with 1,700 working on the frontline.
You might be interested in