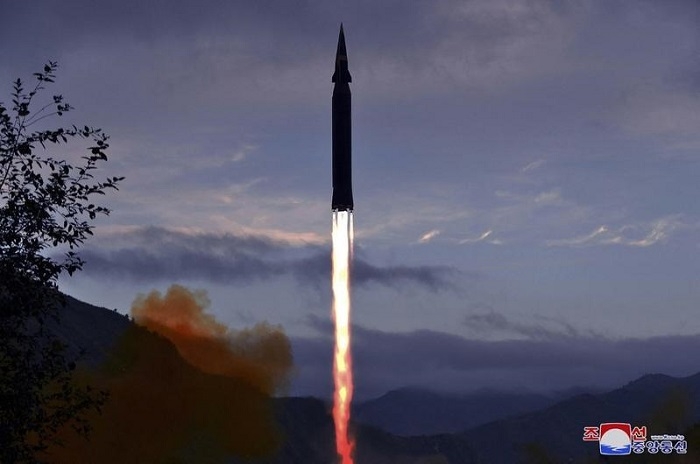 This picture taken on Sept 28, 2021 and released by the DPRK's official KCNA on Sept 29 shows the Academy of Defence Science of the DPRK test-firing a hypersonic missile Hwasong-8 newly developed by it in Toyang-ri, Ryongrim county of Jagang province, DPRK. (STR / KCNA VIA KNS / AFP)   
The United States is seeking more information on North Korea (the Democratic People's Republic of Korea – DPRK)'s recent testing, including its hypersonic missile test, but remains keen to resume diplomatic talks, a senior US arms control official said on Wednesday.
Bonnie Jenkins, US under-secretary for arms control for international security, responding to a question from Reuters, told the Geneva Centre for Security Policy: "We continue to try to promote diplomacy with North Korea, we want to bring them back to the table."
The projectile the DPRK fired off its east coast on Tuesday was a newly developed hypersonic missile, state news media KCNA reported on Wednesday, the latest in a series of new weapons tested by the reclusive state.
Unlike ballistic missiles that fly into outer space before returning on steep trajectories, hypersonic weapons fly towards targets at lower altitudes and can achieve more than five times the speed of sound - or about 6,200 km per hour (3,850 mph).
The development of the weapons system increased the DPRK's defence capabilities, KCNA said, describing the hypersonic missile as a "strategic weapon".
The Republic of Korea (ROK)'s Joint Chiefs of Staff said the DPRK's hypersonic missile was at an early stage of development, judging by detected velocity and other data, and would take a "considerable period of time" until it could be deployed.
Reuters
You might be interested in