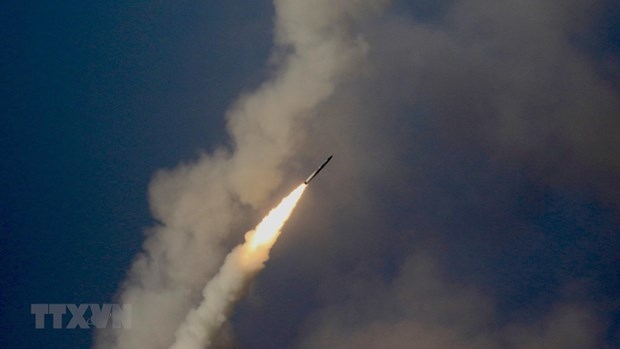 Illustrative image (Photo: VNA)   
NDO - The Democratic People's Republic of Korea (DPRK) fired two short-range ballistic missiles into the Sea of Japan on September 15, according to the Republic of Korea (ROK)'s Joint Chiefs of Staff.
ROK government sources said the tested missiles appear to be an upgraded version of the DPRK's KN-23 Iskander ballistic missile.
Japan's Coast Guard said the projectiles fell outside the country's exclusive economic zone.
The launches came two days after the DPRK announced it successfully test-fired a new type of long-range cruise missile over the weekend, calling it "a strategic weapon of great significance".
According to experts, this type would mark the first claimed nuclear-capable cruise missile in the DPRK inventory, underscoring its nuclear arsenal's continued advances and the country's growing number of nuclear delivery options.
Under the UN Security Council resolutions, the DPRK is banned from ballistic missile activity, while cruise missiles are not subject to sanctions.
The latest test is the second ballistic missile launch by the DPRK so far this year, and its fifth known major weapons test if the cruise missile tests are taken into account.
You might be interested in