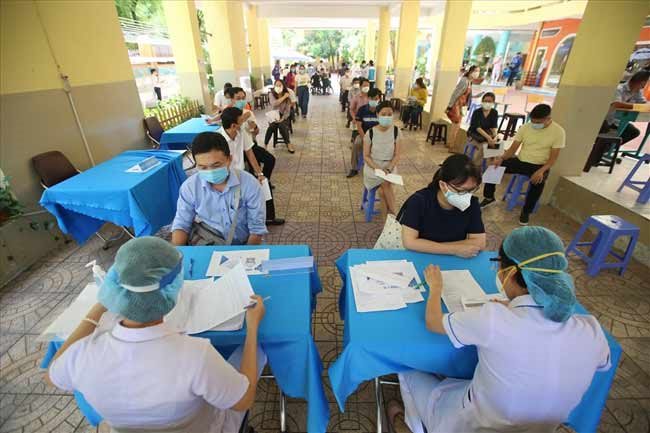 Residents in HCMC's District 1 have their health checked before getting vaccinated against Covid-19. The Ministry of Health wants HCMC to confirm if it will buy five million Moderna vaccine doses - PHOTO: LDO
HCMC – The Ministry of Health wants the HCMC government to confirm if it will buy five million doses of the Moderna Covid-19 vaccine.
If the city does not buy the vaccine, it must inform the ministry of its decision before August 15 so that the ministry can propose the prime minister allow other provinces to buy the vaccine.
In a document sent to the city, the ministry stated that it would create favorable conditions for HCMC to buy the doses, the local media reported.
On May 28, the ministry worked with Zuellig Pharma, which was designated by the U.S. pharmaceutical and biotechnology company Moderna to import and distribute its vaccine in the Asia-Pacific region, including Vietnam.
Zuellig Pharma announced that it would provide Vietnam with five million Moderna doses.
The Ministry of Health will create conditions so that vaccine import and assessment procedures can be conducted in the shortest possible time.
The ministry also issued three documents asking HCMC to direct the relevant agencies to quickly complete the vaccine import procedures. If the city faces any difficulties, it should report them to the Ministry of Health.
However, as of August 8, the ministry had got no word from HCMC about its Moderna vaccine purchase progress.
From March 8 to August 9, HCMC received more than 4.1 million Covid-19 vaccine doses and administered over 3.4 million doses.
According to the municipal Department of Health, the city will speed up the vaccination with 250,000-300,000 doses per day and use the remaining doses by August 12.
You might be interested in