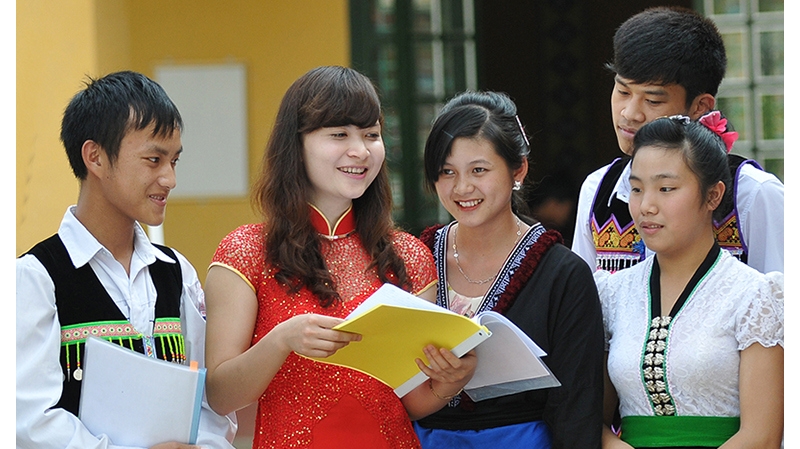 Teacher and students attend extracurricular lessons at Dien Bien Provincial Ethnic Minority Boarding School. (Photo: DANG KHOA)   
NDO - The Prime Minister issued Decision No. 1373/QD-Ttg on July 30, approving the project "Building a society of learning in the 2021-2030 period ".
The guiding point of view in the project clearly states: Continuing to build a society of learning on the basis of simultaneous development and connection between formal education and continuing education, connecting all levels of education and degree training; and applying all forms of advanced and effective education and training in accordance with educational objectives.
In addition, the project also mentions the application of digital technology and online teaching in the organisation of teaching and learning activities, contributing to improving the operational efficiency of education and training institutions to meet learning needs of society.
Every citizen has the responsibility and right to study regularly, learn for life, and take advantage of all learning opportunities to become a digital citizen, a global learning citizen.
The project also mentions the maintenance and promotion of the studious tradition of the family, clan and community; building a lifelong learning environment in the workplace that meets the requirements of productivity, efficiency, ethical standards and professional culture.
The overall goal of the project is to continue and create fundamental changes in building a learning society, ensuring that all people have equal opportunities to access an open, diverse and flexible education system by 2030, connecting with many training models, methods and levels, thus contributing to promoting the development of human resources, especially high-quality human resources, to meet the requirements of the Fourth Industrial Revolution and international integration.
The project has set a number of specific goals to achieve by 2025; including: 70% of provinces and cities to achieve the literacy standards at second level; 70% of provinces to complete the universalisation of preschool education for preschool children; striving for 70% of universities to deploy digital universities and build digital learning materials; and 70% of community learning centres to apply information technology in management, organisation of educational activities.
The project also sets a target that by 2030, 90% of provinces are to achieve the literacy standards at second level; striving for 100% of provinces to complete preschool education universalisation for preschool children; and 70% of provinces to meet the standard of universal primary education at third level.
In order to achieve the above goal, the project offers a number of tasks and solutions such as: propagating, disseminating and raising awareness about building a learning society; completing mechanisms and policies on building a learning society; promoting the implementation of digital transformation and application of information technology in the organisation of lifelong learning activities; promoting the activities of the community learning centre; and organising movements and campaigns to promote lifelong learning. At the same time, it is also necessary to strengthen international cooperation in the field of lifelong learning, build a society of learning and developing open and distance learning technology.
You might be interested in