Vietnam has applied innovative healthcare approaches such as splitting hospitals and using Artificial Intelligence to combat the fourth wave of Covid-19.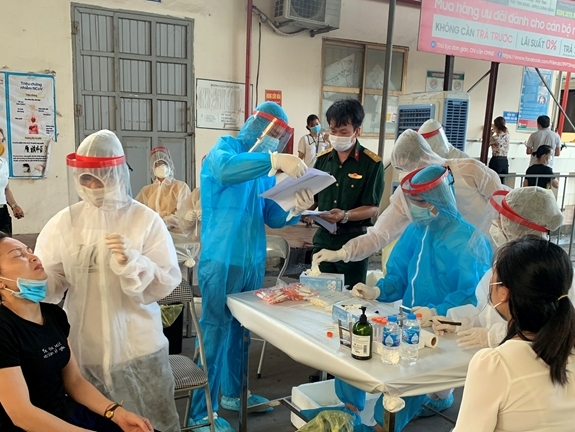 Taking testing samples of workers in Bac Giang province. Photo Quan Doi Nhan Dan
According to medical experts, the resurgence of Covid-19 since late April in Vietnam has recorded new variants from India with multiple clusters detected at the same time. The number of infection cases has increased by much more times than the previous periods.
Leading healthcare facilities which offer Covid treatment like National Hospital for Tropical Diseases in Hanoi, Ho Chi Minh city Hospital for Tropical Diseases as well as industrial parks where a large number of labourers work have been hardly hit by the coronavirus.
The pandemic preventive strategy of the Vietnamese health ministry has remained unchanged, which is to protect public health and maintain economic development.
The strategy scale is expanded to mass testing and vaccination.
In order to actively respond to new development of the pandemic, the healthcare sector has applied new models to treat seriously ill patients and young patients who are in critical conditions.
Splitting hospital
Pham Ngoc Thach hospital in Ho Chi Minh city has applied the 'Respiratory care split hospital' model inspired by the model successfully applied in South Korea.
A lot of hospitals in South Korea have been divided into two parts. One part is in charge of treating patients with respiratory symptoms.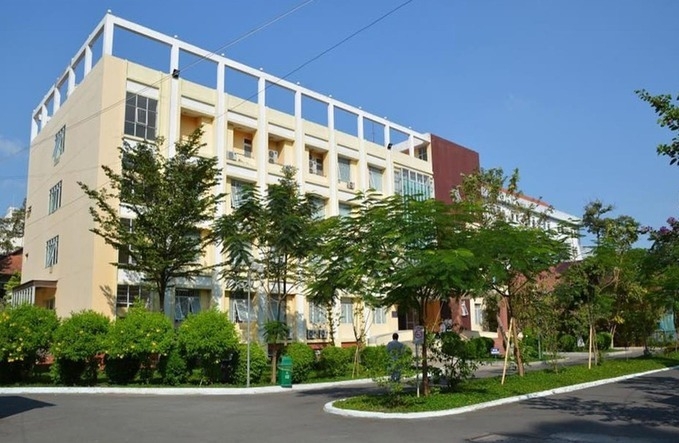 A building at Pham Ngoc Thach hospital is isolated for Covid treatment. Photo Ho Chi Minh City's Department of Health
Pham Ngoc Thach hospital, which specializes in lung disease and tuberculosis treatment, has been split. Half of the hospital's units treat Covid-19 patients at isolated buildings with separate entries. About 700 beds are expected to be set up at the hospital for Covid treatment.
According to Ho Chi Minh city's Department of Health, if required, another half of the hospital which treats lung diseases not caused by tuberculosis will also receive Covid patients.
Half of the hospital used to receive Covid-19 patients has been equipped with negative pressure chambers, recovery beds, ventilated rooms without air conditioning. The subclinical area, where RT-PCR tests to diagnose Covid-19 are conducted, is located separately.
The model has bene part of the city's plan to prepare 5,000 beds for Covid treatment in the worst scenarios.
As of Tuesday morning, Ho Chi Minh city has logged 1,820 cases of Covid-19. Most of them are community cases. The city is now the country's third-largest epicenter, the biggest in the southern region.
The city planned to use up all 836,000 Covid-19 vaccine doses it has received from the health ministry within a week to inoculate its population starting Saturday, VnEpress reported.
Three-story pyramid in Bac Giang
Being Vietnam's largest Covid epicenter, the northern province of Bac Giang has launched the three-story pyramid model in response to the widespread infection.
This model has been said to be "very new and the only one in Vietnam".
Three layers of the pyramid feature three levels of facilities providing Covid treatment.
The first layer of the pyramid is available infrastructure in the province like student's dormitories, social housing areas, caring centers for people rendering services for the nation to receive positive asymptomatic cases and those showing light symptoms.
The second storey consists of 11 field hospitals transformed from district-level healthcare centers and provincial specialized hospitals.
Bac Giang has built three field hospitals at the provincial Hospital of Endocrinology, the provincial sports center and at a military site with capacity of more than 1,100 beds.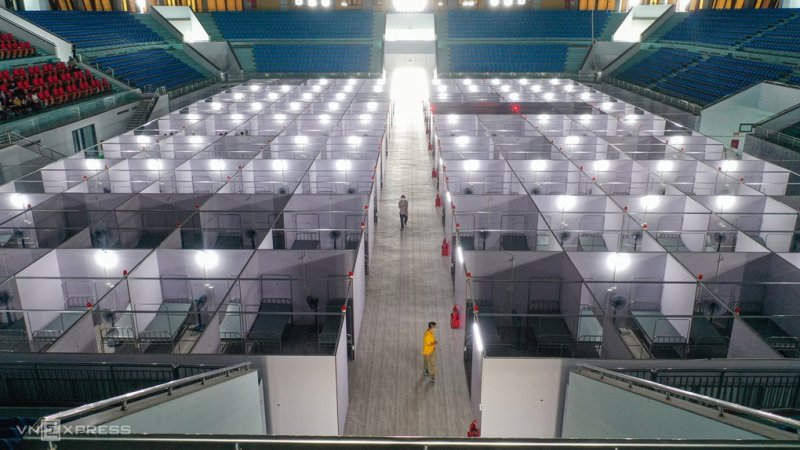 A 600-bed field hospital located at a sports center is put into use in May in Bac Giang. Photo VnExpress
The third story which provides the highest level of treatment is intensive care units (ICU) including the largest ICU center of Vietnamese northern region located at Bac Giang psychiatric hospital and another one located at Bac Giang lung hospital.
With the totol capacity of 159 beds, the two intensive care centers admit patients in severe conditions.
Bac Giang province is treating more than 4,400 Covid patients, more than 1,900 of whom have been in stable conditions. Nearly 2,400 cases have reportedly improved. Sixteen cases have been in extremely critical conditions.
Self quick tests
Since the end of May, medical experts have instructed people in concentrated quarantine areas in Viet Yen District, Bac Giang province to take Covid tests by themselves.
If people fully follow instructions, the quick Covid tests will show results with accuracy of 70 to 75 percent in 15 minutes after testing.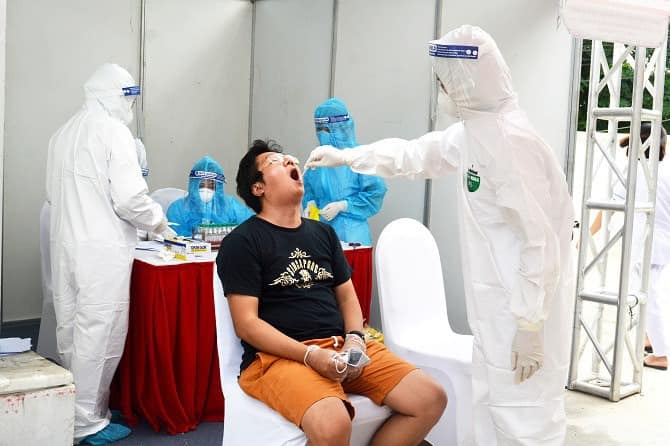 The quick Covid tests can show results with accuracy of 70 to 75 percent in 15 minutes after testing. Illustrative Photo Nhan Dan
Professor Le Quynh Mai, deputy director of the National Institute of Hygiene and Epidemiology, said F1 cases (people having direct contact with patients) can help each other take the quick tests in quarantine areas, helping reduce workload of medical forces.
It will help speed up the screening process, quickly detect and separating positive cases from the isolation areas, minimizing the risk of cross-infection, she said.
In the future, if the testing shows good results, it needs to be applied in not only concentrated quarantine sites but also in other areas.
Artificial Intelligence application in Covid-19 treatment
DrAid is an AI software working as a doctor assistant, which is expected to shorten the time of medical examination and treatment, with high accuracy, ensuring safe distance at medical facilities.
DrAid is now capable of diagnosing 20 abnormal signs and pathologies of the heart – lungs – bone diseases with an accuracy of more than 88 percent within five seconds.
The AI application speeds up medical examination and treatment process, and provides useful information for doctors when analyzing film images, especially chest X-ray images.
Since April, departments of health nationwide like the departments in Ha Tinh, Dong Nai, Hue, Bac Giang, Ninh Binh, have deployed DrAid AI application products in medical examination and treatment.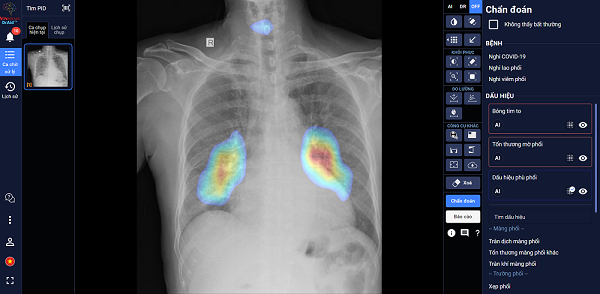 Photo Dr Aid
The app allows one doctor to consult with the second doctor from a remote distance through image sharing.
Doctors can send photos taken directly from the scanner to another doctor for consultation on difficult cases. This helps maintain the image quality, while simplifying the consultation process, making consultations between two doctors faster, removing geographical and time barriers, and improving the consultation quality with AI's diagnostic suggestion.
Rosemary Nguyen
You might be interested in