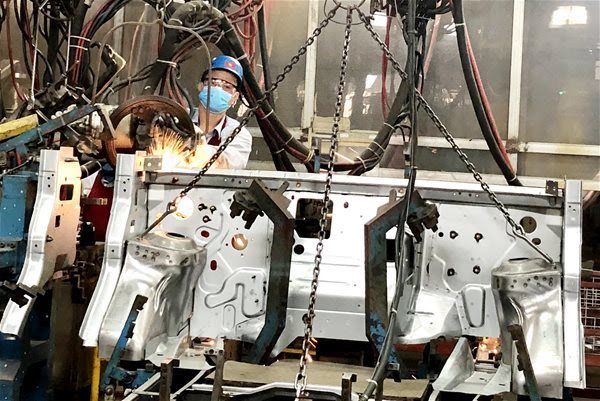 An employee is seen working at a manufacturing facility. Vietnam attracted nearly US$14 billion of capital from foreign investors during the first five months of the year – PHOTO: LE HOANG
HCMC – Vietnam attracted capital worth nearly US$14 billion from foreign investors during the first five months of the year, improving 0.8% against the 2020 figure, according to the Ministry of Planning and Investment.
In the five-month period, 613 new foreign direct investment (FDI) projects were granted investment registration certificates in the country, with total registered capital of nearly US$8.83 billion, down 49.4% in volume but up 18.6% in value versus last year's figures.
Also, despite the impact of the Covid-19 pandemic, FDI firms operating in Vietnam during the period still adjusted their capital upward for business expansion, with an additional US$3.86 billion pumped into 342 existing FDI projects, up 11.7% compared to the year-ago figure.
Besides this, capital contributions and share purchases made by foreign investors declined over 56% to US$1.31 billion.
Further, FDI businesses disbursed US$7.15 billion of capital to implement projects in the country, rising 6.7% versus the same period last year.
According to the ministry's report released on May 26, the processing and manufacturing sector in the year to May attracted the largest amount of FDI capital at US$6.14 billion, equivalent to 43.9% of the total value. This sector earlier always accounted for around 70% of the FDI capital pledges.
Power generation and distribution came second, absorbing US$5.43 billion of capital, or 38.8%, followed by the property sector with US$1.05 billion and the wholesale and retailing sector with US$522 million.
Further, 70 countries and territories invested in Vietnam during the period, with Singapore topping the list with US$5.26 billion of capital, followed by Japan and South Korea.
You might be interested in