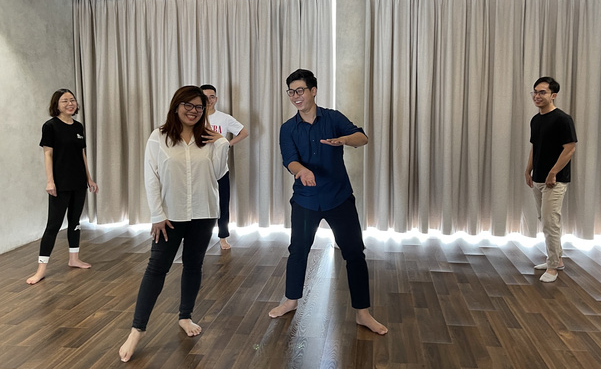 Curiosity has led Tran Thanh Van, 33, to become a pioneer in improvisational theater in Ho Chi Minh City.
She hopes to popularize this form of drama, as she believes in the many positive values it brings along.
Van received a Fulbright scholarship, a U.S. sponsorship in education, to pursue her higher education in New York.
She graduated with a master's degree in media.
However, Van did not go through with this career, but switched to education of drama to the public.
She believes that improv theater can bring more to the world.
Passion
Her overseas study began in 2017. She was then a well-known YouTuber – a person who produces a lot of video clips that attract a large number of viewers.
Van Possible was her YouTube channel, which had thousands of followers.
Opting for an in-depth program in media seemed to aid her social media career.
However, a friend who worked as an emcee at the Ho Chi Minh City Television made a recommendation once the woman had finished her two-year master's program.
"Why don't you try improvisation theater? It might suit you," the friend said.
Van took that into consideration and her first impression was that improv acting could be a challenge.
By definition, improvisation means acting without a plan or a script. Artists simply go with the flow.
Van wondered how that could be possible considering the countless feasibilities of scenarios on stage.
"Without a plan, how can they be in sync?" she asked herself.
Hooked by this idea, the new graduate decided to linger one more year in the U.S. to delve into this art form.
New York is an expensive city, so fending for herself financially was no mean feat.
Interestingly, Van applied to two top schools in improv theater at the same time.
"Each school has its unique approach to training, so I wanted to learn everything to fully understand this kind of drama," she said.
To cover her tuition, Van landed a part-time job and applied to work at a theater for free in exchange for study hours.
Her evening shift at the theater started at 5:00 pm and lasted until midnight.
The Vietnamese woman worked in both the ticket booth and the housekeeping department.
Also, it took her two hours every day to commute.
"I even got assaulted on the way home," she said.
"This bad guy had his knife against my neck.
"Another attacked me when he was drunk.
"I worked late, but it was satisfactory because I was allowed a one-hour break every day to watch live improv acting."
To her, improvisation pulls people closer together with frank and funny stories.
"Actors and actresses tried to play their roles without a pre-conceived plot," she said.
"The audience and the artists explored the flow of the story together every single moment.
"That is the beauty of improv theater."
Van was the only foreign member in her class, yet she was praised for her unique sincerity in acting.
"When you are neither good at their language nor their culture, the only thing that could set you off is being calm and as sincere as possible," she explained.
"Improv theater means acting out your most honest thoughts and truest emotions."
The pioneer
In August 2020, Van had to leave New York due to the impact of COVID -19. Her study was switched to an online platform.
Due to the time zone difference, the study hours for Van started at 5:00 am, but she made it.
"Improv theater changed me a lot," she said.
"I felt happier, more loving, and more caring.
"So I want to share it."
In December 2020, she opened a class hoping to bring this art form to interested individuals.
After merely 12 hours of Facebook advertising, she got two classes with a total of 32 registrations.
Her first intake has passed level one of improvisation and is moving on to level two.
Students who were as far away as Hoc Mon District, 20 kilometers from downtown Ho Chi Minh City, or Binh Duong Province, some 60 kilometers away, still made it punctually.
A novel art form in Vietnam, Van is almost a pioneer at this moment.
She felt fortunate to have lived right in its homeland, the U.S., where she could blend in with the language and culture.
As a teacher, Van tries to make her lessons understandable to the Vietnamese mindset and language.
Thinh Tran Binh Sinh, a 28-year-old designer, is a new member in Van's class.
"I've only been here a short time, but I've learnt a lot," he said.
Due to the nature of his profession, Sinh did not have enough social interaction and opportunities to voice his opinions.
This class gave him the chance to speak his mind without being judged. He learned to listen and got his voice heard.
"After a few months, I was more confident and flexible in my communication," he added.
"In my daily life, I listen to and respect others' viewpoints better."
Besides its positive influence on communication skills, improvisation helps those who suffer from trauma feel at ease as they have a safe environment for sharing their stories.
Other interpersonal skills will improve over time as well.
Improvisers will refrain from overtalking in a conversation and will listen before they speak, instead of reacting to whatever people say.
"I believe everybody has a soul of goodness and beauty," Van said.
"If they get a place to be themselves, then nobody will get criticized."
During her undergraduate years, Van majored in international relations.
She was often selected as the Vietnam representative in international student exchange programs and public speaking contests as well as overseas conferences.
After college graduation, she had a job in marketing for journalism and the music industry.
She was also a YouTuber and a bilingual emcee.
Besides her acting classes, she runs a podcast called Tam Ly Oi (Hello, Psychology), which attracts a lot of young listeners.
You might be interested in