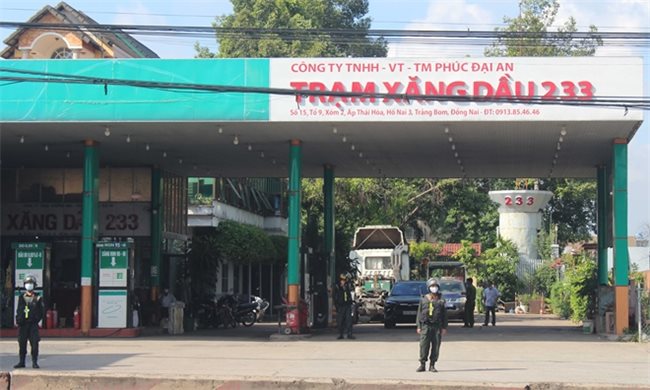 Police forces are seen cordoning off Petrol Station No.233, on the National Highway 1A section running through Dong Nai Province's Trang Bom District – PHOTO: CANDO
HCMC – The police in Dong Nai Province this morning, May 19, arrested Bui Ngoc Toan, owner of Phuc Dai An Transport-Trading Company located in the province's Trang Bom District, to probe into his alleged smuggling activities.
The police also raided his house in the district. In the morning, another task force of the provincial Police Department cordoned off Petrol Station No.233, owned by Phuc Dai An Company, on the National Highway 1A section running through the district. The petrol station was suspended to serve the police raid.
After around three hours of raids, the police seized many boxes containing documents at the two locations.
According to a representative investigator, Toan was arrested for his alleged involvement in a massive substandard fuel ring co-led by Phan Thanh Huu and Nguyen Huu Tu, both aged 64.
The provincial police yesterday also detained Nguyen Thi Nhu My, aged 53, director of Viet Khanh Anh Company, for the same alleged violation.
The police raid followed the expansion of an investigation by the Dong Nai police into the 2.7-million-liter substandard fuel ring busted on February 6.
Up to now, the investigators have pressed charges against and detained 60 suspects involved in the massive fake fuel ring.
You might be interested in