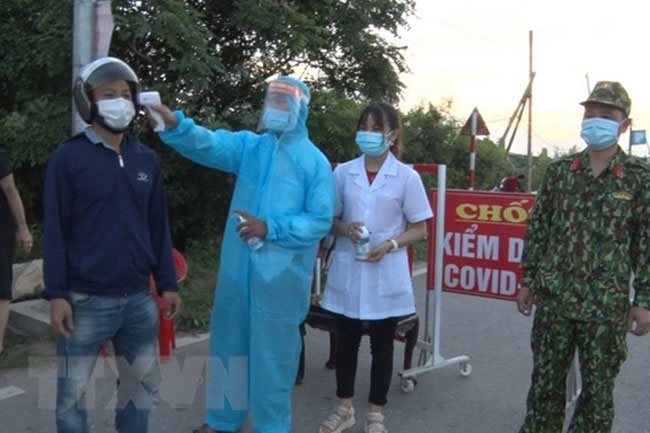 A medical worker checks the body temperature of a resident at a Covid-19 checkpoint. HCMC will buy 300,000 more Covid-19 test kits to improve the capacity of Covid-19 testing – PHOTO: VNA
HCMC – HCMC will buy 300,000 more Covid-19 test kits to improve the capacity of Covid-19 testing and prepare the city for the worst-case scenario.
Speaking at an anti-Covid-19 meeting today, May 10, Director of HCMC Health Department Nguyen Tan Binh said that the city's health agency now has a sufficient number of biological products and test kits for 90,000 tests using the PCR technique and 30,000 quick tests.
The purchase of the 300,000 Covid-19 test kits is expected to contribute to raising the city's capacity to test up to 40,000 samples per day. To date, the number of samples for Covid-19 testing has reached over 423,600, the local media reported, citing Binh.
The public hospitals and 22 healthcare centers in the city have set up 250 teams in charge of taking samples for Covid-19 testing, while 400 students at some medical universities have been mobilized to join in the monitoring and testing operations.
HCMC is conducting tests on all medical workers and inpatients at some major hospitals, including the HCMC Oncology Hospital and the Blood Transfusion Hematology Hospital.
The city has established four more quarantine centers, taking its total number of quarantine beds to over 10,000. Each district in the city is required to have at least one quarantine facility with 100 beds.
HCMC is well-prepared to be able to treat up to 200 Covid-19 patients or more, Binh said, adding that the city's health department was planning to open more field hospitals with a capacity of 5,000 beds.
Until now, HCMC has reported 267 Covid-19 cases, with 69 locally-infected cases, 194 imported ones and four cases of cross infection at a quarantine center. As many as 243 patients have made a full recovery, while the 24 active patients are in a stable health condition.
You might be interested in