The traditional New Year festival Chol Nam Thmay of Cambodian was joyfully celebrated at the Royal Embassy of Cambodia in Vietnam on April 13.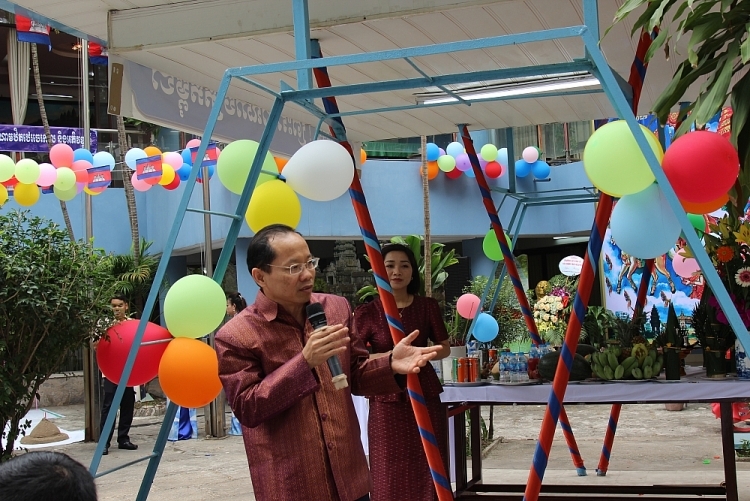 (Photo: Thoi Dai)
As reported by Thoi Dai, the celebration was held to welcome the 2021 New Year (Buddhist calendar 2564) for Embassy officials and overseas Cambodian currently studying in Vietnam.
Attending the ceremony were: Ms. Nguyen Phuong Nga, President of Vietnam Union of Friendship Organizations (VUFO), Mr. Vu Hai Ha - Chairman of the National Assembly's Foreign Affairs Committee, Mr. Chay Navuth - Ambassador Extraordinary and Plenipotentiary of Cambodia to Vietnam, Mr. Vu Vuong Viet - Permanent Vice Chairman of Central Vietnam – Cambodia Friendship Association, together with guests and all officials, staff of the Royal Embassy of Cambodia in Vietnam, military attache and Cambodian students in Vietnam.
At the ceremony, all invited delegates, Cambodian students, staff at the Embassy dance to Cambodia's traditional Apsara dance and enjoy traditional dishes in a warm, friendly atmosphere.
Cambodia's traditional Chol Chnam Thmay festival
takes place from April 13 – 16 every year. On this occasion, Cambodians often gather at temples and pagodas to worship, pray and listen to monks preach, bathe and splash water on each other, They also exchange best wishes for a year full of happiness, joy, prosperity, and luck.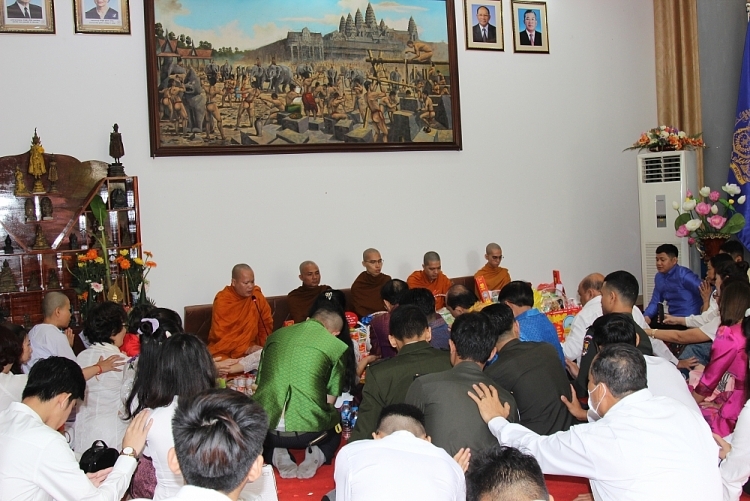 (Photo: Thoi Dai)
The Embassy holding the Moha Sang-Kran ceremony (literally means to receive the great calendar), which takes place on the first day of the three-day-long festival. Moha Sang-Kran is considered a calendar that gives a detailed account of dates and festivals in a year and a forecast of rainfall so the villagers can foresee if they get a good or bad crop that year.
On this day, at a selected hour no matter it is in the morning or afternoon, people take a bath and put on their best clothes in anticipation of the new year. They take incense, lamps, flowers and fruits to a pagoda where they do the great calendar-receiving ceremony. At the pagoda, Moha Sang-Kran, put on a red-lacquered, gilded tray, is placed on a palanquin and carried three times round the main sanctuary. This rite is to welcome the new year and wait for omens for a bad or good new year. Then the official ceremony is carried out inside the sanctuary. After that, every participant prays to the Buddha and chant prayers for a happy new year. Young males and females walk out to the pagoda yard and join in fun activities until late at night, according to Vietnam Bamboo Travel.
The second day is for the ceremony to offer boiled rice and heap up a sandy mountain. On this day, every Khmer family cooks rice and offers it to Buddhist monks at the pagoda in early morning and at noon. The monks chant prayers to thank those who make the food and bring it to their pagoda and say good luck to them.
On the afternoon the same day, people start to heap up a sandy mountain in search of happiness and luck. They make small mountains looking to eight directions and one in the middle which represent the universe. This custom originates from an age-old legend. It displays people's aspirations for rain.
The third day is for the ceremony to wash the Buddha's statue and Buddhist monks. After giving boiled rice to the monks in the morning, they continue to listen to Buddhist teachings. In the afternoon, they burn incense, offer sacrifices and use scented water to wash the statue in order to pay tribute and gratitude to the Buddha. This is also to get rid of the old year's misfortunes and wish all the best for the new year. The monks do a ceremony to pray for peace in the dead's souls. After that, the people return to their house and wash the Buddha's statue at home. They offer dishes, confectionery and fruits to ask for happiness for their parents and grandparents and being forgiven for their mistakes made in the old year.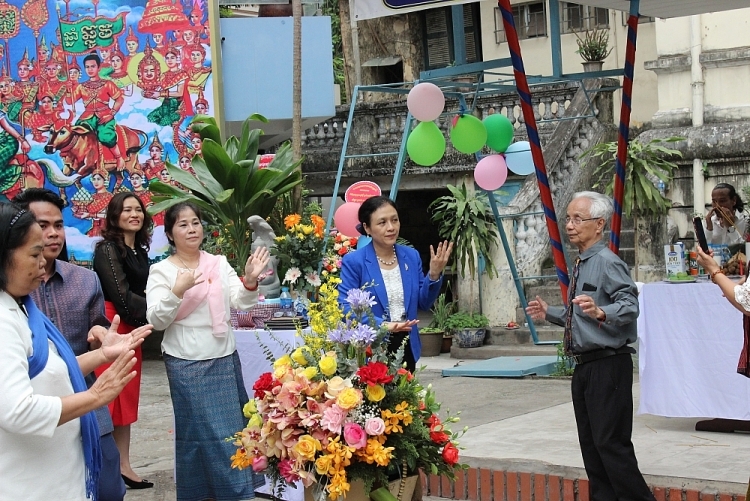 (Photo: Thoi Dai)
The delegates dancing to the traditional Apsara.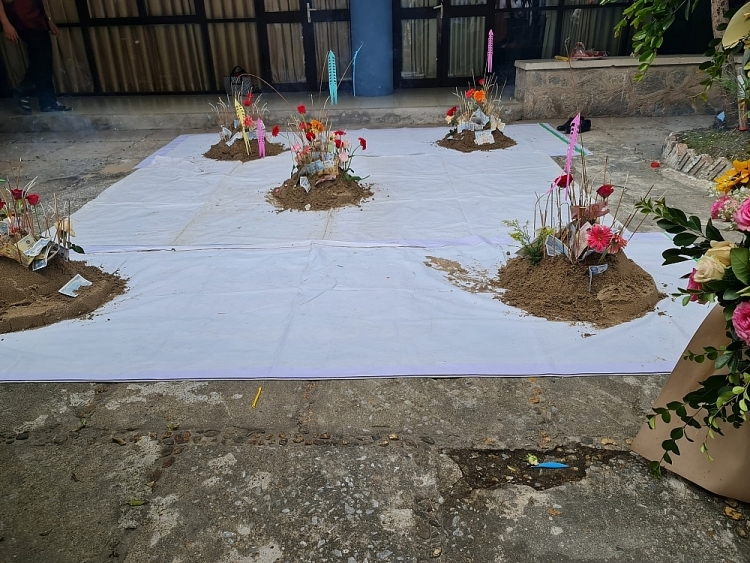 (Photo: Thoi Dai)
Wonbơf ceremony (sand mountain making ceremony) was held to pray for happiness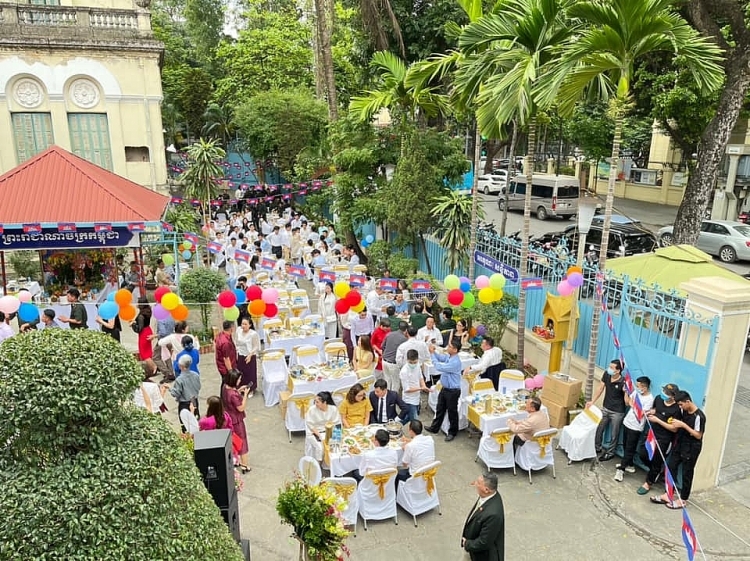 (Photo: Thoi Dai)
The festival takes place at the Royal Embassy of Cambodia in Hanoi.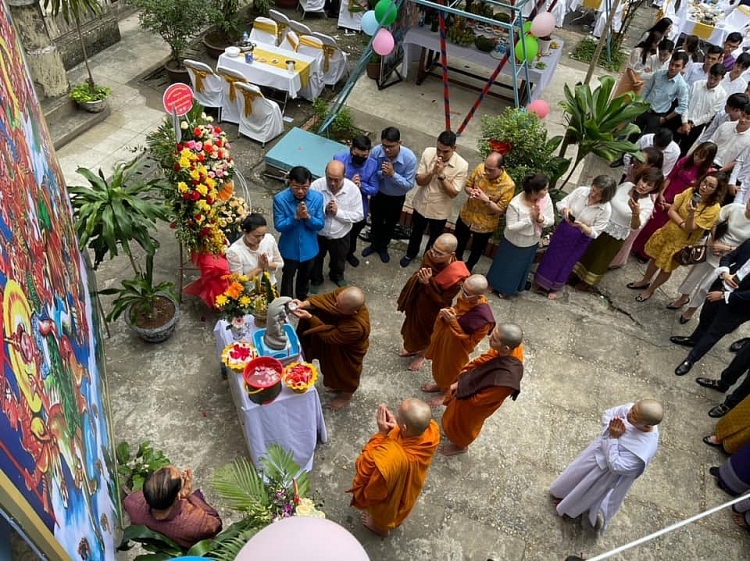 (Photo: Thoi Dai)
Bathing buddha ritual.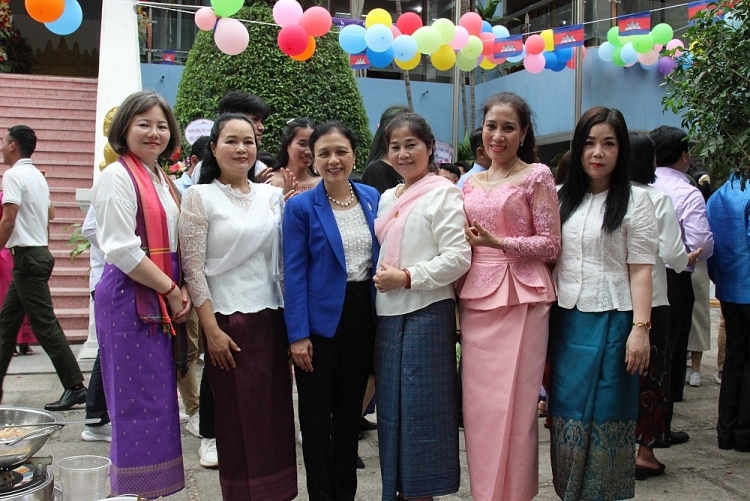 (Photo: Thoi Dai)
VUFO President Nguyen Phuong Nga takes photo with the Embassy staff.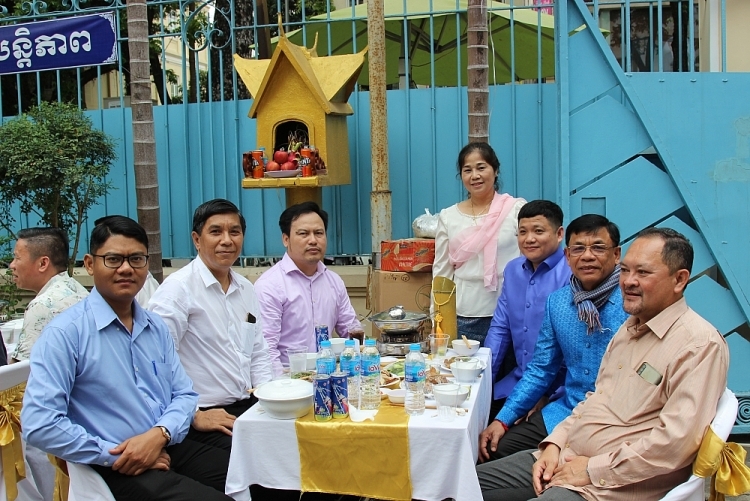 (Photo: Thoi Dai)
Attendants enjoying Cambodian traditional dishes.
Jasmine Le
You might be interested in