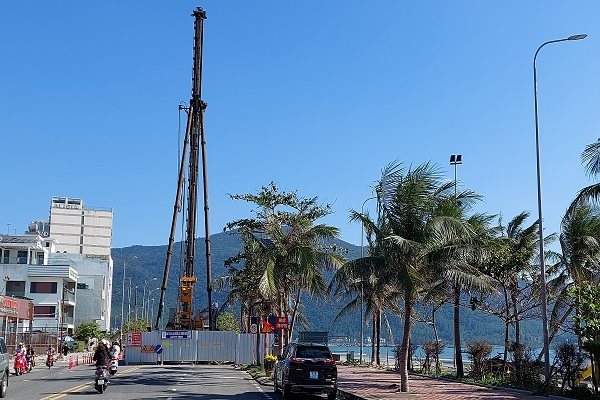 A project to improve waste water treatment along the beaches in Danang City is underway. Danang targets to substantially improve the city's environment by 2030 - PHOTO: NHAN TAM
DANANG - To rationally and economically exploit natural resources, minerals, water sources and forests; ensure an ecological balance and proactively respond to climate change, the municipal People's Committee of Danang has approved the project "Make Danang become the environment city" in 2021 – 2030" with a total budget of VND15,546 billion.
Some VND5,436 billion of the amount will be sourced from the State budget, VND3,200 billion from ODA capital and VND6,910 billion from other private sources.
It will help build smart processes and systems for the management of natural resources, apart from improving the state's management capacity and raising public awareness over environmental protection, among others.
Accordingly, the project will focus on four key sectors: prevention and control of environmental pollution, improving the environment and solving key environmental problems, conservation of nature and biodiversity and environmental protection awareness.
For the prevention and control of environmental pollution, the project targets 100% of enterprises and production establishments would be certified to achieve the ISO 14000 environmental management system. All emission sources (waste gas, wastewater, solid waste) will be controlled automatically and continuously.
By 2025, the city will complete the ecological industrial zones model and by 2030, there will be at least three eco-industrial zones.
Regarding environmental improvement and solving key environmental issues, the project aims to provide 100% of the urban population with access to clean water through a centralized water supply system and 100% of the rural population with clean water.
To conserve nature and biodiversity, the project seeks to strictly protect natural forests, maintain and encourage an increase in the forest cover and maintain protected land and biodiversity.
Regarding awareness over environmental protection, the project will ensure that the budget expenditure rate for environmental protection activities is over 3%. The rate of households practicing waste separation at point is targeted to reach 90% by 2025.
You might be interested in