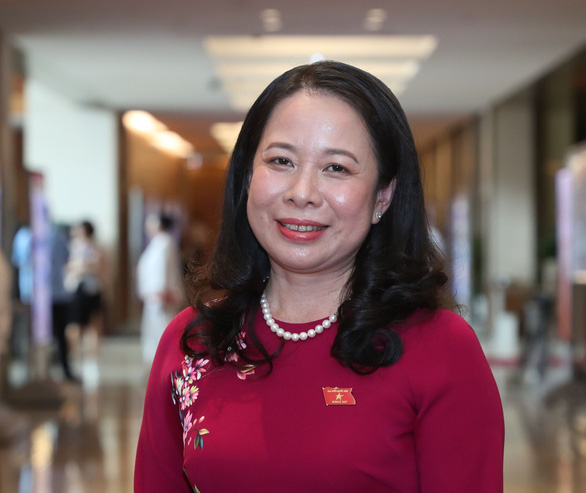 Vietnam's lawmaking National Assembly elected a new vice-state president in a majority vote on Tuesday afternoon.
Vo Thi Anh Xuan, born in 1970 in the Mekong Delta province of An Giang, was confirmed as vice-state president following the vote in Hanoi.
Xuan has been secretary of the Party Committee in An Giang, since October 2015.
She has a university degree in chemistry teaching.
She was a high school chemistry teacher before starting her career in politics.
She used to be the deputy chair of the An Giang People's Committee.
Xuan is the 17th person to have held the vice-state presidency since 1945.
She is one of the five successive women to have assumed office as vice-state president since 1992, when Nguyen Thi Dinh was named the first .
On Tuesday morning, the National Assembly passed a resolution to relieve Xuan's predecessor, Dang Thi Ngoc Thinh.
Born in 1959 in Quang Nam Province, Thinh had been vice-state president since April 2016.
In the 2016-21 term, she was acting state president from September 23 to October 23, 2018 after then-State President Tran Dai Quang passed away on September 21, 2018.
Party General Secretary Nguyen Phuc Trong was elected as state president on October 23, 2018.
On Monday, the legislature voted in Nguyen Xuan Phuc, former prime minister, as state president after his predecessor, Trong, stepped down.
Lawmakers elected Pham Minh Chinh, incumbent chief of the Communist Party of Vietnam's Organization Commission, as Phuc's successor the same day.
The commission is charged with nominating and approving the appointment of officials across the country.
Vietnam's new legislature chairman, Vuong Dinh Hue, who was then secretary of the Hanoi Party Committee, was sworn into office on March 31.
Minister of Finance Dinh Tien Dung was appointed as Hue's replacement the same day.
Dung received the appointment decision on Saturday last week.
You might be interested in