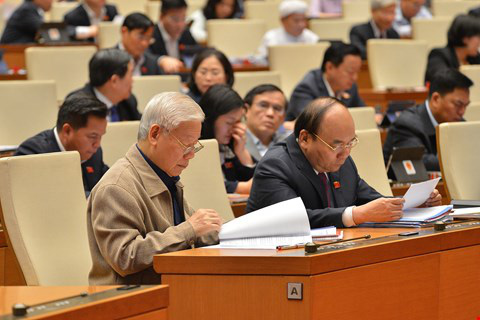 Vietnam's lawmakers dismissed Prime Minister Nguyen Xuan Phuc on Friday after he had been nominated for the presidency.
The National Assembly passed a resolution with a 93-percent vote to relieve Phuc, whose five-year term ended accordingly.
The resolution only takes effect when a new prime minister is elected on Monday next week.
So Phuc will continue taking on the prime minister's responsibility until then, the legislature said.
State President Nguyen Phu Trong, who is also General Secretary of the Communist Party of Vietnam, had submitted a proposal on the dismissal of Phuc on Thursday, as per regulations.
Phuc has been nominated for the state presidency, as Trong will also step down after a National Assembly vote later on Friday, according to Nguyen Hanh Phuc, chief of the legislature's office.
This is the first time a prime minister has been tipped as a future president.
Vietnam's new state president will be sworn into office on Monday next week.
Born in 1954, Phuc assumed office as prime minister on April 7, 2016.
Trong, born in 1944, took over from Tran Dai Quang as state president on October 23, 2018, after the latter passed away on September 21, 2018.
Deputy State President Dang Thi Ngoc Thinh had been acting state president from September 23 to October 23, 2018.
Trong is the third person in history to have acted as heads of the Party and state at the same time since President Ho Chi Minh and Truong Chinh.
You might be interested in