Vietnam has completed the first-dose vaccination of 560 volunteers who participated in the Phase 2 trial of Nanocovax's Covid-19 vaccine, 
Dr. Chu Van Men, Director of the Center for Clinical Trials and Bioequivalence at the Military Medical Academy, has told VietNamNet.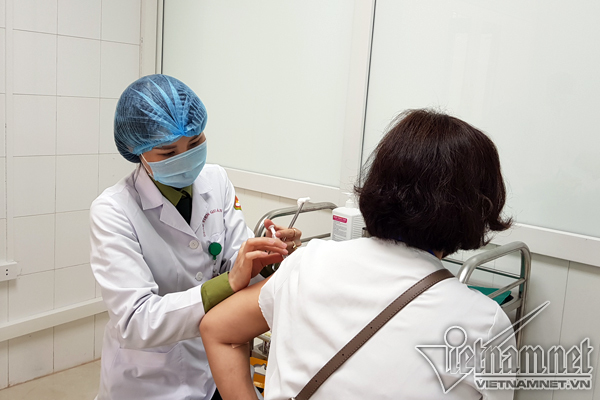 A volunteer participated in the second phase trial of Nanocovax vaccine at the Military Medical Academy on February 26. Photo: Thuy Hanh
In phase 2, Nanocovax vaccine was tested simultaneously at the Military Medical Academy and the Medical Center in southern province of Long An by the HCM City Pasteur Institute, with the participation of 280 volunteers at each site.
Of the 560 volunteers, 80 were injected with placebo, 105 are aged over 60, and the oldest volunteer 76 years old. The remaining 375 volunteers were divided into three groups for vaccination with doses of 25mcg, 50mcg and 75mcg.
All the volunteers are now in stable condition. They will have blood tests for antibody on the 28th, 34th, 42nd day, and after 3 months and 6 months from the first shot.
Twenty-eight days after being injected with the first dose, 560 volunteers will receive the second shot.
If phase 2 goes well, the research team will have data to report to the Ethics Council in Biomedical Research at the Ministry of Health before moving to phase 3, shortening half of the time.
In phase 3, 10,000-15,000 people, including volunteers in countries such as India, Hungary and Bangladesh, will join the trial.
In this phase, the Ethics Council in Biomedical Research will decide on whether to immediately use this vaccine for Vietnamese people in high-risk groups such as anti-epidemic forces and employees at airports, flight attendants. The decision will be made based on the results of phase 2 clinical trials.
Nanocovax vaccine of Nanogen is Vietnam's first Covid-19 vaccine in clinical trial. Trial of phase 1 took place from December 17, 2020 to February 7, 2021.
Results of phase 1 showed that Nanocovax vaccine can prevent variant SARS-CoV-2 B.1.1.7 from the UK. In phase 2, the research team will continue to evaluate the protective effectiveness of the vaccine with other variants.
Vietnam expects to complete clinical trial of Nanocovax vaccine by the end of this year so that it can start large-scale vaccine production and use it widely by early 2022.
Thuy Hanh
You might be interested in