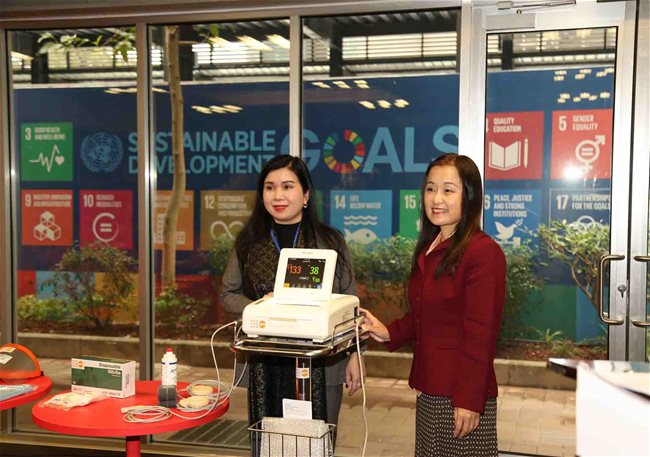 Phan Le Thu Hang (L), deputy director of the Department of Planning and Finance under the Ministry of Health, and Naomi Kitahara, UNFPA representative in Vietnam, pose for a photo at the handover ceremony – PHOTO: COURTESY OF UNFPA
HCMC – The United Nations Population Fund (UNFPA) in Vietnam handed over 64 fetus monitors along with personal protective equipment worth US$300,000 to the Vietnamese Ministry of Health late last week to assist Vietnam in ensuring the continuous delivery of quality reproductive health services amid the Covid-19 pandemic.
The medical equipment and supplies will be distributed to prioritized hospitals in the northern mountainous and Central Highlands provinces as well as some central provinces which have been heavily affected by the recent floods.
According to the UNFPA, Covid-19 can stretch and overwhelm the health system, and pregnant women tend to postpone or cancel antenatal care visits and other pregnancy-related appointments due to the fear of infection. This can prevent the identification of pregnancy risks and complications, which can lead to unnecessary maternal deaths.
"We are delivering medical equipment and supplies to complement the efforts of the Government in containing Covid-19 to make sure essential sexual and reproductive health services are provided in a continuous way. Covid-19 is not yet a matter of the past even in a country that has successfully contained it, such as Vietnam. Now is the time to prepare health facilities and workers to protect pregnant women," said Naomi Kitahara, UNFPA representative in Vietnam.
"Pregnancy and childbirth do not stop in the pandemic situation. Let's put the brakes on Covid-19 and its negative impacts and safeguard the health and rights of women and girls now." 
Phan Le Thu Hang, deputy director of the Department of Planning and Finance, affirmed that protecting the health of everyone during the Covid-19 pandemic is the top priority of the Government, especially for pregnant women who reside in ethnic minority and disaster-affected regions.
UNFPA is working to ensure that the supply of modern reproductive health commodities is maintained and that midwives and other health workers have the personal protective equipment they need to stay safe.
Besides this, Kitahara handed over 6,903 dignity kits to Thao Xuan Sung, chairman of the Central Committee of Vietnam Farmers' Union, to be distributed to women at risk of gender-based violence in five flood-affected provinces, namely Hue, Quang Tri, Quang Ngai, Nghe An and Thanh Hoa.
According to the UNFPA, many poor and destitute women remain unemployed during and after the floods. Women may also suffer from domestic violence and are subject to harassment when taking shelter at community centers. These particular problems interrupt women's mitigation efforts and adaptation capacities in disaster risk reduction.
Dignity kits are a signature product of UNFPA's comprehensive package of humanitarian assistance to safeguard the sexual and reproductive health and rights of women and girls, mitigate the risks of gender-based violence and respond and protect the dignity of women and girls adversely affected by a crisis.
Source: https://english.thesaigontimes.vn/80142/unfpa-helps-vietnam-improve-reproductive-health-services-amid-pandemic.html
You might be interested in