Without Hollywood blockbusters in the running, domestic filmmakers have four movies set for release in local cinemas for Tet, the Lunar New Year holiday.

When the Tet (Lunar New Year) around a month away, Vietnamese filmmakers and distributors have kicked off various marketing campaigns to introduce their wares before their official premieres in February.
Nguyen Thi Mai Hoa, Director of Galaxy Cinema, a popular cinema chain in Vietnam, said the race in domestic cinema for Tet would be interesting as there will no Hollywood products competing with these four movies, all set for release on the first day of the New Lunar Year (February 12).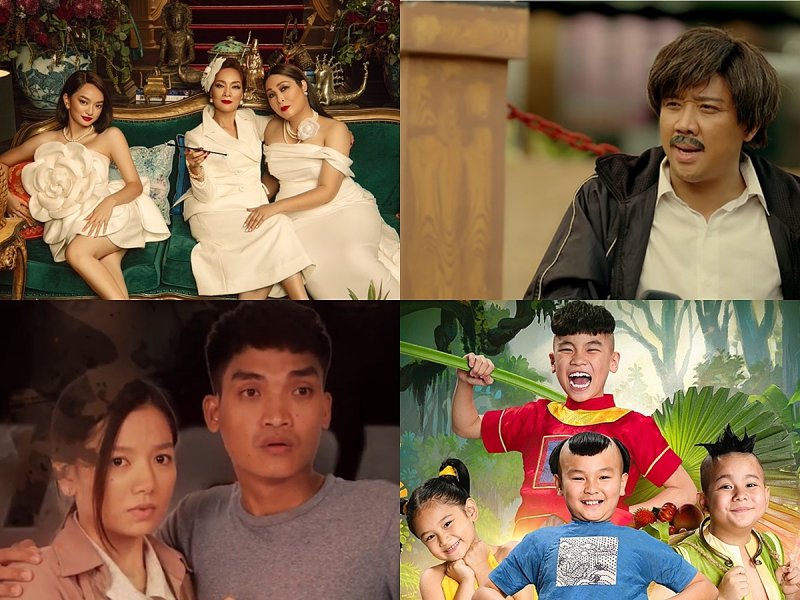 Stills from the four movies to be released this Tet (from left to right): "Gia Gia Lam Chieu 5," "Bo Gia," "Lat Mat: 48h," and "Trang Ti Phieu Luu Ky."
"Trang Ti Phieu Luu Ky" (The Adventures Of Trang Ti), is a film adaptation of the comic series "Than Dong Dat Viet" (literal translation: Vietnamese Wunderkind) directed by Phan Gia Nhat Linh.
The movie depicts the adventures of Ti and his childhood friends Suu, Dan, and Meo. Thanks to Ti's intelligence, the group is able to overcome difficulties and help a lot of people.
This is the most expensive project invested in by the Studio68 company. It was filmed in many provinces across Vietnam in 645 days with nearly 2,000 actors and actresses.
The second film slated for a Tet release is "Bo Gia" (Old Father), directed by Vu Ngoc Dang. It features TV host Tran Thanh and many other senior artists. Its web drama version, released on YouTube in early 2020, is the most-viewed web drama in Vietnam, with more than 90 million views for its five episodes.
The movie tells the story of Sang, an old motorbike taxi driver who cannot earn enough money for his family and life in his low-income neighborhood in downtown Saigon.
"Lat Mat: 48h" (Face Off: 48 Hours), directed by Ly Hai, will also hit local cinemas after several postponements due to the Covid-19 pandemic in 2020.
Setting in the Mekong Delta region, the action flick shows a family trying to escape from a gang. The chases and fighting scenes are expected to be a big draw during the upcoming holiday.
It is the fifth movie of a popular series, preceded by "Lat Mat" (Face Off) in 2015; "Lat Mat: Phim Truong" (Face Off: Film Studio) in 2016; "Lat Mat: Ba Chang Khuyet" (Face Off: Three Disabled Men) in 2018; and horror-comedy "Lat Mat: Nha Co Khach" (Face Off: The Walking Guests) in 2019.
Another sequel being released this Tet is the chick flick "Gai Gia Lam Chieu 5" (The Last Egg 5), directed by Bao Nhan and Nam Cito.
The movie revolves around the three Ly sisters living a luxurious life in the central town of Hue. When the youngest sister comes home, many conflicts arise, revealing secrets that have been buried for decades.
In Tet 2020, "Gai Gia Lam Chieu 3" (The Last Egg 3) grossed over VND165 billion ($7.1 million) in revenue after two weeks. It was among the top 5 Vietnamese films with the highest domestic revenue of all time until "Tiec Trang Mau" (Blood Moon) hit local cinemas and grossed VND177 billion ($7.6 million) later in the year.
The Vietnamese movie industry experienced pandemic-related losses in 2020, local filmmakers and distributors are looking to bounce back this year.
Source: https://e.vnexpress.net/news/life/culture/vietnamese-movies-look-to-score-big-on-the-big-screen-4216607.html
You might be interested in