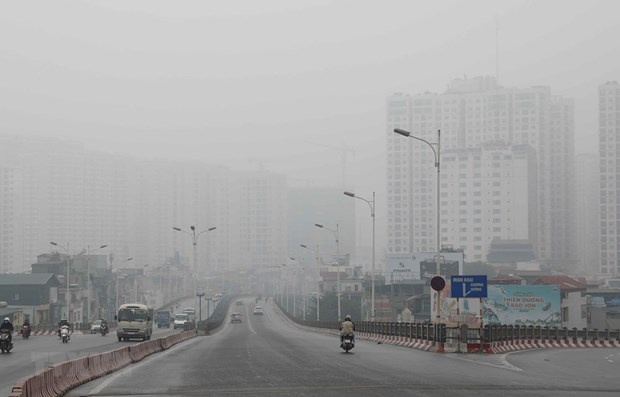 Ha Noi is facing serious air pollution. VNA/VNS Photo Thanh Tung
HÀ NỘI — The Ministry of Natural Resources and Environment (MONRE) has requested provinces and cities thoroughly handle hotspots of air pollution and exhaust gas emissions.
According to the MONRE, the level of air pollution in some major cities, especially Ha Noi and HCM City, has increased, affecting people's health and socio-economic development activities.
The main cause is dust from construction and industrial production activities with large amounts of waste and emissions from vehicles.
Faced with the negative impacts of air pollution, the MONRE has asked the People's Committees of provinces and cities to implement urgent solutions to control air pollution.
The ministry proposed authorities increase the frequency of the periodic air environmental monitoring programme and the system of automatic monitoring stations and perform the calculation and announcement of the air quality index under the guidance of the General Department of Environment.
Also, localities were told to publish the results of air monitoring on the People's Committees and the ministry's portals and mass media.
If air pollution in the area is harmful to people's health, the community and relevant agencies should be promptly warned.
Provincial People's Committees should ask local people not to burn solid waste and post-harvest straw to reduce sources of air pollution and assess emission sources, determine the causes to minimise air pollution and handle violations of the law on air environmental protection.
Ha Noi and HCM City were asked to speed up the investment, installation and operation of the non-stop automatic air monitoring stations and conduct periodic air quality monitoring programmes in the cities.
The two cities should accelerate the implementation of plans to develop public transport systems and prioritise vehicles using clean energy as well as revoke old and outdated vehicles that fail to meet environmental standards and encourage people to use public transport and gradually reduce personal means of transport.
Traffic police should implement proper traffic regulations to limit prolonged traffic congestion causing environmental pollution.
Road washing should be regularly carried out to limit the spread of dust, especially in dry weather.
Authorities were told to inspect the efforts of investors of construction and transport projects to prevent and minimise dust and gas emissions.
Industrial production establishments in the cities will have to take measures to control and treat exhaust gas, especially facilities generating large amounts of dust and exhaust gas.
The two cities must immediately implement policies to support households and small-scale businesses to limit the use of coal, especially honeycomb charcoal, guide households to effectively use straw, post-harvest agricultural by-products instead of burning, and strictly handle cases of improper burning of waste. — VNS
You might be interested in