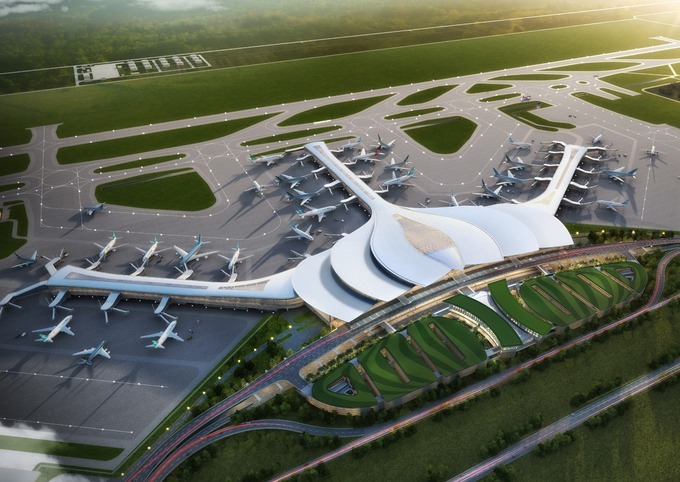 HCMC – Deputy Prime Minister Tran Hong Ha has told Dong Nai Province and the Airports Corporation of Vietnam (ACV) to expedite the clearing of the remaining areas to deliver all sites of the first phase of the Long Thanh International Airport project this quarter.
The Government Office has announced a conclusion by Deputy Prime Minister Tran Hong Ha following a meeting on the Long Thanh airport project last week.
Given the schedule of the overall projects relying on the land handover, the deputy prime minister requested the locality to focus on compensation, support and rehabilitation for residents in the principle that new rehabilitation areas must have better infrastructure than the residents' previous living places.
Dong Nai Province was also requested to review, evaluate and apply measures to check unqualified contractors and report hurdles exceeding its authority to the prime minister to seek solutions.
In the past, despite the Government leaders urging the expedition of site clearance, its delivery still lags behind schedule.
Until late January, the province handed over 2,430 among 2,532 hectares of phase 1, equal to 96%, of which the construction site covers 1,770 hectares.
The delay in site delivery was due to the failure of the rehabilitation area to meet the schedule and compensation bottlenecks with residents, according to the provincial authority.
Besides the site clearance, the deputy prime minister underlined the importance of selecting appropriate contractors for building Long Thanh airport's terminals due to technical issues.
In any case, the board chairman and general director of ACV will take full responsibility for the project's quality, schedule and efficiency, added the deputy prime minister.
Long Thanh International Airport is a major national project with an estimated investment cost of VND336,630 billion; however, its construction is falling behind schedule.
You might be interested in