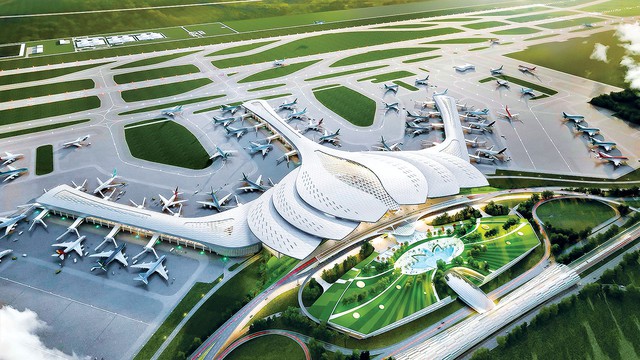 HCMC – Vietnam's Association of Construction Contractors (ACC) has written to the Government proposing revising the deployment plan of the Long Thanh International Airport due to concerns over its completion schedule and many other issues concerning package 5.10 – construction of the terminal and installation of equipment for the airport.
The prime minister assigned the Ministry of Transport, the Commission for the Management of State Capital at Enterprises and the Airports Corporation of Vietnam to consider the proposal made by the ACC to enable the selection of qualified contractors for the package without unreasonably increasing its price.
According to the ACC, the inappropriateness of the criteria of the bidding package, methods of selection of contractors and estimate of procurement due to the limit of the State budget has made the package less attractive to foreign investors.
Moreover, the 33-month completion schedule for package 5.10 relating to the construction of the terminal and installation of equipment was not practical, according to the association, given the evidence that the work volume of the Noi Bai airport expansion project accounted for only one-third of the Long Thanh package but it took up to 36 months to be completed.
In addition, a consortium of Vietnamese contractors as per the bidding criteria is not tight enough in terms of allocation of work, obligations and rights which may pose a risk to the quality of work.
There must be a mechanism to prioritize consortiums between foreign and local investors to take advantage of foreign investors' expertise and experience and local investors' capacity to save costs, suggested the chairman of the association.
Earlier, package 5.10, the highest value of over VND35,233 billion amongst the Long Thanh airport phase 1's terminal packages, was publicly put up for tenders. But all the bidding files were not qualified. The qualification criteria will therefore be revised for a bid invitation in the coming time, according to the management of the Airports Corporation of Vietnam.
You might be interested in