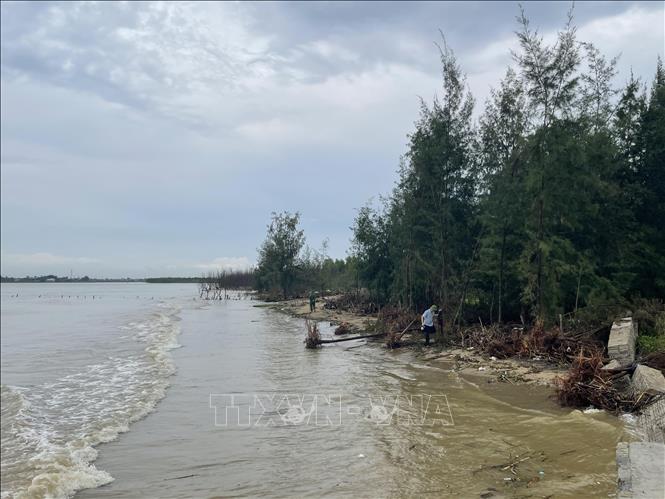 HCMC – Saltwater has entered deep into the estuaries of central coastal provinces, leaving over 150,000 meters of collapsed hills and causing havoc for the locals.
Since Typhoon Noru hit the central coast, high tides and big waves have caused landslides and worsened saline intrusion at the Lach Hoi estuary of Thanh Hoa Province, the Vietnam news agency reported.
Waves have eroded the 1.5-kilometer-long coastal line, flooding some places and pushing saltwater up to 100 meters onto the land. 
Floods have destroyed over 7.5 hectares of land, including some 5.2 hectares of forestland, 1.5 hectares of aquaculture land and the remaining residential land and borderlands.
Le Duc Giang, vice chairman of Thanh Hoa Province, has ordered local authorities to put up warning signs and evacuate households in high-risk areas to safety.
Saline intrusion and high tides have occurred across the central region, forcing schools to close, damaging people's properties and disrupting traffic. 
In Danang, many sections of the coastline along Vo Nguyen Giap Street have been seriously eroded by waves and influences of Storm Sonca and a tropical depression, the news site Baodanang.vn reported.
Meanwhile, floods have affected sea dykes along the estuary of Lam River of Ha Tinh Province and swept away many breakwaters.
You might be interested in