Varied promotion activities
In the first half of 2022, the Vietnam Trade Promotion Agency (Vietrade) under the Ministry of Industry and Trade (MoIT) helped enterprises participate in large specialized fairs abroad, such as the Seoul Food Expo 2022; Gulfood Expo 2022 in Dubai (UAE); the 2022 Seafood Expo North America; the Software and Apps Development Expo in Japan (SODEC); and the Seafood Expo Global 2022 in Barcelona (Spain).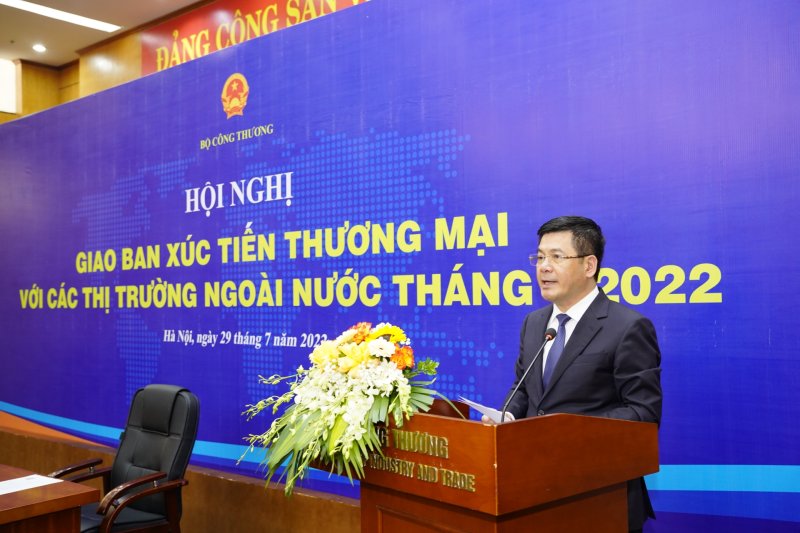 Minister of Industry and Trade Nguyen Hong Dien giving a speech at a July 29 conference on promotion of trade with foreign markets
Information technology application and digital transformation activities also continued to be promoted in tandem with actual trade promotion activities including online B2B conferences; deploying digital platforms for trade fairs and exhibitions and offering national products on the world's major e-commerce platforms. In addition, overseas Vietnamese trade offices promoted images and brands of Vietnamese goods in foreign markets.
Vietrade has also closely coordinated with the Trade Remedies Authority of Vietnam and related units to respond to trade defense measures (anti-dumping, anti-subsidy) applied to Vietnamese exports, updating and informing companies on developments of these processes and guiding them.
A representative of the Vietnam Rubber Association (VRA) affirmed that the agency's programs and activities have helped rubber enterprises introduce products, find potential customers, and expand relations with international organizations.
However, the VRA also wants overseas Vietnamese trade offices to regularly exchange information with sectors and associations on economic development strategies, trade demands, and legal policies of host countries, particularly advising Vietnamese businesses on legal aspects of problems with partners or management agencies abroad.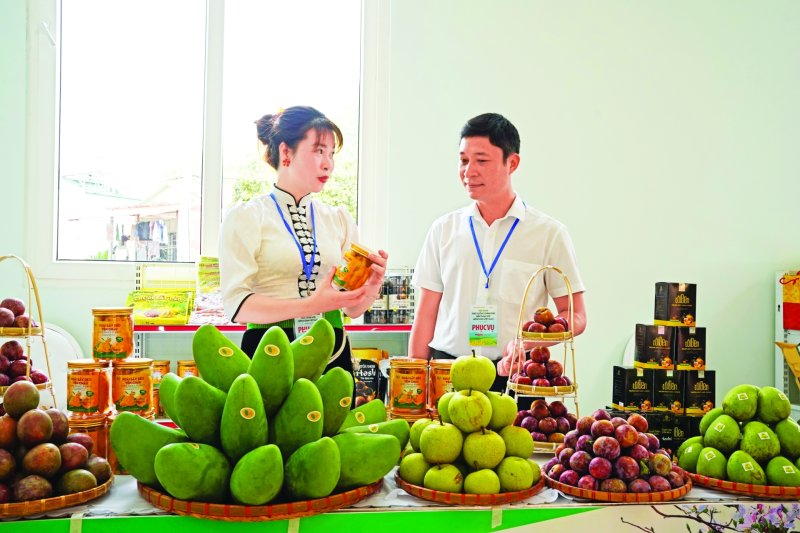 The northern mountainous province of Son La introduced its OCOP products in May 2022
As a beneficiary, a representative of Son La Province's Department of Agriculture and Rural Development affirmed that trade promotion has been helping the province sell agricultural products, aiming for efficient and sustainable agricultural economic development.
Improving trade offices' efficiency
In order to keep improving the efficiency of trade promotion, Minister of Industry and Trade Nguyen Hong Dien proposed that trade offices abroad analyze and evaluate host countries' policies and propose responses to ensure the rights and interests of Vietnamese enterprises. He also asked them to examine the needs, tastes and requirements of the markets in order to advise the MoIT on market development strategies and make recommendations to help industries, associations, businesses and localities develop and adjust production, strategies and plans. Dien urged foreign trade offices to strengthen connectivity in order to attract foreign investment in domestic industrial sectors.
Vietrade is being urged to strengthen coordination with overseas market departments and trade offices to regularly update and forecast market trends, and organize effective trade promotion consultancy for localities, associations and enterprises.
Hai Linh
You might be interested in