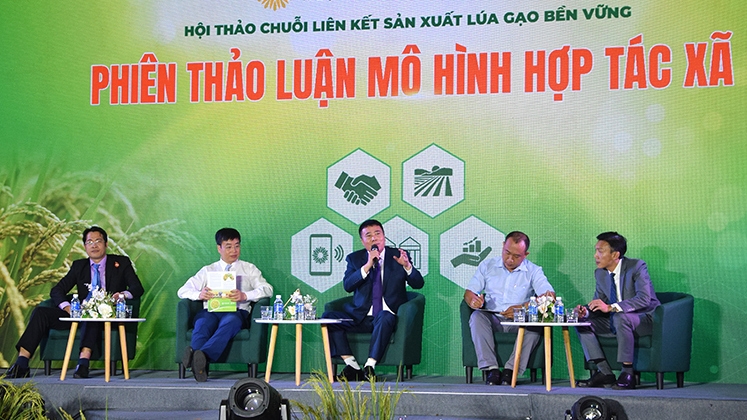 Delegates speaking at the workshop (Photo: HUU NGHIA)   
NDO – Promoting linkage for sustainable rice production, building a standardised raw material area, and producing more than 1 million tonnes of high-quality rice by 2030 are among the issues discussed at a workshop held in Dong Thap Province on April 12.
The workshop, entitled "Sustainable rice production chain", was jointly organised by Tan Long Group JSC and the People's Committee of Dong Thap Province with the participation of nearly 300 farmers and experts from the Mekong Delta region.
The event is part of the plan to build a qualified rice material area and develop linkages according to the value chain in key rice growing localities of the Mekong Delta.
The workshop also featured discussion on solutions for sustainable rice production and promoting the building of a national rice brand through a new model of cooperatives and digital transformation in agriculture.
Tan Long Group said it will actively cooperate with Ho Quang Cua, the founder of the ST25 rice variety, to promote the variety while researching and developing other high-class rice varieties in the future.
Chairman of the Board of Directors of Tan Long Group Truong Sy Ba emphasised the importance of the implementation of new cooperative models, the development of rice varieties, and the building of sustainable rice material areas.
The successful development of new models of cooperatives will help to synchronously apply advanced farming techniques to large-scale fields, reduce the cost of agricultural materials and pesticides, and switch to the use of organic fertilisers with little impact on the quality of arable land, Ba noted.
He added that his group will actively cooperate with farmers to build a standardised rice material area and develop a sustainable rice production chain towards the production of more than 1 million tonnes of high-quality finished rice by 2030 and the successful building of the A An national rice brand.
You might be interested in