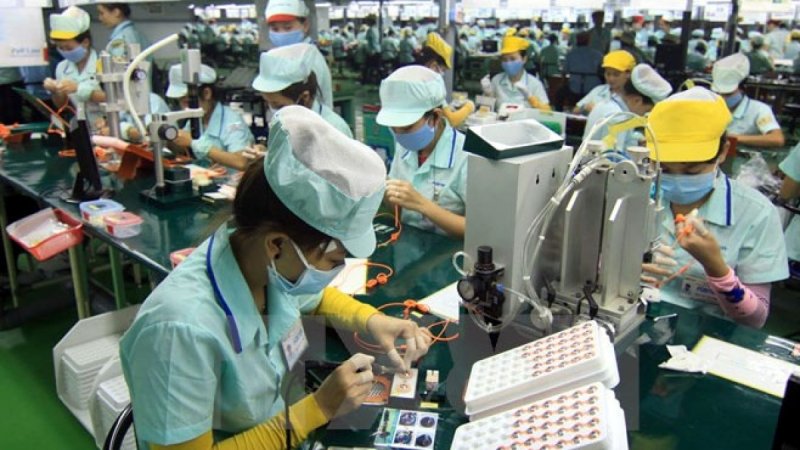 Vietnam's support industries fail to meet domestic production needs
Low local content rate
Nguyen Hoang, deputy chairman of the Vietnam Association for Supporting Industries and chairman of the Hanoi Supporting Industries Business Association (HANSIBA), said Vietnam's local content rate remains low, reaching 5-20 percent for cars, 5-10 percent for electronic items, and 30 percent for garment and textile, leather and footwear products. Due to low local content rate, businesses have to annually import materials and parts for production and assembly worth billions of US dollars.
Minister of Planning and Investment Nguyen Chi Dung said the world economy has been severely affected by the Covid-19 pandemic over the past two years. However, contributions of the manufacturing and processing sector to Vietnam's gross domestic product (GDP) growth have still accounted for a high proportion, from 6.69 percent in 2020 to 25.13 percent in 2021.
However, Vietnam's support industries remain weak and fail to meet domestic production needs. The country's key industries, such as electronics, garment and textile, leather and footwear, auto assembly and manufacturing, are heavily dependent on imported raw materials, resulting in fragmented and passive production, high production costs and low added value. Minister Dung also said Vietnamese support industry enterprises remain weak in terms of production management and technology level.
Completing mechanisms, policies
Nguyen Hoang said the government should speedily formulate the Law on Support Industries and submit it to the National Assembly for promulgation. In addition, it is necessary to establish a state-level steering committee headed by the deputy prime minister with the participation of ministries, departments, localities and businesses to overcome difficulties facing support industry businesses.
A financial package for support industry businesses is also required, while connection with multinational corporations plays an important role in helping Vietnamese support industry businesses participate in the production supply chain.
The Ministry of Industry and Trade is submitting the Law on Industrial Development to the government for approval, while the Ministry of Planning and Investment is amending Decree 82/2018/ND-CP on management of industrial and economic zones, offering opportunities for support industry development.
Nguyen Hanh
You might be interested in