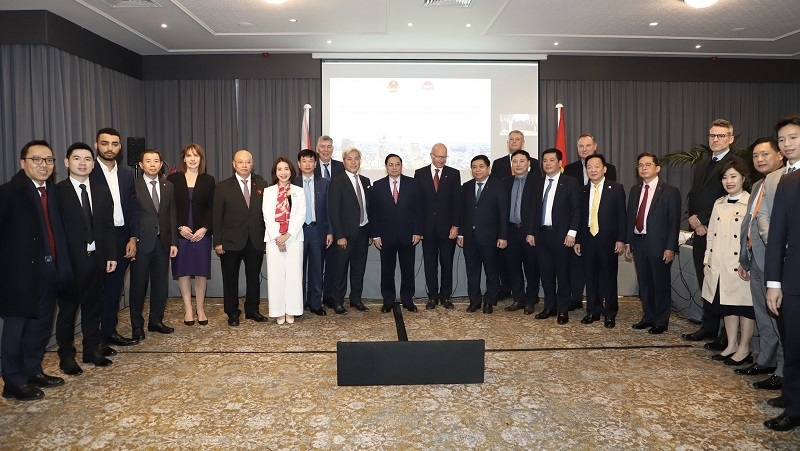 Prime Minister Pham Minh Chinh and representatives of UK businesses (Photo: VNA)   
NDO/VNA - Prime Minister Pham Minh Chinh met with representatives from more than 40 UK enterprises in Edinburgh, Scotland (the UK), on November 3 (local time).
The businesses are operating in the spheres of finance, banking, investment and asset management, auditing and insurance.
In his remarks, the PM emphasised Vietnam's views on investment cooperation that is based on the harmony of interests and the sharing of risks.
Regarding investment opportunities and advantages in Vietnam, he said the country has a stable political environment, with a foreign policy of self-reliance, diversification and multilateralisation, and being a good friend, a reliable partner, and a responsible member of the international community.
Vietnam is integrating intensively and extensively into the world, as the country has signed 17 free trade agreements, including those with major markets, according to Chinh.
He also introduced Vietnam's consistent policy towards investors, along with its advantages in terms of human resources, natural conditions, social settings and sustainable development policy.
At the meeting, VinaCapital General Director Don Lam, said Vietnam is expected to restore its growth trend strongly and have many investment opportunities after the COVID-19 is brought under control.
According to Don Lam, the participating businesses that own more than VND1 trillion would invest some US$10 billion in Vietnam.
Prior to the meeting, the PM had a separate meeting with Don Lam, during which he called on VinaCapital to pour investments not only into the stock market but also financial centres in Vietnam.
The leader was in the UK from October 31 to November 3 to attend the 26th United Nations Climate Change Conference of the Parties (COP26) and pay a working visit to the UK at the invitation of his counterpart Boris Johnson.
You might be interested in