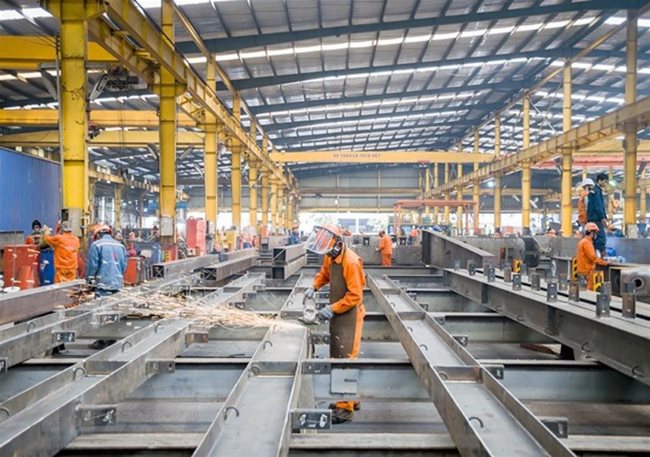 Employees at work at a factory in an industrial park in HCMC. The HCMC government has written to the Government proposing developing the Pham Van Hai Industrial Park project covering 668 hectares of land in Binh Chanh District - PHOTO: VNA
HCMC - HCMC authorities have written to the Government proposing adding the Pham Van Hai Industrial Park project covering 668 hectares of land in Binh Chanh District to the country's master development plan for industrial parks.
The proposal to develop the new industrial park is aimed at replacing three industrial parks--Bau Dung and Phuoc Hiep in Cu Chi District and Xuan Thoi Thuong in Hoc Mon District--which were added to the master development plan in 2008, but have yet to be carried out.
The municipal government said that in 2018, the Government allowed the city to convert 668 hectares in Pham Van Hai Commune into industrial land.
The land set for the construction of the industrial park is still agricultural land, managed and used by the HCMC Plants Company. However, the land has brought about low economic effectiveness due to its heavy alum soil, salt intrusion and pollution from wastewater discharged from surrounding residential areas.
As such, the conversion of the ineffective agricultural land into commercial land is necessary to make the most of the city's land fund, according to the municipal government.
The Pham Van Hai Industrial Park project is expected to attract more investors active in the hi-tech, electronics and mechanics fields and supporting industry, and become a highly competitive and qualified industrial park.
The city's total industrial land approved is currently 7,000 hectares. Four of 23 industrial parks have yet to be developed, including the Bau Dung, Hiep Phuoc and Xuan Thoi Thuong industrial parks.
As for the Pham Van Hai Industrial Park project, the city had earlier proposed developing it with an area of 380 hectares, but the area has been adjusted up to 668 hectares.
Meanwhile, the city proposed eliminating the three industrial parks out of the list as over the past 13 years, they have yet to find investors, while the plan for land revocation and compensation was yet to be mapped out.
These long-stalled projects have heavily affected residents of Cu Chi and Hoc Mon districts, so they have proposed eliminating the three projects.
You might be interested in